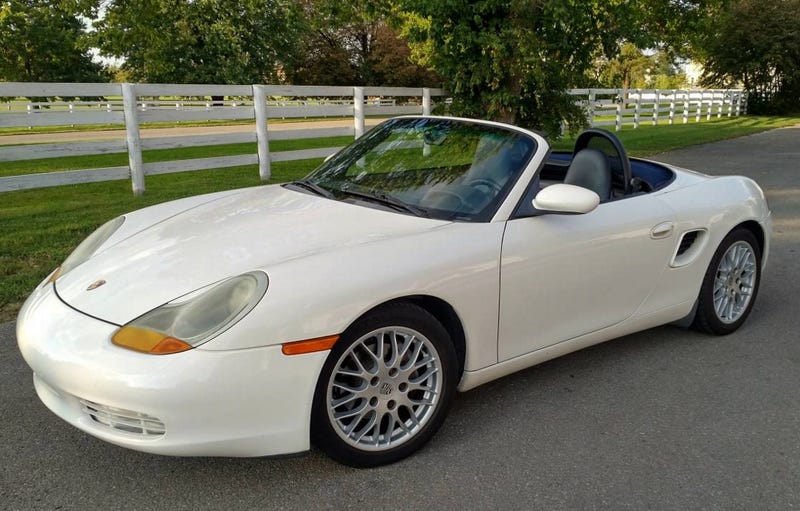 Nice Price Or Crack Pipe
Is this used car a good deal? You decide!
Today's Nice Price or Crack Pipe Boxster is claimed to have a 3.4-litre M96 out of its big bro, the 911. Let's see if that, and its overall condition, make it worth a look.
With a claim of 800 horsepower at its rear wheels, and a whole bunch of hardware upgrades demanded to make those ponies behave, yesterday's mechanically massaged 2007 Pontiac G8 GXP had a lot going for it. Unfortunately for its builder/seller, its $50,000 asking price wasn't among them.
Coolness factor and interesting pedigree not withstanding, that was just too much for 78 percent of you, and that Australian-built missile was sent down (under) in a soul-crushing Crack Pipe loss.
You know that Porsche has always tried to keep the sassy little Boxster down, don't you? They've taken the same steps with its sister the Cayman too. Each has been somewhat hobbled by displacement and tune so as not to upstage the company's above-the-marquee player, the 911.
With a better balanced mid-engine design, and a lot of the same hardware underneath, it would be an easy task for either the Boxster or Cayman to outshine the rear-engine 911, if only given the chance.
Well, here's that chance… sort of.
This 2000 Porsche Boxster is claimed to have had its 2.7-litre, 217 horsepower M96 replaced by a bigger, 3.4-litre edition of the same mill. The donor car was a 2000 911, and the conversion is said to have been completed by a previous owner—a "very reputable Porsche expert who has been referenced in Porsche how-to books"—fully 12 years ago.
In its ass-mounted 911 form, that engine was good for 300 horsepower.  How much it makes here adapted for life in the middle is anybody's guess.
One thing that should be mentioned, as it always is when we talk about M96-powered cars, is the infamous IMS—or "Intermediate Shaft"—failure. The intermediate shaft is a shaft parallel to, and running below the flat six's crank. Driven by the crank, it in turn operates the camshafts by way of duplex chains on either end.
In the case of the M96, the front mount (closest to the flywheel) was a sealed ball bearing design that could fail catastrophically if the block seal degraded and allowed engine oil to seep into the bearings. The failure rate was estimated to be at around 8% in documentation supporting the 2014 class action lawsuit against Porsche, and the failures are said to be expected to occur at around 90,000 miles.
This Boxster has 93,000 miles on the clock.
Now, that's just the car mind you, there's no word in the ad as to how many miles the 3.4 has done. The seller says he has maintenance records for the car going back 12 years. Hopefully those include something about an IMS upgrade.
Another issue you might consider with this big mill Boxster is the greater heat that the hotter engine produces. This is a base Boxster model and hence it lacks the center radiator opening (and companion third radiator) of the S edition. Still, the car's supposedly been running like this since 2005 so it may do just fine.
The bodywork on the car is also clean for its age. The fried egg headlamps show some clouding as they do, but seem serviceable nonetheless. The handsome factory ten-fork wheels seem free of curb rash, while up above the top appears serviceable, albeit with the expected miasmic plastic rear window intact.
Inside things are much the same. The leather on the seats shows some wear, as does the shifter for the five-speed stick. Fortunately, the dash and door cars show no evidence of age, and you needn't worry about the glovebox since the car doesn't have one.
What it does have is a clean title and the promise that this is "easily the most handling and power bang for your buck you can get in a Porsche." The buck for that bang is $12,900.
Now, that's a lot of cash for a 2000 Boxster, no matter how nice. Typically you would expect to pay under half that. The question for you is just how much value does 83 ponies add? Do you think this tidy 3-4-litre equipped Boxster could command that $12,900 price? Or, does that price have you saying put it back in the box?
You decide!

Cincinnati, OH Craigslist, or go here if the ad disappears.
H/T to Oldkingcole for the hookup!
Help me out with NPOCP. Click here to send a me a fixed-price tip, and remember to include your Kinja handle.