Today, VR stands most commonly in our lexicon for Virtual Reality, but as our Nice Price or Crack Pipe Celebrity proves it once stood for eye-catching family Chevy. Let's see if this low-mileage Eurosport is also priced to be a catch.
You're ugly and your mother dresses you funny. Playground taunts from our youth still can hurt to this day. After all, you dressed yourself right? That's why it was so painful to read the comments on yesterday's 1970-something Parmley Jeep.
Most of you thought its somewhat ungainly appearance outweighed its minor historical significance or even unique nature, while fully 78% of you didn't think it was worth its asking price. I'll bet its mother still loves it however.
Okay, from yesterday's specially-bodied standard we're moving on today to a… specially-bodied standard. And oh boy, you don't get much more standard than the '80s Chevy Celebrity.
This 1988 Celebrity Eurosport VR however takes that standard and makes it special. Perhaps the most accurate comparison would be to say it's like a plain-jane girl in a string bikini. Yeah, I know, I had your curiosity, now I have your attention.
G/O Media may get a commission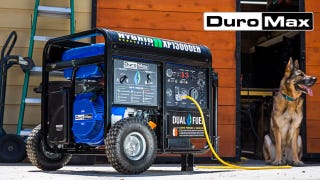 Black Friday Sale
DuroMax Generator Sale
Chevy's 1982-1990 A-body, the Celebrity, was never a car that an actual celebrity would choose to drive. Not even those like Paulie Shore or the guy who played the barista on Friends, remember him? I thought not. Seeking to shake things up with their family hauler however, Chevy built a show car mid-way through the model's production run and called it the Eurosport RS.
It was a body kit and interior refresh that built on the Celebrity's standard blackout trim and alloy wheel sport package, the Eurosport. That RS featured an all-aluminum 3.3-litre V6 to provide the go that would supposedly back up the show.
When the RS got the green light for limited production the name was changed to VR, perhaps to create a connection to VR-rated tires which would imply performance. Unfortunately the VR didn't have much in the way of that implied performance as the RS's alloy V6 had been shelved for cost reasons and was replaced with the standard Eurosport's 140-horse 2.8-litre LB6 V6. There's an excellent history on the VR's development here.
The VR was only produced for the '87 and '88 model years, and there are significant differences between even those. The '87 cars received a unique VR interior featuring different seats, door cards and carpets. That proved too costly for Chevy so for '88 the cars switched to a standard Eurosport interior.
This one is an '88 so it's all mouse fur and wide-ass seats in there. It also sports one of the weirdest, just-thrown-in-there-for-the-hell-of-it tachometers you might ever come across. The good thing is that this VR looks to be as new, and comes with only 23,000 miles on the clock. It's also Code 81 Red, a color that came from the Corvette and Camaro palette, and which was not offered on non-VR Celebrities. The alloy wheels have decal sections continuing that color, another cost-saving measure from the previous year's painted wheel inserts.
Those wheels sadly make the car appear to have drum brakes all the way around. The truth is that the fronts are discs. The other truth is that this VR sports a four-speed automatic. These were available with a Getrag five-speed manual, but hardly anybody choose to order one that way.
This one was ordered with the auto, and apparently a ton of other options (oddly, as a cost-saving measure the VR's weren't already optioned out from the factory). It's claimed in a very shouty all caps ad to have always been garaged and never driven in the snow. It's original all the way down to its tires so you might not want to actually drive it anywhere at all without first getting those replaced.
Are you a bowtie-wearing Chevy fan? Do you have a picture of Calvin pissing on a Ford logo on the back window of your K10? If you fit either of those images then you might be the demographic for this rare (one of only about 600 cars built in '88) Celebrity. Of course another attribute you'll need is the ability to pay the seller's $12,000 asking, because he says he's firm. Eww, firm.
What do you think about this clean machine for that kind of cash? Is $12,000 a deal for this low-milage VR? Or is that a reality that you'd just as much like to remain virtual?
You decide!
Central Michigan Craigslist, or go here if the ad disappears.
Help me out with NPOCP. Click here to send a me a fixed-price tip, and remember to include your Kinja handle.