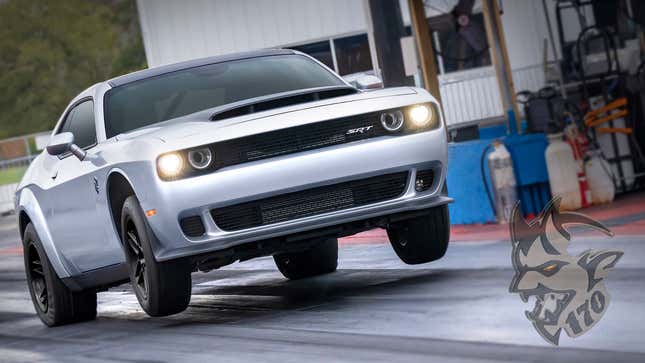 One thousand and twenty-five horsepower on E85 from the factory. Zero to 60 in 1.66 seconds, and more than 2 g at launch. A quarter-mile time of 8.91 seconds at 151.17 mph. Skinny tires up front and steamrollers in the back. An enormous 3.0-liter supercharger, the largest ever fitted to a production car. A $96,666 base price. These are just some of the numbers that make up the Dodge Challenger SRT Demon 170 – the final Challenger after 15 years on the market. There really is no better way to say farewell to Dodge's notorious coupe.

The Challenger Demon 170's quarter-mile time is so fast, the car is banned by the NHRA because it doesn't have a parachute or a roll cage, items required for any car that runs the quarter-mile in less than 9 seconds. Don't worry, though. Dodge will sell you a chute for the Demon 170 through its Direct Connection in-house performance parts catalog.
To be fair, that quarter-mile time is going to be tough to achieve. As with the 2018 Demon, you're going to need a prepped drag strip surface and plenty of skill to get the most out of the Demon 170. But if you nail it, you'll be able to get both front wheels in the air.
How the Challenger Demon 170 Came to Be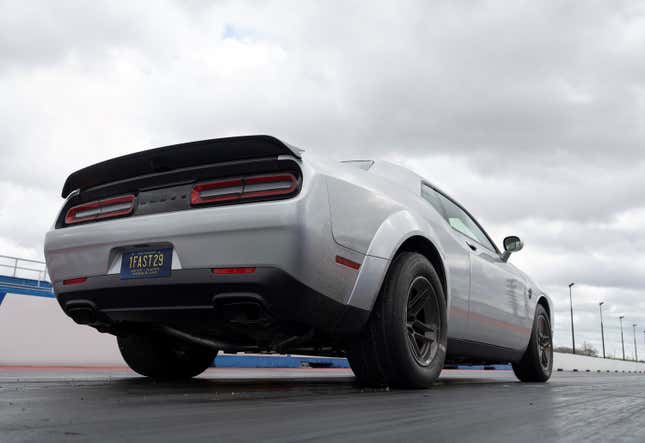 The Demon 170 traces its origins back to a parking lot outside of SRT's headquarters in Detroit, Michigan. Employees held a socially-distanced gathering there during the height of the COVID-19 pandemic to figure out what to do about the Challenger. The 2018 Demon was built with the intention of being the final, ultimate Challenger, based on the platform that had been in continuous production since 2008. But the Challenger kept selling, and Dodge CEO Tim Kuniskis says the combination of the pandemic and FCA's merger with PSA to form Stellantis gave the Challenger a few more years to live. The automaker even set aside a special-project budget to send the big coupe out with a bang.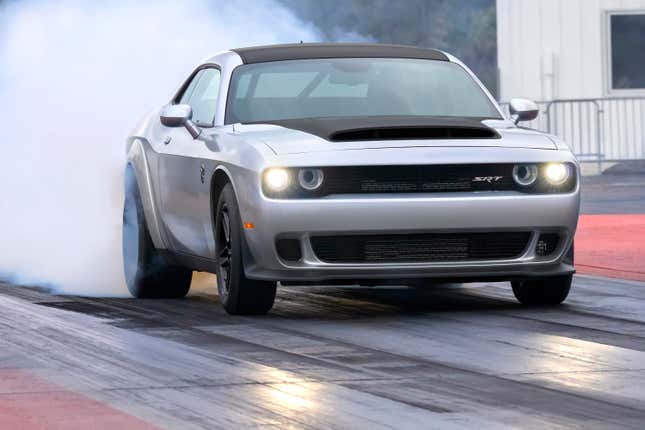 The car that resulted from this parking-lot brainstorm follows in Stellantis's long line of what Kuniskis called "batshit crazy" Challengers at a media preview unveiling the Demon 170. SRT has a little bit of a "let's do our own thing" mantra, as Kuniskis puts it. That's how Dodge ended up selling more than 80,000 Hellcats.

You may remember the slightly odd "Last Call" teasers Dodge published on YouTube in February featuring a leprechaun. We finally know what the leprechaun is all about. The Challenger Demon 170 is named for the E85 fuel that makes its 1,025 horsepower possible — ethanol, 170-proof. At a media preview, Kuniskis described the Challenger Demon 170 as being a lot like a leprechaun for three important reasons: "It's fast, it drinks all the time, and if you catch it, you get its pot of gold." Kuniskis also said the leprechaun concept came to him in a dream. That rocks.
The Challenger Demon 170 Engine and Drivetrain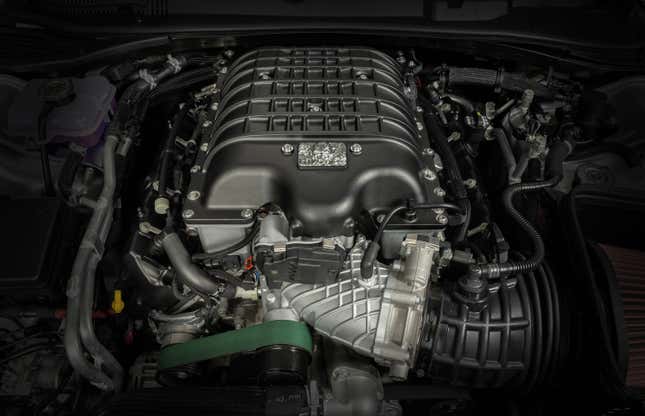 It takes a lot to make a vehicle as heavy as the Challenger Demon 170 get from 0-60 in just 1.66 seconds, as Dodge claims. (That number is achieved with a one-foot rollout, but Dodge says without rollout the 0-60 time is still under 2 seconds.) To make all that happen, Dodge created a supercharged 6.2-liter V8 engine that can pump out 1,025 horsepower at 6,500 rpm and 945 lb-ft of torque at 4,200 rpm when running on E85 — or 900 horsepower and 810 lb-ft of torque on E10 pump gas — and beefed up the rest of the drivetrain to deal with it. Dodge says the only engine component shared with lesser supercharged models is the camshaft.
Up top, an enormous 3.0-liter supercharger (bigger than the Demon's 2.8-liter blower) pushes 40 percent more boost than the one in the 797-hp Hellcat Redeye — 21.3 psi at maximum. The engine has new pistons, rods, and cylinder head studs. Dodge says the Demon 170's maximum cylinder pressure is 2,500 psi – 50 percent higher than a Redeye.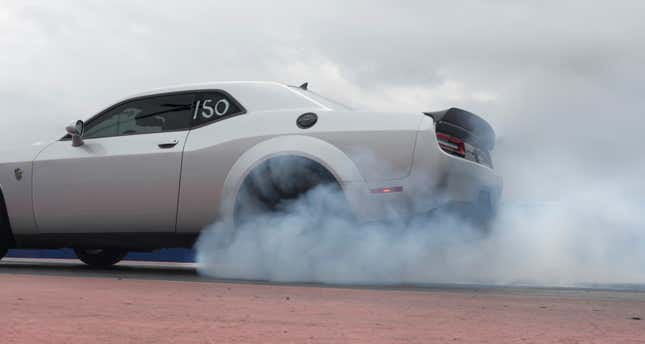 While the Demon 170 prefers to run on E85, the car can run on any mix of ethanol. Dodge says the Demon 170 constantly monitors its fuel, analyzing the ethanol content and tailoring the fuel delivery and spark timing to take maximum advantage of whatever ethanol is present. At any concentration above 65 percent ethanol, the ECU will give you the full 1,025 hp.
It won't come as a surprise to learn that the fuel mileage is going to be brutal. We don't have exact figures yet, but Kuniskis called it "terrible," explaining that the injectors in the Demon 170 can flow 164 gallons per hour at wide-open throttle. But you'll never be able to do that, because at WOT the Demon 170 empties its entire 18.5-gallon gas tank in just five minutes.
The rest of the driveline is equally bulked-up. Kuniskis says the new driveshaft is 30 percent stronger than the 2018 Demon's, and the differential is a whopping 50 percent stronger. Not everything is all new, though. Dodge says the front suspension of the car is carried over from the regular Demon. The Demon 170 is about 25 pounds heavier than its 2018 sibling, though the 170 is 157 pounds lighter than a Challenger Hellcat Redeye Widebody — but only if you go for the most hardcore setup, with no passenger seats, no trunk lining, and a downgraded audio system.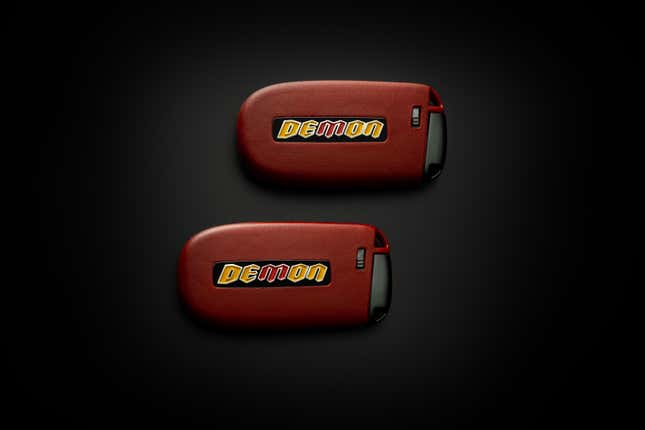 The Demon 170 also gets a revised version of the trans brake – called TransBrake 2.0 – from the 2018 Demon for hard-hitting drag strip launches. If you know what you're doing, you can change the torque output in each gear, individually, to maximize your grip as your roar down the quarter-mile. If you do that right, you'll be able to push the gas pedal down to the floor and rocket off without losing traction or adjusting throttle.
There's only one key for the Demon 170: The red one. No dialed-back black key on this guy. You're getting all the power all the time.
The Wheels and Tires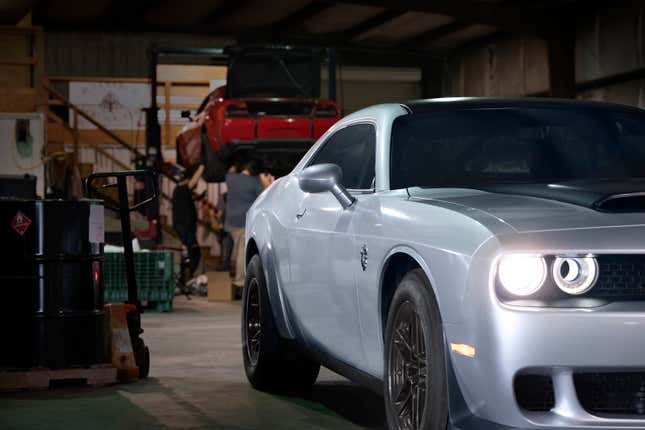 Even though the Demon 170 is a couple dozen pounds heavier than the regular Demon, Kuniskis says the weight gain would be even higher if it wasn't for a few pounds saved in the wheels and tires. Optional carbon-fiber wheels made by Lacks Enterprises shave a few pounds of unsprung weight.
Whichever wheels you choose, they'll come wrapped in DOT-approved Mickey Thompson ET Street R drag radials — offered here on a factory production car for the first time ever, with a rubber compound custom tailored to the Demon 170.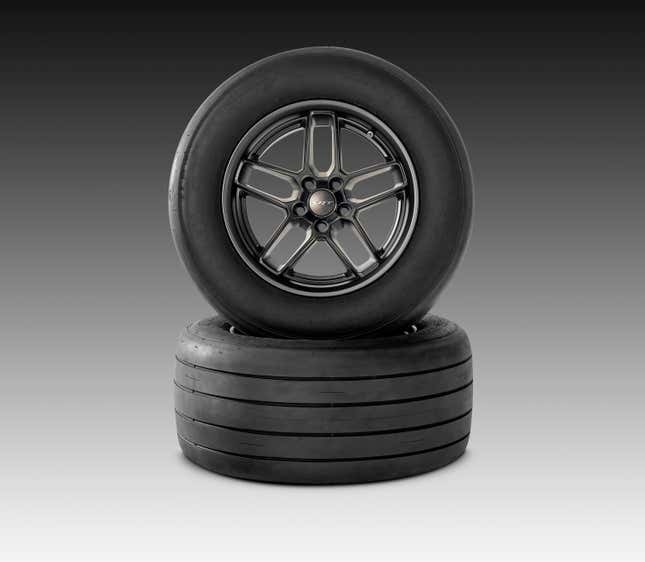 These tires mean business. They're good for laying down lap times, but not much else. Up front, you'll find skinny 245/55R-18s on 18-by-8-inch wheels, and at the back you've got monstrous 315/50R-17s on 17-by-11-inch wheels. Unlike the last Demon, with this new tire setup, there's no need to change the front wheels out for skinnies to lay down a better drag time.
The rear wheels are an inch smaller in diameter to increase sidewall height to help with the "wrinkle effect," Dodge said, where the rear tires deform on a hard launch and put more rubber in contact with the track.

The Demon 170 on the Outside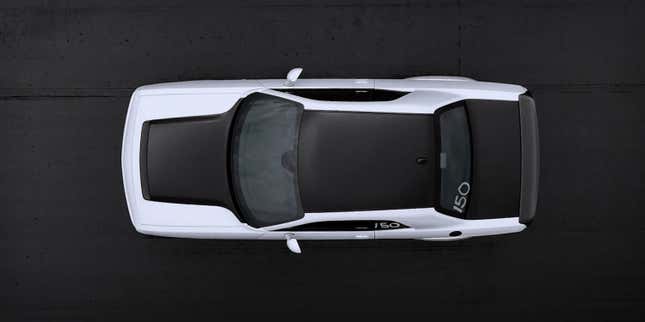 Some weight savings also come from the Demon 170's altered bodywork. The first thing you notice about this car is that the Widebody fender flares are only on the back.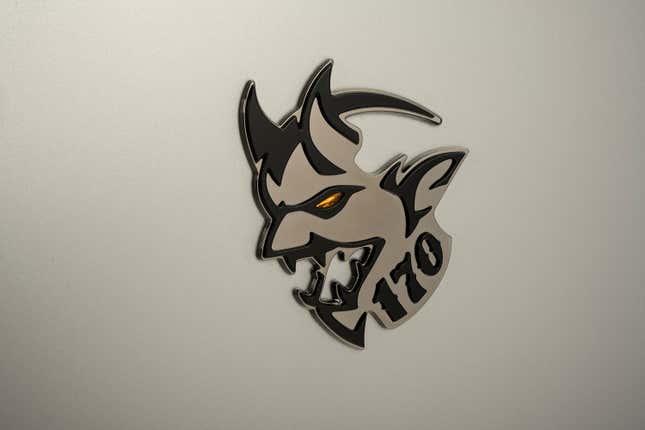 The rear flares, coupled with the extremely staggered wheel-and-tire setup, gives the car a real dragster look. The enormous Air-Grabber hood scoop comes straight from the 2018 Demon.

Along the hood is an etching that reads "Alcohol Injected." Dodge says the Demon 170 is available in 14 different color options. The Demon badge on the front fenders has been reworked, now featuring a "170" neck tattoo (this is the term Dodge used to describe it) and yellow eyes that pay homage to the car's thirst for corn-derived ethanol.
Getting Your Hands on a Challenger Demon 170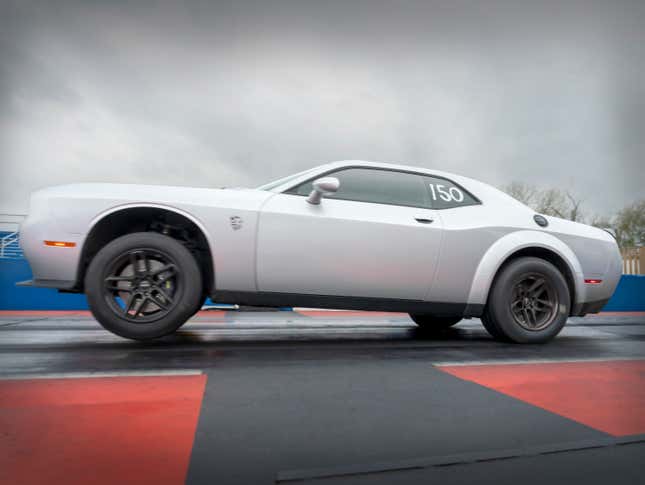 Challenger SRT Demon 170 pricing starts at a devilish $96,666, an insane bargain for a car with Bugatti horsepower. Dodge hasn't released option pricing just yet on the Challenger 170, but I can promise you that even if you select every single option, this will be the cheapest 1,000-hp car you can buy.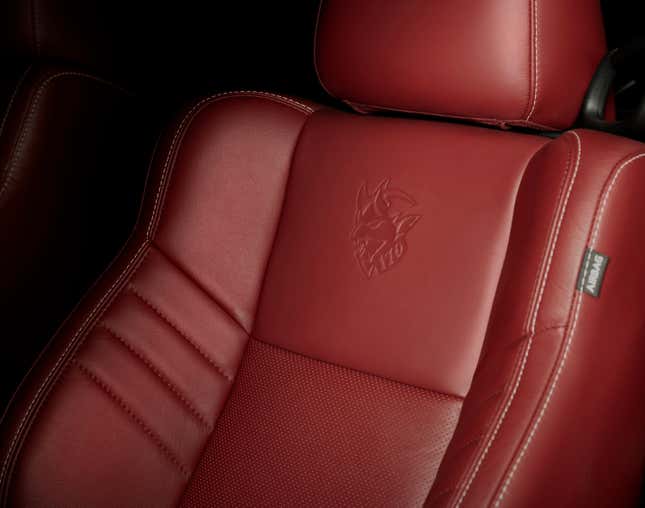 Right now, Dodge plans to build 3,000 Demon 170s for the U.S. and a further 300 for Canada. That would put Demon 170 production right in line with the original Demon — but Kuniskis says that's more of a hope than a goal. Production is slated to begin in July, and ends for good on December 31, 2023, so however many have been built by then, that's it.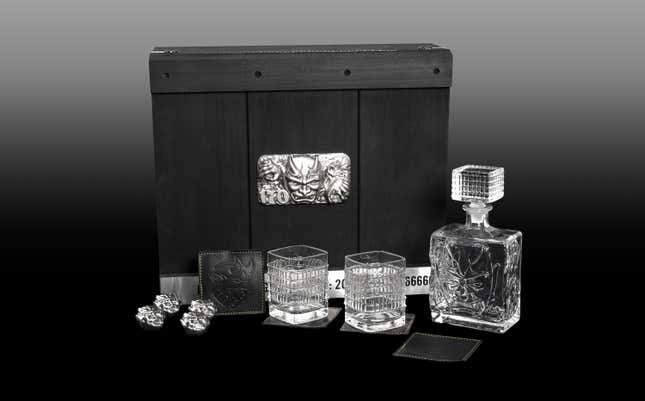 Lucky Demon 170 buyers will not get a Demon Crate like Dodge offered in 2018. There's no need, since all of the important performance parts are already installed. Instead, they'll get some alcohol-themed trinkets like a Demon 170 decanter with matching tumblers and shot glasses with the owner's name and the car's VIN etched into them.
Finally, just like the original Demon, anyone who buys a Demon 170 will have to sign and notarize a letter stating that they understand how wild this car is — if you crash and die because it rained a little bit, it isn't Dodge's fault.
The next muscle car from Dodge is going to be an EV. It looks very promising, but it's going to have a hard task following up what this Challenger has done for the Dodge brand over the past decade and a half. It's the end of the road for this generation of Challenger, and as always, Dodge refuses to let it go quietly into the night.
Ordering books for the 2023 Dodge Challenger SRT Demon 170 open on March 27th at DodgeGarage.com, and close on May 15th. Dodge says it will give first priority to dealers who commit to selling the Demon 170 at MSRP.