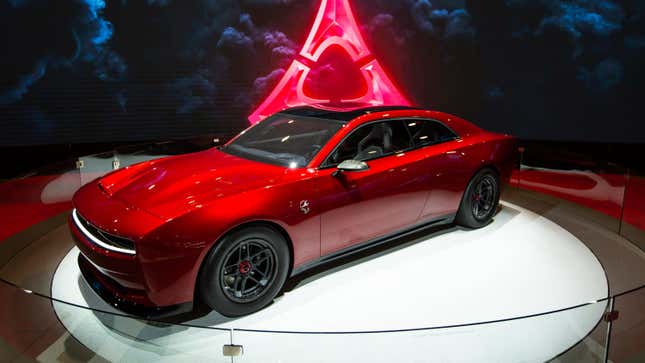 One potential downside of the EV revolution is that the people who love to modify and tune their vehicles, won't be able to. Electric vehicles depend on lines of code and software to instead of those finely tuned engines, and instead of needing just a part to upgrade performance, you'll need computer access and codes. Automakers hold the keys to the codes, and many are opting to hold onto them preciously. Dodge—a brand that attracts the modifying-hungry fans—says it too will keep EV performance mods in-house. According to Dodge boss Tim Kuniskis, mods will only be available through its own Direct Connection Program, reports Muscle Cars & Trucks.
"Now, we don't want to lock the cars and say you can't modify them," says Kuniskis. "We just want to lock them and say modify them through us so that we know that it's done right." Kuniskis adds that the brand would rather spend time coming up with modifications for customers than spending time dealing with hackers.
Those performance upgrades were demonstrated at SEMA with the showing of the Charger Daytona SRT Concept, and SRT Banshee EV powertrain. Dodge showed three power levels for each output and two performance upgrades done through the brand's new Direct Connection Program.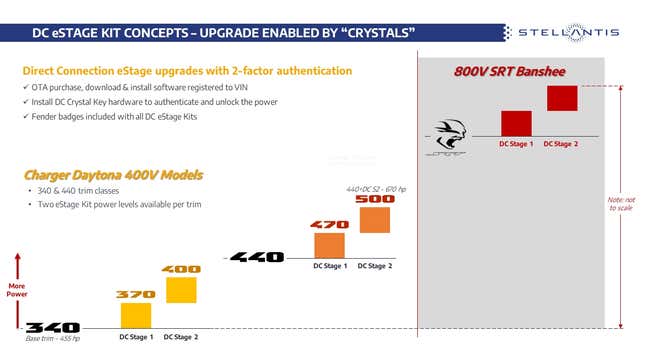 Kuniskis emphasized a new word to the Dodge collective and program: Crystals, which designates the performance levels for the Banshee EV powertrain. For instance, the standard powertrain with 456 horsepower can get a Stage 2 Crystal to bring it up to 535 horses. It also includes a crystal key for the dash—which the thought gives us some very video game level-up vibes.
Crystals are tuned specifically to each vehicle and tied to its VIN and ECM. "Because we want to funnel this all through our control, and we want to funnel it through our Direct Connection and Power Broker program to support that body of people, to make sure that we're controlling everything that happens in these cars," Kuniskis said.
That last part is important as Kuniskis made it a point to say that Dodge wants control of every aspect of the vehicle's upgrade. The statement, may signal an end to tuning as EVs become more prevalent. But it also looks like Dodge is just taking up the same profitable reins that other automakers have taken by implementing charges for performance or feature upgrades to make a little extra profit. Dodge clearly isn't the first, and likely won't be the last to take on that stance and approach.