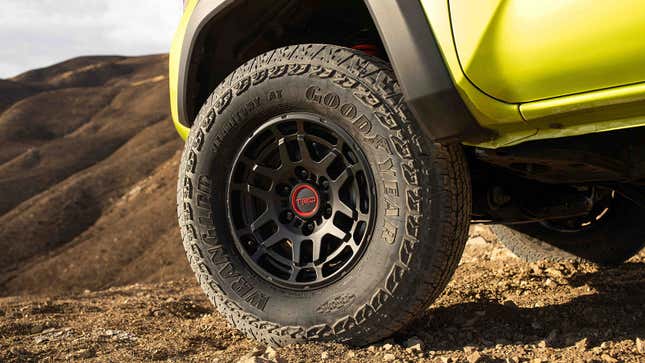 If you want a pickup truck with a manual transmission, you have to make some concessions. First, you can't ask for a full-size truck anymore — all of those come exclusively in automatic. And within the midsize realm, the only brands that'll satisfy your discerning tastes are Jeep and Toyota. The launch of the 2024 Tacoma is around the corner, and Toyota has confirmed that the upcoming Taco will keep the three-pedal dream alive.

In case you missed it:
The confirmation from Toyota was brief, as all of its drip-fed press releases around the fourth-generation Tacoma have been. First we learned it was getting a version of the i-Force Max hybrid system that is optional in the Sequoia and Tundra. Later, Toyota revealed the addition of a new Trailhunter trim to the Tacoma line, which will ship from the factory with ARB steel bumpers.
Some Tacos will even come with a portable JBL speaker that nests and charges in the dash, an increasingly popular feature for adventure-minded vehicles.
But today's announcement is the most surprising yet, because the market for trucks with sticks has never been smaller than it is today. The outgoing Tacoma starts at $29,585 including destination, but you can't option the six-speed in anything less than the TRD Sport package, which raises the sticker up to $38,270. That's not far off from the cheapest Jeep Gladiator at $41,750, where the stick is standard equipment.
In the current Tacoma, the manual is mated to a 278-horsepower, 3.5-liter V6. Outside of the i-Force option, it's unclear how the rest of the powertrain slate looks for the upcoming model. I'm going to toss up a Hail Mary and manifest that Toyota will pull a Honda CR-Z and figure out a way to get the six-speed working with the torquey hybrid setup. It's just the right thing to do.