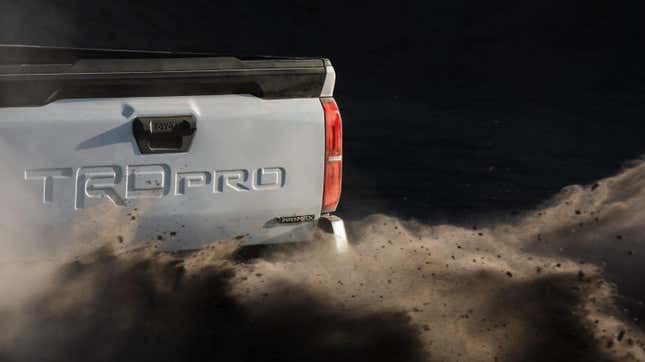 Toyota very clearly loves their hybrid motors, so it seems very fitting that the Japanese automaker just announced that the fourth-generation Tacoma will be joining its hybrid fleet. In a press release, Toyota said, "The best-selling midsize pick-up in America is all-new for 2024 with electrifying i-FORCE MAX performance."
Jalopinions | The Best Type is Jaguar's E-Type
In case you missed it:
Other than that sentence, we have very little information as to what power plant will be under the hood of the next Tacoma. The current I-Force Max system found in the Tundra and Sequoia employs the use of a 3.5-liter twin-turbocharged V6 and an electric motor generator located in the bellhousing between the engine and the truck's 10-speed automatic transmission. That unit pumps out 437 horsepower and 583 lb-ft of torque, which. that's probably overkill for the smaller Tacoma.
Right now. the Tacoma is offered with two naturally aspirated engines: a 2.7-liter I4 and a 3.5-liter V6 which makes a little less than 280 horsepower. So, it's very likely that the fourth-generation truck is going to have some stronger power numbers than that.
It's really not a surprise that the Tacoma is going hybrid. After all, with the addition of the 2023 Corolla Cross Hybrid, Toyota already has 13 hybrids in its portfolio.
As for the next Tacoma, we don't know a ton just yet. Toyota is taking the slow-burn approach to this thing, apparently. From the picture provided by Toyota, we can see that it'll keep its top-dog off-road TRD Pro trim level, but that isn't too much of a surprise, is it? Other than that we haven't seen or heard too much. Back in 2021, we saw some spy shots of the truck, and surprise, surprise, it looks like a Toyota truck.
So, we may not know a ton about the fourth-generation Tacoma, but one thing is for sure: Toyota is going to sell a hell of a lot of them.