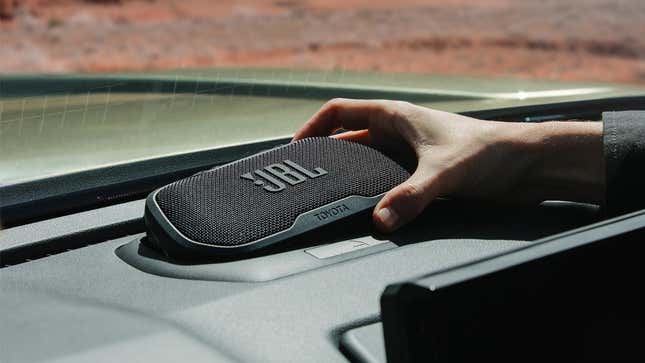 We've all been there. You're in your car, Doritos and Fritos blasting from the stereo, when the worst possible thing happens: You arrive at your destination. What are you supposed to do now, stop the song partway through? Or do you keep it playing, staring through your windows at the people awaiting your arrival? Truly, Sophie's choice. But it's a knot Rivian managed to slash, and now Toyota is following its steps.
Rivian Recalls Nearly Every Car It Has Built
In case you missed it:
Rivian's solution was simple: A portable speaker, held in the center console of an R1T or R1S, that paired to your phone as a part of the truck's stereo system. When you park, you can take the speaker with you and let your tunes continue unabated. Now, Toyota's latest tease for the 2024 Tacoma appears to include the same tech.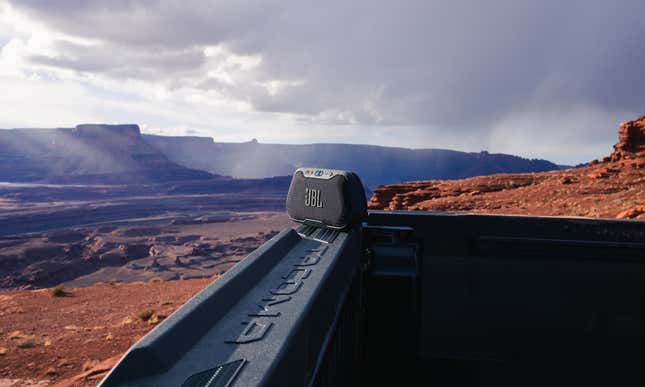 Toyota posted two teaser photos of the upcoming Tacoma today, both centered around a JBL Bluetooth speaker. One features a person removing the speaker from the dashboard of the new truck, pulling it from a fitted recess behind the center screen. The second shows the speaker seated on the rear of the car—letting the music continue outside.

As for details, there are none. We can presume that, like the Rivian speaker, Toyota's JBL unit charges off the Tacoma's electrical system and pairs to a phone alongside the standard stereo system—but we don't know for sure. For more information, it seems we'll have to wait until the truck's full reveal.