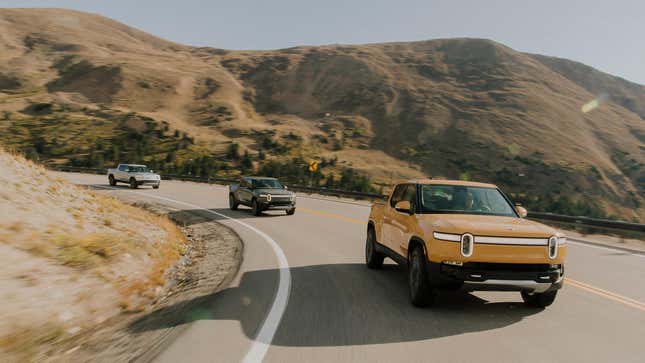 Rivian makes some incredible electric vehicles, with its R1T pickup and R1S SUV standing as shining examples of what electrified off-roading can be. But their performance, engineering, and attention to detail don't come cheap — Rivians can be optioned into six-figure territory with relative ease. Now, it seems the company wants to democratize its performance by introducing a mid-range variant of its trucks; it just so happens that new variant has 700 horsepower.
Rivian first discussed the Performance Dual-Motor AWD configuration back in December, but this week, the option finally became available to order. It's available with Rivian's largest battery, the Max Pack, which pairs with one motor on each axle to put out a claimed total of 700 horsepower and 700 lb-ft of torque. Despite the big performance numbers, the Max Pack gives Performance Dual-Motor Rivians an estimated 400 miles of range.
In case you missed it:
This brings Rivian to a three-drivetrain, three-battery lineup. The base drivetrain is the Dual-Motor AWD setup, with a claimed 600 hp and 600 lb-ft, that Rivian says will hit 60 in 4.5 seconds. It can be had with the base Standard Pack battery for an estimated 250 miles of range, the $6,000 Large Pack for 350 miles, or the $16,000 Max Pack for a full 400 miles. For $5,000, buyers can get the Performance Dual-Motor spec, which can only be had with the Large or Max battery for 350 or 400 miles of range, respectively. The top drivetrain is the $8,000 Quad-Motor AWD option (one motor driving each wheel), with 835 horsepower and 908 lb-ft of torque. It claims 0-60 in three seconds flat, but can only be had with Rivian's Large Pack battery, with an EPA-estimated 328 miles of range in this spec.
Democratization of performance is always a good thing, and Rivian's new trim levels should allow more buyers to get their hands on high-speed off-road fun. After all, will you really miss the full 835 horsepower if you're forced to settle for a mere 700? I think not.