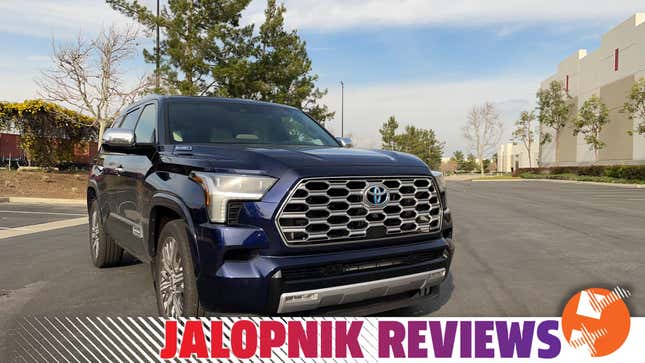 Fifteen years. Three presidential elections. A global pandemic. All this and more took place between the introduction of the second-generation Toyota Sequoia and its final production year in 2022. By the time it rolled off into the sunset, the Sequoia was absolutely ancient by industry standards. But now that its replacement is here, was it worth the wait?

Jalopinions | The Best Type is Jaguar's E-Type
Full Disclosure: Toyota dropped off a Sequoia with a full tank of gas at my house and said "See you in a week." It took up half of my driveway and hauled my family and our crap around.
Newfound Efficiency — Sort Of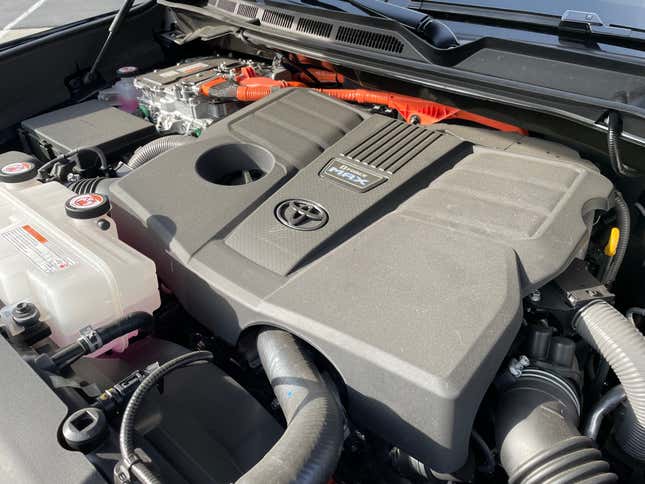 We knew the new Sequoia was coming when Toyota introduced the new Tundra pickup. Since they share a platform, the Sequoia is exclusively available with the Tundra's twin-turbo hybrid V6 as the only powertrain.
Called i-Force Max, this 3.5-liter V6 produces a healthy 437 hp and 583 lb-ft of torque. This engine is paired with a 10-speed automatic transmission, and Toyota says this powertrain should get 21 mpg city, 24 mpg highway and 22 mpg combined. Considering the old, V8-powered Sequoia returned 14 mpg, this is a huge improvement.

But that doesn't mean it's perfect. While the hybrid powertrain can really hustle the full-size Sequoia, and it actually sounds a little like a V8 in operation, it really seems to be a hybrid in name only. I never came close to hitting the EPA's fuel economy ratings, averaging just 16.3 mpg during a week of driving. The hybrid system does have an electric-only setting, but it only really works below 10-15 mph.

Overall, despite its newness, the Sequoia still drives like an old vehicle. There's substantial body roll in corners to the point where it makes me feel uneasy. Potholes and other road bumps are met with a pickup truck-like shudder throughout the entire SUV. Braking is also unconfident, with a super-mushy pedal. This all combines to make for an unsettling ride.

Pricey and in Your Face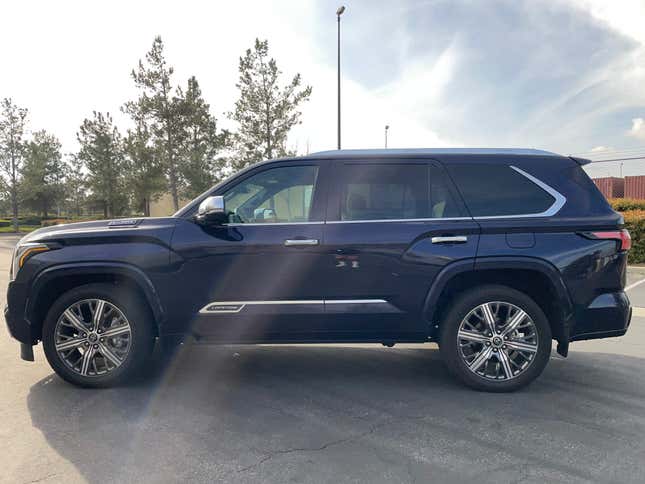 While the 2023 Sequoia starts at $59,960 including $1,595 for destination, the model I'm testing is the fully loaded Capstone. Sitting at the top of the Sequoia lineup, it starts at $76,960, including $1,595 destination. With a few option packages, mine stickers for a downright Lexus-like $80,481.

The Sequoia's redesign won't be for everyone, and the front fascia is especially polarizing. But I honestly don't find it offensive. It's not pretty, but it reinforces the toughness that the Tundra tries to sell. Big headlights with LED DRLs flank an equally big grille.

What's interesting is that, while it looks massive, this Sequoia isn't much larger than the SUV it replaces. The wheelbase is the same, at 122 inches long. The 2023 Sequoia sits 2.8 inches lower, at 74.2 inches, and it's only 3 inches longer than the previous model. That imposing stature is really just an illusion created by the styling.

An Interior That Needs Improvement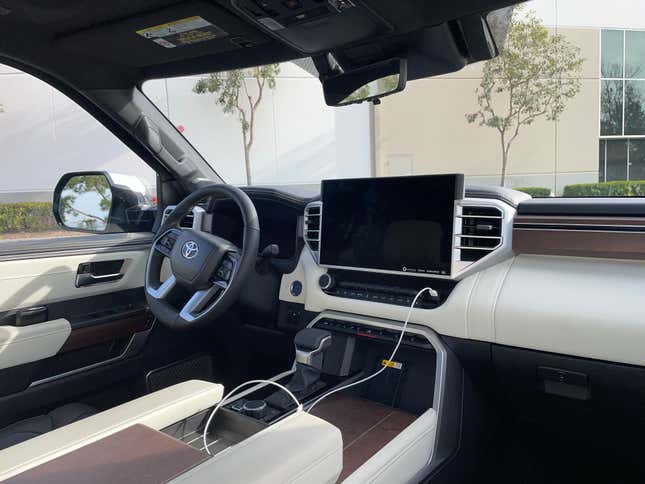 Climbing inside the Sequoia, you'll find a nice, modern-looking interior which, visually, is a huge improvement over the previous generation. There's a comprehensive 12.3-inch digital gauge cluster for the driver and a laptop-like 14-inch multimedia screen with great resolution.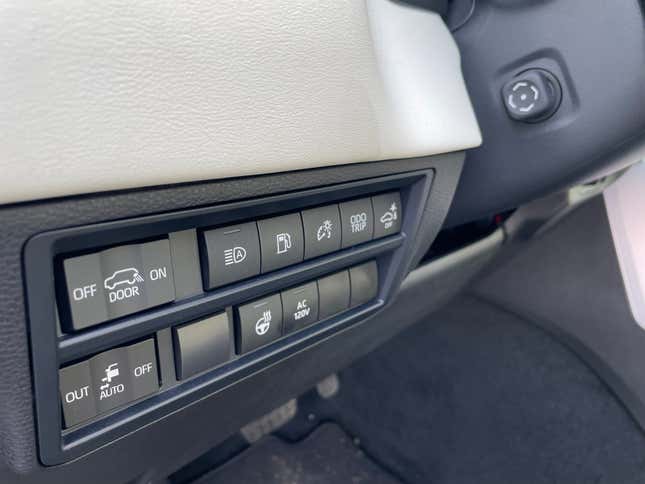 Unfortunately, upon closer inspection, you'll find cheap, sometimes flimsy or ill-fitting materials. While the white parts of the dash are soft to the touch, anything that's black is made of cheap-feeling plastic. The glovebox feels like it might come loose with too strong of a close; the gear selector feels flimsy; the lower door panels seem hollow. This is not an $80,000 interior, not even close.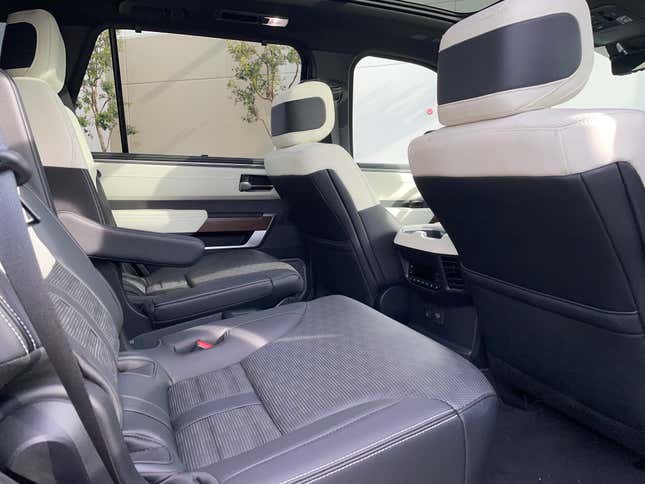 Things get slightly better in the back. Under the second row of seats is where the 15.1-kWh hybrid battery resides. Because of this, the floor is higher than you might expect and makes it feel as if your knees are too close to your chest. Above you, headroom is compromised due to my Capstone tester's panoramic sunroof – specifically, the retractable shade, which stores in a roll in the ceiling directly above the heads of second-row passengers. It all makes for an awkward place to sit. The Capstone does come with heated and cooled rear seats, as well as individual climate controls, vents and chargers for back-seat riders.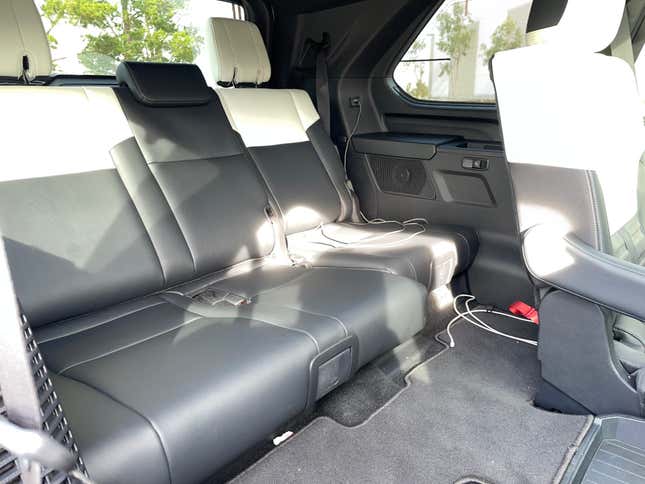 The third row is decent, with 33.7 inches of legroom. It's easy to get in and out of, too, thanks to second-row seats that easily flip out of the way.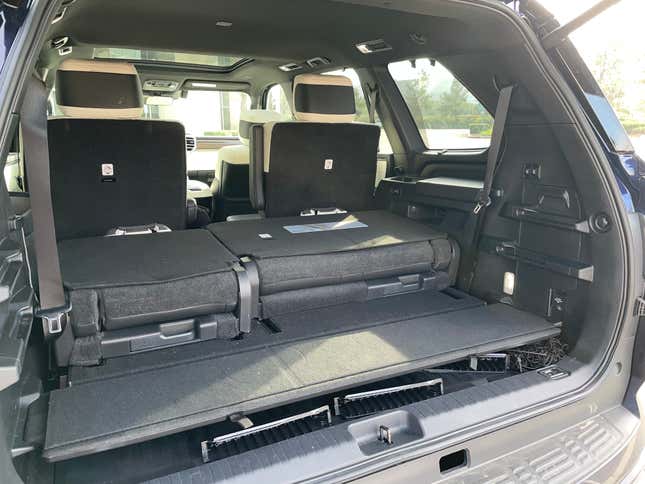 Think twice about carrying seven passengers and all their cargo, though. Depending on how you position the power folding seats, Toyota says cargo volume behind the third row is 11.5 to 22.3 cubic feet, which increases to 49.0 cubic feet with the third row folded and 86.9 cubic feet with both rows down. Also, rather annoyingly, Toyota still doesn't seem to know how to make seats that fold completely into the floor.
It's Not Quite There
The Toyota Sequoia needs… something. Yes, it's an improvement over the previous generation, but only if you don't look too close. The interior feels cheap for the price, the hybrid engine isn't that efficient and overall, the Sequoia doesn't feel like a modern, competitive product. But, hey, if you liked what Toyota offered in the old Sequoia, maybe the 2023 model is just the right vehicle for you.

2023 Toyota Sequoia Capstone 4WD (Natl) Specs
Engine type
Twin Turbo Gas/Electric V-6
Transmission/Drive
Automatic w/OD