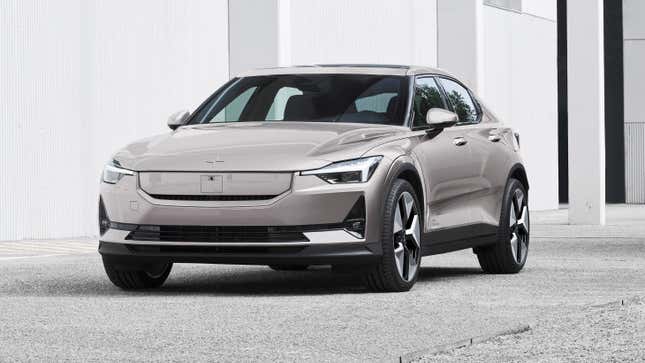 The Polestar 2 has been on sale for about four years now, which means it's just about time for the electric vehicle to get its first mid-cycle refresh. We're about to head out to Denver, Colorado to check out the new 2, but before do, we want to know what you want to know about Poletar's sedan/hatchback/crossover/liftback thing.

Honda's Motocompacto Is The Ultra Portable E-Scooter That Can Fit Just About Anywhere
There isn't too much information out there on the updated Polestar 2 just yet. I mean, that's why we're going out west, after all. However, there are a few things we know ahead of time: In Polestar land, the name of the game is incremental improvements, so that's what we will likely see with the 2024 2.
The biggest stylistic change comes upfront; where once there was a grille-esque thing, there is now a body-colored panel in its place. That definitely gives it a more EV-ish appearance, though I'm not totally sure if I'm sold on it just yet. Other than that, there doesn't seem to be too much in the way of change besides some redesigned wheel choices. The Polestar 2 has always been a good-looking vehicle. Why mess with a good thing?
The grille change is apparently called the "SmartZone" by Polestar and is meant to signify the "...shift from ' breathing' through a front grille to 'seeing' the road ahead reflecting the high-tech nature" of the 2. Sure, why not?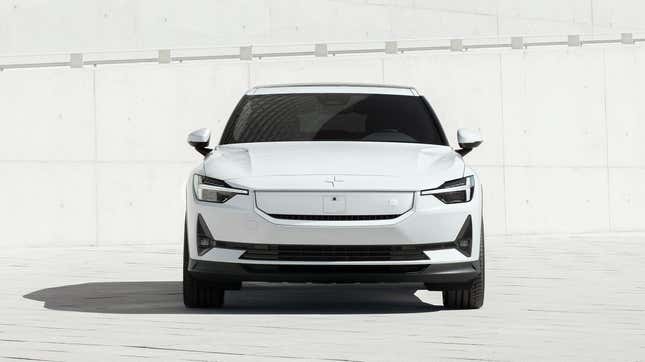 Mechanically, there have been some more substantial changes. Polestar says new batteries and motors front and back are responsible for a 20 percent further driving range which is now up to 300 miles per the EPA, nine percent more efficiency, and a 34 percent better charging time. Not too shabby.

The single-motored Polestar 2 is now powering the rear wheels, rather than the front on the old car with 299 horsepower and 361 lb-ft of torque. Those are both healthy numbers, especially when you compare them to the 2023 which made 231 hp and 243 lb-ft of torque. They also drop the 0-60 time down to 5.9 seconds. The single motor car will also give you the 300 miles of the range we mentioned earlier out of a larger, 82 kWh battery that can charge at 205 kW DC.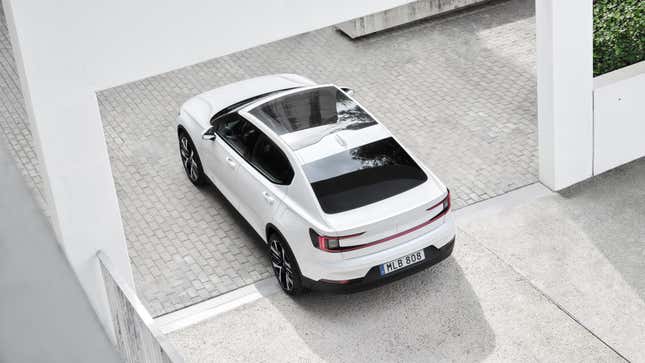 Changes are also coming to the dual-motor variant which Polestar says will have a strong rear-drive bias than before. The power unit now puts out a combined 421 hp and 546 lb-ft of torque. It's again a pretty substantial improvement over the outgoing car's 408 hp and 467 lb-ft of torque. Because of those power improvements, 0-60 is now dispatched in just 4.3 seconds, according to Polestar. But, I hear you. You want more power. Don't worry, because the company will still sell the optional Performance Pack that ups horsepower to 455, and it drops 0-60 to 4.1 seconds. Opting for the dual motor 2 drops the range a bit to an EPA-estimated 270 miles out of a 78 kWh battery with a max charging speed of 155 kW DC.

Anyway, what questions are burning in your loins about the Polestar 2? Is that burning keeping you up at night? First, see a doctor, and then head down below and let us know about it in the comments.