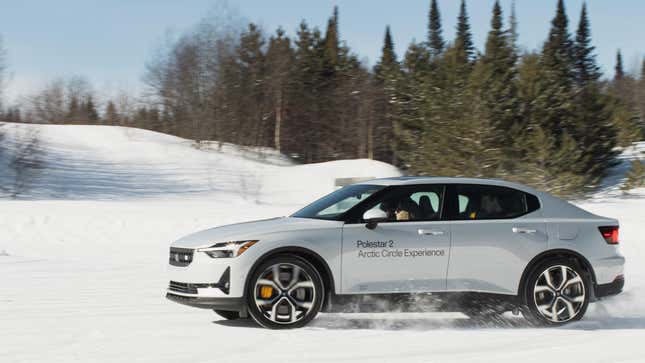 Designing a car is never a simple task. Let the car do too much for the driver, and you're going to turn off a whole slew of enthusiasts. Make it too responsive, and no one is going to want it as their daily driver. The beauty of modern technology, though, means this balance is easier to achieve than ever before, and the 2023 Polestar 2 is a perfect example.
This NYC Garage Takes Vanlife To The Next Level | Jalopnik Visits
I had a chance to take a Polestar 2 out to the snow-covered track at Circuit Mécaglisse in Québec, where I was able to see firsthand just how much thought went into making the vehicle appeal to as many people as possible. I wanted to know more about how engineers and designers weigh the needs of enthusiasts and everyday drivers when working on a new vehicle.
In a former life, Joakim Rydholm was a winning rally driver in largely Scandinavian championships. Now, he's Polestar's chief chassis engineer, which means he has the pleasure of pushing cars to their limits to create the ideal balance of handling and predictability.
"Tuning a chassis on snow and ice allows us to develop our cars in what feels like slow motion and with better accuracy," Rydholm said. "With such low levels of grip, we can feel and analyze the dynamics at a much slower pace than on tarmac, which means we can really fine -tune the way our cars behave, down to the smallest details."
The kind of driving Rydholm did in his rally career would likely terrify the average driver, but Christian Samson, Polestar's head of product attributes, credits Rydholm's high-adrenaline driving style as an important part of the design process.
"You have to discover how the car behaves when you lose the car," Samson told Jalopnik. "This would scare a customer, provoking the car like this. But we can analyze backwards and discover what lost the balance."
Samson highlighted the fact that Polestar really didn't want its cars to feel "heavy" — sluggish, difficult to slow down, or imprecise when reacting to steering inputs. While the instant torque of an EV generally means acceleration is brisk, the weight of the battery results in a physically heavy car, and sometimes that means performance can suffer.
The key, then, is balancing out that weight with power and fine-tuned driving dynamics that can be easily manipulated with a series of pre-programmed drive-mode options. The dual-motor all-wheel drive Polestar 2 can modulate power output independently at each axle as needed for the conditions. In the snow, this meant I could approach tight corners with confidence; I'd likely still slip and slide, but the Polestar 2 was working hard to keep me pointed in the right direction if I wasn't able to catch myself.
Samson described that sensation behind the wheel as "honest," in the sense that the car will still allow you to feel the conditions under your tires even as it prepares to lend a helping hand. As such, electronic stability control remains activated in some capacity even in Sport mode. You'll have more wiggle room for lateral movement, but the Polestar 2 isn't going to let you careen into the abyss. There's a safety net waiting for you.
The engineering process also recognized that different drivers are looking to gain different things from their vehicle. For some, the Polestar 2 will be a comfy daily commuter, while others may choose it for a little bit of excitement. That's why there are three steering effort settings. "Low" is just fine for a quiet highway cruise. "Standard" helps tighten up the response to your steering input, while "Firm" is designed to give you the most immediate, nimble feel. In normal, clear asphalt conditions, I'd likely adore the firm setting for its feedback; as an inexperienced winter driver, I found it could occasionally be a little too snappy for my skill level. Whatever the case, though, the Polestar was always comfortable and poised on slick surfaces.
And that was Polestar's goal, Samson told me. "Put someone behind the wheel who says, 'I don't like cars.' They would quickly feel at home. It quickly gains your confidence and at the same time is rewarding for anyone who also likes to push a little harder into the corner. The car, it wants to play with you, but it also receives your signals as a driver," he said.
Behind the wheel, you can feel it. The Polestar 2 is nimble and athletic. It invites you to play as you settle into its rhythms, because you know it has your back.