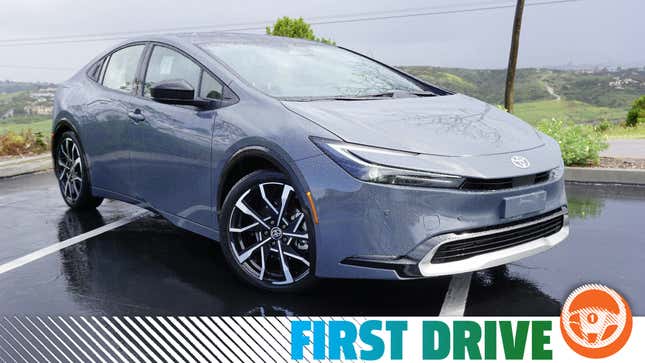 The automotive industry is in a real transitional period at the moment. More and more all-electric vehicles are coming to market, and some people are eager to make the swap. However, even if they want to, not everyone is ready to make that switch just yet, and there are some valid reasons why. Toyota is here to bridge that gap with the all-new plug-in hybrid Prius Prime.

2024 Nissan Z NISMO | Jalopnik Reviews
The Prius Prime isn't the first plug-in hybrid on the market. Hell, it isn't even the first plug-in Prius, but for the money it could be one of the best vehicles on sale today. Few cars can blend fairly decent power, good looks, great gas mileage, a modern interior and solid driving characteristics for the price of the Prius Prime. For reference, Toyota says the average plug-in hybrid cost $65,000 in the U.S. in 2022. The Prime is well below that. Plug-in hybrids may be the middle ground of the automotive landscape right now, but that's where the Prius Prime thrives. It's a great alternative to going all-electric.
Full Disclosure: Toyota flew me out to Carlsbad, California, put me up in a hotel I could never afford for a couple of nights and fed me copious amounts of food during my stay, all so I could drive the new 2023 Prius Prime.
Plugging in Makes All the Difference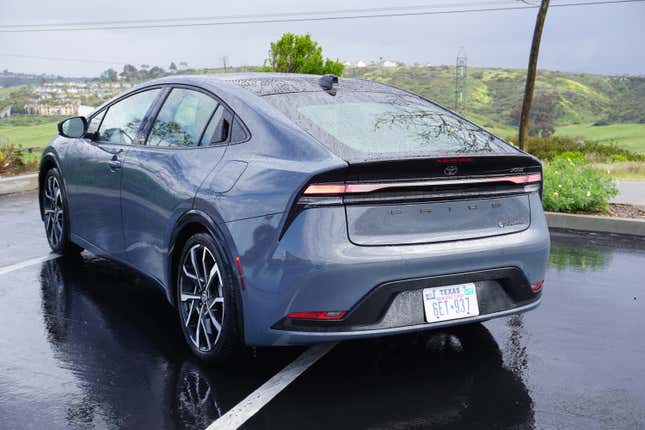 I first drove the fifth-generation Prius back in December of 2022, and I immediately fell in love with it. I know falling in love with a Prius sounds a bit odd, but that's the world we're living in now — the fully-redesigned car is fantastic. There was just one thing nagging me: With the normal Prius, you can only drive under pure EV power for a handful of miles at very low speeds. That's fine in a conventional hybrid, but I wanted more. Enter the 2023 Prius Prime.

Toyota says that on a full charge, the Prius Prime has up to 44 miles of all-electric range. That's a 76-percent improvement over the fourth-generation Prius Prime. That electric range helps get the new Prius Prime to a combined 52 mpg, but that isn't the whole story. Toyota tells us that customers are more likely to choose a plug-in hybrid vehicle when the car can achieve more than 40 miles of all-electric range, in part because if you've got a short-ish commute and can charge on either a Level I or Level II outlet overnight, you can go a really long time between fill-ups.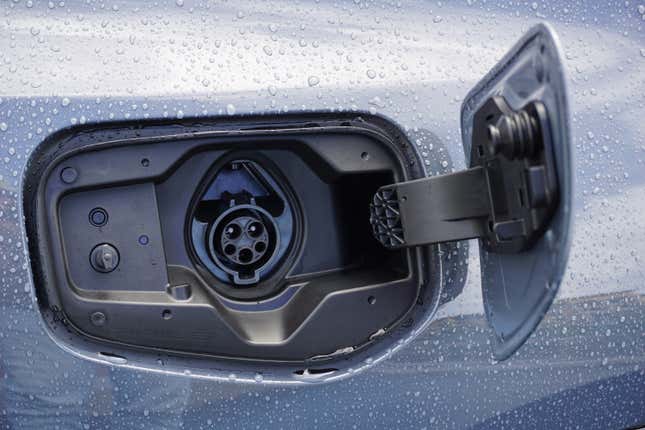 As a quick note, that 44 miles of range is only on the base "SE" car with 17-inch wheels. The higher two trims, XSE and XSE Premium, manage about 40 miles of all-electric range on their upgraded 19-inch wheels.
Toyota was able to achieve this by pairing the regular Prius's 2.0-liter, 150-horsepower inline-4 with a bigger 161-horsepower electric motor and a larger 13.6-kWH lithium-ion battery pack. The system pumps out 220 horsepower and 139 lb-ft of torque in total, all going to the front wheels. For those keeping score at home, that is a staggering improvement of 100 horsepower and 35 lb-ft of torque over the fourth-generation Prius Prime plug-in hybrid.
2023 Toyota Prius Prime: Interior and Tech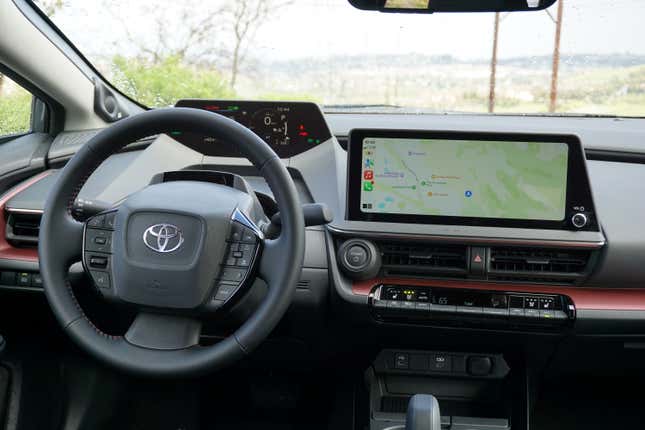 The 2023 Prius Prime interior is largely carried over from the regular Prius, save for a few red accents to denote sportiness. That's a great thing, as the fifth-generation Prius interior is, for the most part, excellent.

The interior feels almost Lexus-like. The cabin is plush and very well thought out. Toyota did away with the tall, narrow center-stack screen, replacing it with a larger, more horizontal unit. The seats are lovely, providing plenty of support. Every button and knob is exactly where you'd expect it to be – save for the volume knob, which is at the passenger's side of the 12.3-inch center screen and can be a bit of a reach for the driver.
I have three issues. One is the placement of the steering wheel in relation to the gauge cluster. Simply put, there's no real way to position the wheel so that it doesn't block a pretty considerable chunk of the instrument panel. Maybe your body type will give you a different result, but it's certainly something to note.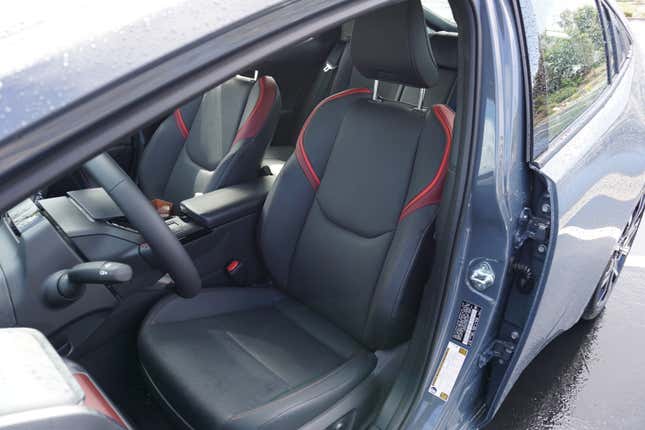 My second issue has to do with some of the material choices inside. For the most part, everything feels very nice. Unfortunately, there are a few places – such as the bottom of the doors, and the edge of the center console where you knee rests – that have some fairly cheap-feeling plastic. It isn't anything close to a dealbreaker at this price point, but dammit, I just want a soft place to rest my knee.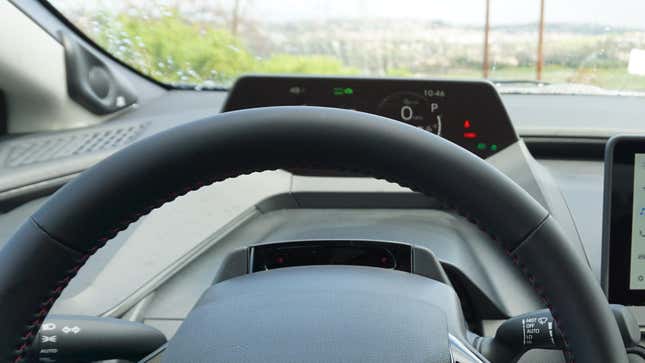 My third issue is part interior element, part software implementation. The Prius Prime tracks your eyes with a little sensor mounted on the steering column, to make sure you're paying attention while you drive. That's all well and good, but it is very sensitive. Take your eyes off the road for a couple of seconds to change the radio station (which you're going to have to do), and the dashboard yells at you for not paying attention. The problem is even worse depending on how you grip the wheel. If you are the type of person – like me – who will sometimes drive one-handed gripping the wheel at 12 o'clock, the system will get confused by your arm in the way and assume you aren't looking. Luckily, the gaze-tracking feature can be turned off if it proves to be too much of a distraction.
Other than angering the eye-tracker whenever you use it, the 12.3-inch center infotainment system is delightfully easy to navigate. Menus and features are never more than a few taps away, and the positioning of the screen never takes your eyes too far off the road. Over-the-air updates should keep it feeling fresh too.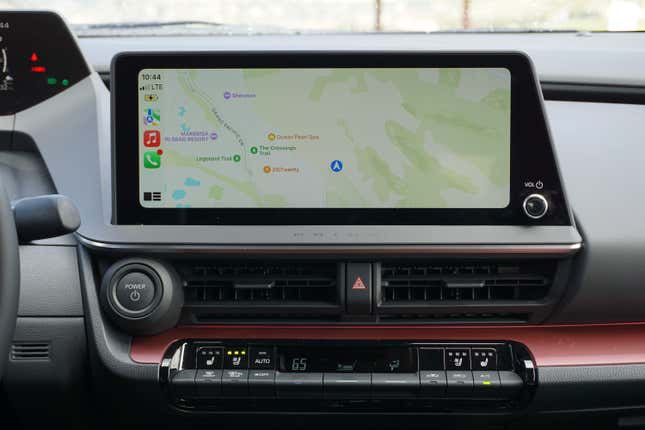 Front-seat occupants are treated to the usual Prius airiness, but the seating position is much different from prior generations. In the new Prius, you sit down low inside the car, which gives a very sporty feeling to the folks up front. Those in the back aren't quite as lucky. At 6'1'' I could not comfortably fit in the back of the car unless I cut about 7 inches from my body. For short journeys, I'm sure it would be fine, but I would not want to spend any sort of extended period back there. The shape of the new Prius's roof works well visually, but comes at the expense of rear headroom. The company says rear headroom now sits at 36.4 inches, down from 37.2 inches in the fourth-generation Prius Prime. The old car wasn't exactly ultra-spacious, but that 0.8-inch difference did help. That being said, trunk space is much better in the 2023 Prius Prime.
If you decide to go all-out for the XSE Premium, you've also got the option to spring for the $610 solar charging roof. It provides 185 watts of power that can help charge the drive battery while the Prius Prime is parked. On top of that, it'll supply power to the car's accessories while driving.
Driving the 2023 Toyota Prius Prime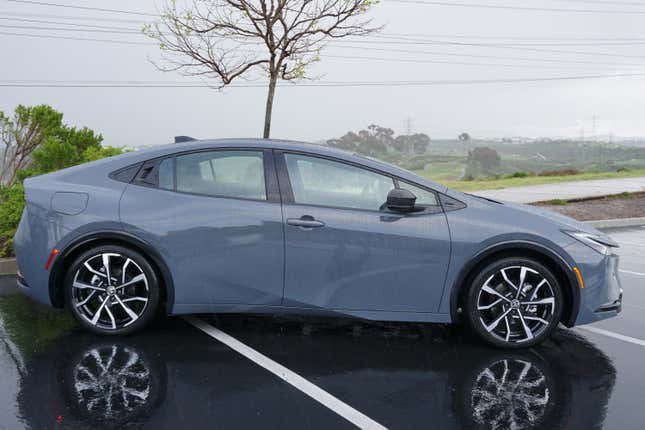 When designing and engineering the 2023 Prius, the folks over at Toyota decided to add a little bit of a sporty element to the hybrid. That's especially true with the Prime. The automaker made a conscientious effort to add a little bit of fun to the Prius's driving experience, and it really shows.

With 220 electrically-aided horsepower, the Prime can rip 0-60 runs in just 6.6 seconds, according to Toyota. That isn't exactly a world-beating number, but when you compare it to the fourth generation's 10.3-second 0-60 time, it is a vast 40-percent improvement.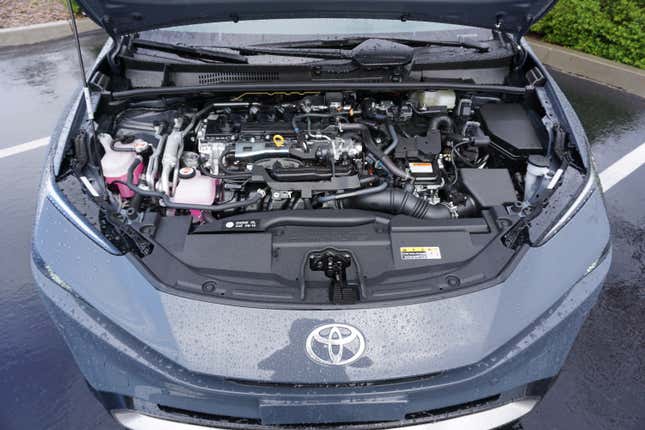 It's hard to believe, but the Prius now sends enough power through the front wheels that torque-steer is a bit of a thing on acceleration. It's not overly aggressive, but you will feel a slight tug at the wheel every once in a while. The one thing you will really feel is the Prime's proclivity to do a one-wheel peel from a standstill under hard acceleration. Those 195-treadwear, low-rolling-resistance tires can only do so much to contain the beast that lives under the Prius Prime's hood.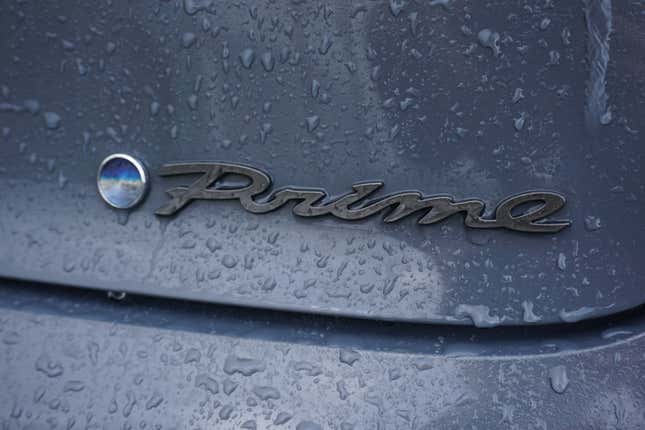 Engineers at Toyota say they put the hybrid battery lower and further forward than in the previous-generation car, in an effort to lower the center of gravity and improve handling. Like the normal Prius, the Prime drives roughly one billion times better than the car it replaces. Thanks in part to the battery's placement, the 2023 Prime corners relatively flat. It actually inspires some confidence in curves. It isn't a canyon carver by any means, but it ain't bad when the going gets twisty.
Where the Prime really shines is around town. It's quiet, with a smooth and comfortable ride no matter what sort of road you're on, thanks in part to a wheelbase stretched by roughly 2 inches. The MacPhearson front and multi-link rear suspension make sure that every bump gets just a single reaction. There's none of the floatiness that appeared in the fourth generation, but it isn't too stiff either. This is exactly what you want a plug-in Prius to be.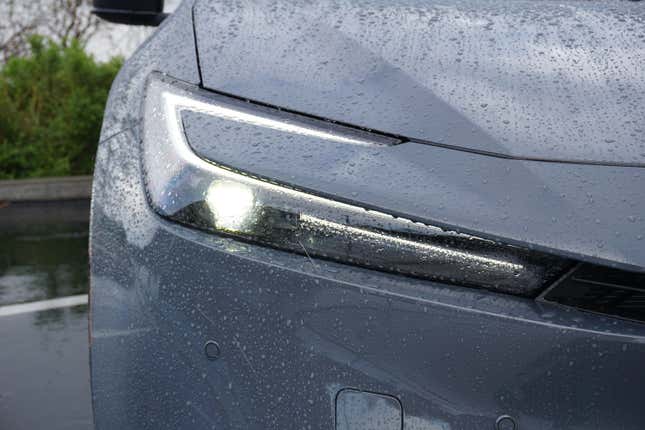 The one element of driving where the Prius Prime truly outshines its normal hybrid brother is in the refinement you feel. In a normal Prius, as good as it is, you can't really escape the slight drone of the 2.0-liter engine. That engine note does exist in the Prius Prime, but with over 40 miles of all-electric range, you encounter it a lot less often. When running on electricity, the Prime is as quiet as any EV, and the power and performance are still pretty solid in EV mode, too.
Pricing and Final Thoughts on the 2023 Prius Prime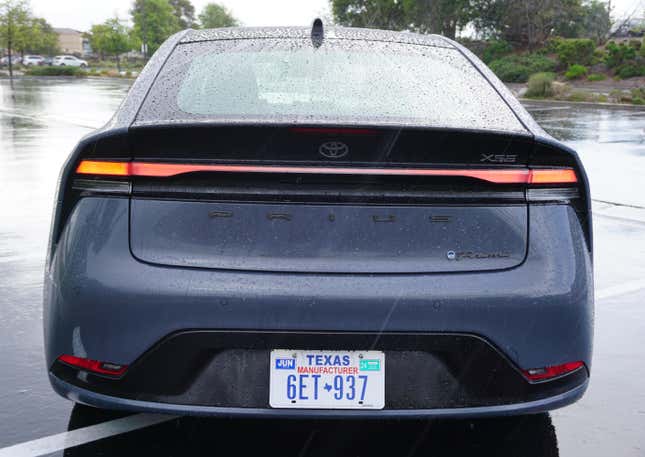 The 2023 Prius Prime starts at $33,445 (including $1,095 for destination) for a base SE. The XSE starts at $36,695 and the top-dog XSE Premium will sticker at $40,265. My nearly-fully-loaded XSE Premium tester stickered at $40,875, since it was equipped with the solar roof option. All in, each level of Prius Prime costs between $3,200 and $5,000 more than the equivalent regular Prius. Loaded-up Primes have also gone up by around $4,500 from the previous generation, but if you ask me, that's money well spent.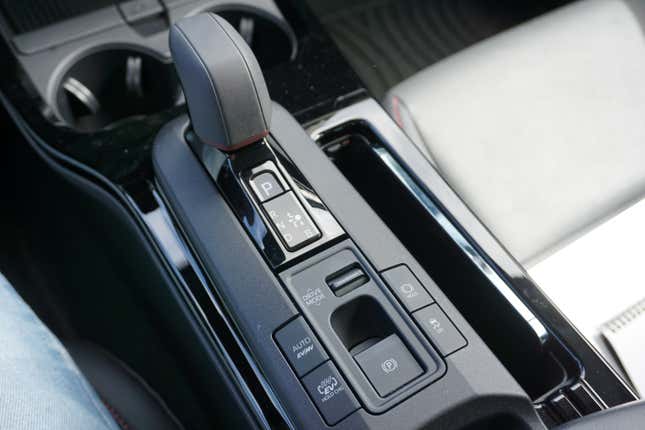 As standard, you get LED DRLs and taillights, 17-inch wheels, power seats, single-zone climate control, an 8-inch center display, rain-sensing wipers, a heated steering wheel, traffic jam assist, and most of Toyota's Safety Sense 3.0 suite of equipment that includes radar cruise control as well as pedestrian avoidance. As you go up in trim levels, you can add niceties like a digital key, bigger center screen, heated and cooled seats, 19-inch wheels and LED headlights.
Despite the price difference between a regular Prius and the Prime, Toyota expects the plug-in to make up 30 percent of Prius sales. You can expect the 2023 Prius Prime to hit dealers in May, and Toyota plans to sell about 10,000 Prius Primes this year, going up to 15,000 in 2024.
Toyota has seemed a bit slow and skeptical when it comes to EVs. With the all-new Prius Prime, the automaker shows that there is still a lot we can get out of an internal-combustion engine. The Prius Prime is not a revolutionary vehicle, but in a world where every automaker is aiming for revolution, sometimes a solid evolution is really all you need.