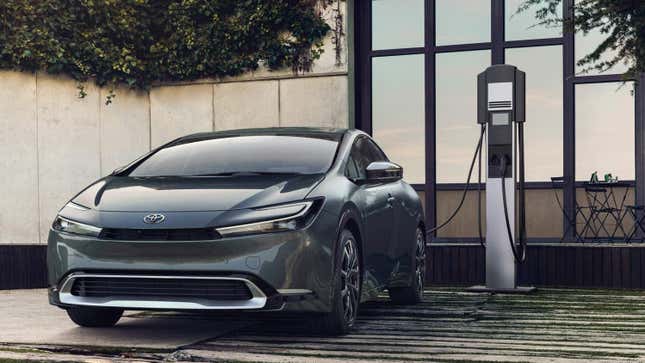 When we first laid eyes on the 2023 Toyota Prius, we were taken aback by its fairly aggressive styling and solid performance credentials. The hybrid's performance credentials were backed up when we drove it in December and found out it can actually handle pretty well. Now, we are just a month away from sampling the plug-in Prius Prime. That packs 220 horsepower and a 0-60 time of 6.6 seconds. But, Toyota engineers aren't quite done with hopping up the Prius just yet.
2024 Nissan Z NISMO | Jalopnik Reviews
During an interview with Automotive News, a couple of the Japanese automaker's engineers said a GR Prius is feasible and still very much on the table.
"Personally speaking, I would like to do it," Yasushi Ueda, Prius Chief Engineer, told Auto News at a racetrack outside Tokyo. "But first we have to listen to customer voices and think of what kind of concept we would be able to deliver in a GR version."
Smart money is on a GR Prius being based on the plug-in Prime, rather than the regular hybrid. That car will have a 120-kilowatt front-axle electric motor and a 13-kilowatt hour lithium-ion battery pack with an upgraded 2.0-liter gas motor. That's enough to pump out the aforementioned 220 horsepower, which is a 100 horsepower jump over the previous Prius Prime.
The big question is whether or not there's enough juice left in the proverbial Prius tank for the car to earn a GR badge, but by all accounts, there should be. Automotive News compared the GR86's output to the Prius Prime's. The sports car develops 228 horsepower. That's just eight more than the Prime. 0-60 times are also fairly comparable. The GR86 can get there in 5.8 seconds, whereas the Prime can reportedly do it in 6.6 seconds. It's not hard to believe that a hopped-up GR Prius could beat those numbers.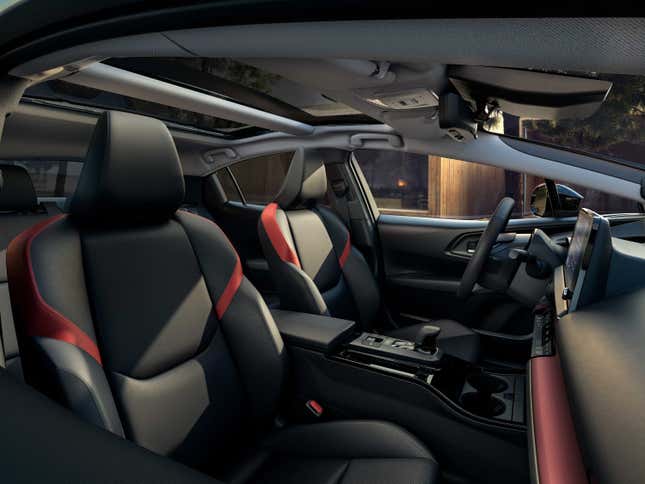 Satoki Oya, the Prius's development head, said other tweaks to a GR Prius would include tightened-up suspension and handling. There would also likely be a special aero pack as well as racing-inspiring detailing. The outlet said those touches could come in the form of "funky" seat stitching.

Sadly, despite the enthusiasm from Toyota's designers and engineers, there isn't any concrete plan to build a GR Prius. That being said, a boy can dream, can't he? It's not like a GR Prius would be unprecedented in Toyota's lineup. There have been two hot Prii in the nameplate's past on the third- and fourth-generation cars. However, the changes made were for the most part cosmetic.
We suppose only time will tell if the fifth-generation Prius will get its own even-hotter version. Until then, we're gonna have to make do with 220 horsepower.