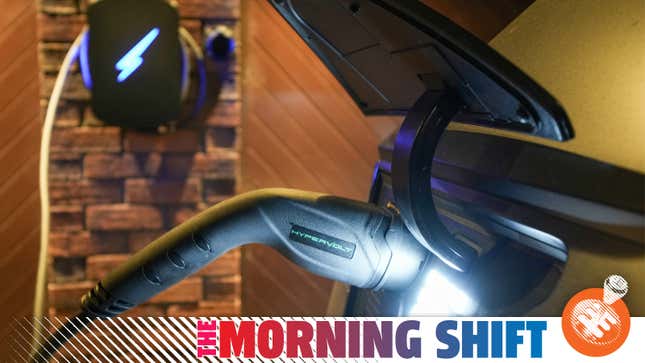 Electric vehicle charging at home still has a ways to go, Audi expects car prices to come down a smidgen and technicians at Nissan's Smyrna, Tennessee plant are facing a big union decision. All that and more in The Morning Shift for Thursday, March 16, 2023.

1st Gear: Home Charging Isn't Looking Too Great, Either
We know that public EV charging isn't anywhere near as simple or reliable as it should be, but what of home charging solutions? J.D. Power recently conducted its third annual survey, asking EV owners to rate their satisfaction with their charging systems at home. And wouldn't you know it, the score actually dropped this year, due to "high costs of charging, slow charging speed and limited charging education," per Automotive News:
J.D. Power measured home charging satisfaction with Level 1, portable Level 2 and mounted Level 2 chargers across eight factors — cost of charging, charging speed, fairness of retail price, cord length, size of charger, ease of winding/storing cable, ease of use and reliability. The study, in collaboration with PlugShare, measures satisfaction with the home charging experience for battery-electric and plug-in hybrid vehicles. Nearly 14,000 owners of 2017-23 model year EVs and plug-in hybrids participated in the study, fielded from December 2022 to February 2023.

There is little awareness around charger discounts, charger upgrades and managed charging, Gruber said. Satisfaction with charging cost fell more than 30 points from last year's study for EV owners with portable Level 2 and mounted Level 2 chargers.

Only half of owners said they were knowledgeable about utility company programs for charging at home, while half of those with home chargers did not schedule charging times to manage costs. Those who scheduled times were more satisfied with the overall home charging experience.

"As the EV marketplace continues to grow, brands that help owners take advantage of these offerings will be in a much better position down the road," Gruber said.
It's not like these customers' previously-installed equipment got worse over the course of one year. What's changed is energy prices. Scheduling charging times can be very advantageous for EV owners, because it allows them to top up their electric cars during off-peak hours, when they'll benefit from the lowest rates. But if they aren't aware of that, it does them no good.
The survey also suggests that more than two thirds of EV owners use a mounted Level 2 home charger providing up to 240 volts, rather than a standard wall outlet. Perhaps not surprisingly, Tesla owners reported the highest satisfaction with their home charging solutions. A variety of other companies that manufacture charging systems are present in the ranking, though it's worth noting that Ford, Electrify America and GM brought up the wrong end of the list.
2nd Gear: Ford Dealers Choose Their EV Paths
Speaking of Ford and its EVs, last fall the automaker introduced a tiered system for its dealer network that required an initial investment and made stipulations about on-site charging equipment and sales practices if they wanted to offer electric cars in the future.
In total, 1,920 dealerships signed up for this program out of the gate. However, the latest numbers indicate almost 30 have backed out. It was actually the higher-priced tier that shed the most participants, while the lower-priced one picked up in terms of interest after changes Ford recently implemented that have made the more affordable option more attractive. From Automotive News:
Most of the changes, reported in January by Automotive News, focused on easing restrictions placed on the lower-priced tier.

A Ford spokesperson said the company was still pleased with the figures.

"It is important that dealers have the option to do what they believe is best for their business and their customers for the 2024-2026 period," the spokesperson said in a statement. "As we continue to scale our EV volumes, our second enrollment period will open up for 2027-2029."

Among the changes: Ford said dealers no longer had to operate public electric vehicle chargers around the clock, and those in the Certified tier would not be capped at selling 25 EVs per year.

Some retailers remain concerned about the program, which has garnered opposition from more than 30 state dealer associations.
In other news, groups of Ford dealers in North Carolina, New York and Illinois are thoroughly unsatisfied with all of this and have filed legal petitions against it, because it requires them to learn and do new things:
In the petition, the dealers allege the voluntary program is illegal since it would prohibit those who do not opt in from selling EVs in the future. The dealers also are not pleased with the various sales practices they would be required to implement if they join the program, including setting no-haggle prices and offering remote pickup and delivery.
You can't just take away haggling like that! That's their shtick!
3rd Gear: Audi Will Give the Low-ish End Another Shot
After rumors emerged that Mercedes-Benz might be axing the less-expensive end of its range, and Audi's top brass commented in recent years that there's just not enough money in small cars, it started to feel like the entry-level luxury car was becoming a thing of the past. Now that the supply chain is beginning to stabilize, a glimmer of hope has emerged. Things will never quite go back to the way they were before the pandemic, but like BMW, Audi has decided it doesn't need to jack up prices anymore. From Reuters:
Volkswagen-owned Audi forecast sizeable revenue growth in 2023 to 69-72 billion euros ($149.53 billion) from 61.8 billion last year, but expects a more conservative earnings margin as higher costs weigh on profits, it said on Thursday.

The premium brand had a bumper year in 2022 with earnings up 40% to 7.6 billion euros as it prioritised production of higher-priced products during the chip shortage.

Now that chip shortages are easing, it will normalise its product mix and offer lower-priced models to customers as well, the company said, forecasting an earnings margin of 9-11% for the group consisting of Audi, Bentley, Lamborghini and Ducati, down from last year's 12.2%.

The premium brand is widening its offering of battery-electric vehicles to catch up with rivals who are ahead on electric sales, bringing 10 new electric models to the market by 2025, Audi chief Markus Duesmann said.
Right now the cheapest Audi EV is the Q4 E-Tron, which starts a shade under $50,000. It's...fine.
4th Gear: Tennessee Nissan Workers Look to Unionize
Technicians at Nissan's Smyrna plant have an important decision facing them today. They'll vote whether to organize a small union, something that's been a long and difficult time coming at the facility. From Reuters:
The 86 tool and die workers would be the first group to unionize at Nissan's largest assembly plant in North America if they vote to join the International Association of Machinists and Aerospace Workers union, known as IAM.

Last month, the Democrat-controlled U.S. National Labor Relations Board rejected Nissan's claim that any election should also involve thousands of production-line workers because they share working conditions with the technicians. The Smyrna plant has more than 7,000 employees.

Nissan spokesperson Lloryn Love-Carter said the company believed its workplace was stronger without the presence of unions "that have not been involved in our history of quality job creation and do not understand the relationship we have with Nissan teammates."
There's never a not-creepy way to be told "nobody will ever love you like I do" but this is a new one I hadn't anticipated. Great work Nissan. More seriously, good luck to the bargaining unit. As Reuters concludes, the automaker could easily challenge the verdict and therefore mire the formation of a contract, but hey — you have to start somewhere.
5th Gear: Live Fast, Burn Cash
I don't have to tell you there are a zillion EV startups out there with questionable futures, but a story that's worth reading courtesy of Automotive News puts into perspective just how bad things are at the present for pretty much everyone that isn't Tesla, Rivian or Lucid. Canoo (precious Canoo) and Faraday Future have half a month's worth of cash on hand. Nikola and Lordstown, less than seven months. It's make or break time.
Of the 10 EV startups reviewed by Automotive News, only four have enough cash on hand to cover a year or more of operating expenses, and only a couple can cover more than two years of their cash burn, according to their most recently available Securities and Exchange Commission filings. Several, including Nikola Corp., Faraday Future Intelligent Electric Inc. and Arrival have identified doubt about their abilities to continue as a going concern, are facing lawsuits by investors or government probes from agencies such as the SEC — or are dealing simultaneously with more than one of these issues. Some have been the subject of embarrassing short-seller reports by investment research firms. And for the most part, the products they promised to investors and the public remain out of reach.

To be sure, companies in every industry raise money on promises they're not sure they can keep. It's exceedingly rare for startups of any kind — let alone automakers — to succeed. But the EV startup market has seen a particular slide of optimism from the rosy days of 2020.
There's more detail in the full article of course, but if there's an EV brand you haven't thought about in a while and you're curious how its holding up today, chances are, unfortunately, that it's in here.
Reverse: On the Hallowed Grounds of Aunt Effie's Farm
On this day 97 years ago, Robert H. Goddard sent a rocket fueled by liquid oxygen and gasoline 41 feet into the Massachusetts sky, something nobody had ever done before. From History.com.
Goddard, born in Worcester, Massachusetts, in 1882, became fascinated with the idea of space travel after reading the H.G. Wells' science fiction novel War of the Worlds in 1898. He began building gunpowder rockets in 1907 while a student at the Worcester Polytechnic Institute and continued his rocket experiments as a physics doctoral student and then physics professor at Clark University. He was the first to prove that rockets can propel in an airless vacuum-like space and was also the first to explore mathematically the energy and thrust potential of various fuels, including liquid oxygen and liquid hydrogen. He received U.S. patents for his concepts of a multistage rocket and a liquid-fueled rocket, and secured grants from the Smithsonian Institute to continue his research.

In 1919, his classic treatise A Method of Reaching Extreme Altitudes was published by the Smithsonian. The work outlined his mathematical theories of rocket propulsion and proposed the future launching of an unmanned rocket to the moon. The press picked up on Goddard's moon-rocket proposal and for the most part ridiculed the scientist's innovative ideas. In January 1920, The New York Times printed an editorial declaring that Dr. Goddard "seems to lack the knowledge ladled out daily in high schools" because he thought that rocket thrust would be effective beyond the earth's atmosphere. (Three days before the first Apollo lunar-landing mission in July 1969, the Times printed a correction to this editorial.)

In December 1925, Goddard tested a liquid-fueled rocket in the physics building at Clark University. He wrote that the rocket, which was secured in a static rack, "operated satisfactorily and lifted its own weight." On March 16, 1926, Goddard accomplished the world's first launching of a liquid-fueled rocket from his Aunt Effie's farm in Auburn.
Neutral: A Golf By Any Other Name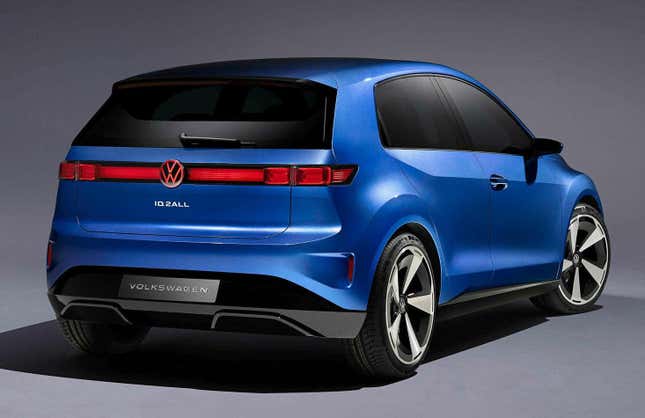 This thing is probably going to morph into the ID.Golf, Volkswagen's entry-level EV. And I think it looks good, mainly because it looks a lot like an existing Golf. I sort of wish the back end was a little more original and not quite so reminiscent of the Ioniq 5's, but the heckblendes are too powerful.