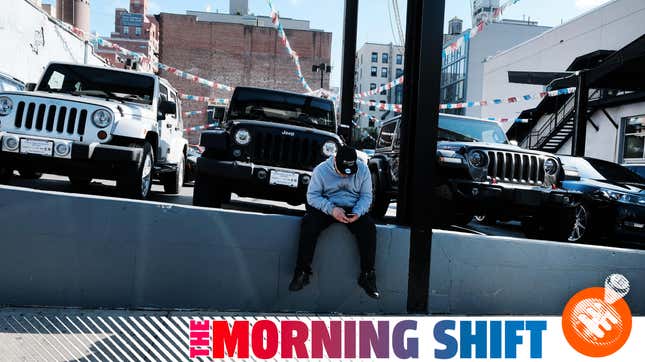 Auto sales in the United States took a big hit in 2022 due to a number of factors, people want to buy electric vehicles but cannot get past the high prices, and electric truck maker Rivian just barely missed its production target for 2022. All of those stories and more in The Morning Shift for Wednesday, January 4, 2023.
1st Gear: 2022 Was a Rough One for U.S. Vehicle Sales
Supply chain issues, high interest rates and low inventory meant that 2022 was a difficult year for car sales. As automakers tally up their 2022 sales figures, analysts are projecting an estimated total of around 13.7 million new vehicles sold last year.
That would be the lowest U.S. car sales figure in over a decade, and an eight-percent drop compared to 2021. And the projection for 2023 isn't much better: Sales figures are expected to remain well below pre-pandemic levels, with analysts forecasting around 17 million new cars will be sold in 2023. From The Wall Street Journal:
The drop-off marks a reversal for a sector that started the year hoping historically low interest rates and an end to parts shortages would fuel a rebound in sales. Instead, vehicles continued to be in short supply as car makers mostly waited for scarce computer chips. Russia's invasion of Ukraine, a key supplier of auto parts, added to the supply-chain troubles.

A prolonged shortage of semiconductors created pent-up demand for new vehicles, which meant that cars and trucks went to waiting buyers almost as soon as they hit the dealer lot. The lack of availability left buyers paying top dollar for the rides they could secure, pushing the average price paid for a vehicle in December to a near record high of $46,382, according to J.D. Power.

The record high prices buoyed auto maker profits last year despite shrinking sales volume and insulated the industry from a broader decline in consumer spending.

Now, while some supply constraints are easing, auto executives are confronting other obstacles, such as rising interest rates and soaring materials costs. Inventory levels are bouncing back, putting pressure on car companies to resist the kinds of profit-damaging discounts that have been historically used to counter slowing demand.
Some analysts are cautioning that it's still too early to tell whether rising prices are keeping buyers off of dealer lots. Folks at JP Morgan say that heavy snowfall in parts of the northern U.S. may have negatively impacted sales in December 2022.
On Wednesday, GM, Toyota and a handful of other automakers are set to release their year-end sales figures for 2022. Ford is poised to release its results for 2022 on Thursday.
2nd Gear: U.S. Customers Want EVs but Can't Afford Them
A new survey from consulting firm Deloitte shows that, while U.S. consumers want to buy electric vehicles, they're being kept away by ever-rising prices. Nearly seven out of 10 prospective EV buyers in the U.S. hope to pay less than $50,000 for their next vehicle — a number that's hard to achieve with most of the EVs available on the market today.
Over half of the folks who responded to the survey, which was carried out between September and October of 2022, said that a lack of affordability is the biggest concern when it comes to shopping for an EV. This coincides with the facts that EV prices are on the upswing and high inflation is hurting people's wallets. From Reuters:
Tesla Inc's popular Model Y starts at $65,990, while legacy automaker Ford Motor Co's Mustang Mach-E begins from $46,895, according to the companies' respective websites.

Despite the pricing pinch, the intent to purchase an EV is up 3 percentage points year-over-year in the United States, with an identical increase recorded for hybrid electric vehicles and plug-in hybrid electric vehicles, Deloitte said in its "2023 Global Automotive Consumer Study". Internal combustion engine purchase intent dropped to 62% from 68%.

"Although historically high transaction prices are a significant challenge for consumers, a strong desire to reduce refueling costs is driving EV purchase intent around the world," Deloitte LLP vice chair and U.S. automotive leader Karen Bowman said.
A couple of other interesting tidbits from the study: 30 percent of U.S. consumers don't want anyone gathering data from their vehicles, and buyers would rather pay for features upfront as part of the vehicle's transaction price rather than use a subscription plan.
3rd Gear: Rivian Just Missed Its Production Target
Electric truck maker Rivian says it came just short of its 2022 production target of 25,000 units because of — you guessed it — supply chain issues. A slow ramp-up at the automaker's production plant in Normal, Illinois didn't help either.
The company reportedly produced 24,337 vehicles in its first full year of production. That figure encompasses all three of Rivian's current models: the R1T pickup, the R1S utility vehicle, and the EDV Amazon delivery van. The company didn't break down production by model. From Automotive News:
Rivian had originally forecast 2022 output at 50,000 vehicles before a lack of critical parts caused repeated shutdowns of its assembly line and a re-assessment of its potential in mid-2022. The Irvine, Calif.-based automaker delivered 20,332 vehicles last year, leaving about 4,000 in inventory.

For the fourth quarter, Rivian produced 10,020 vehicles after adding a second production shift on improving parts supply and delivered 8,054. In its third-quarter earnings report, the company said it had a backlog of more than 100,000 preorders for the R1T and R1S, in addition to a multi-year Amazon order for 100,000 vans.

The 2022 production miss capped a difficult year for one of the world's most promising EV startups, which briefly had a higher market valuation than Ford Motor Co. when the startup began trading on the Nasdaq exchange. Rivian's stock price is down by 87 percent since its November 2021 initial public offering.

Rivian's market value is now below $15 billion, from a high of well over $100 billion just after its IPO, Reuters reported.
There's a bit of a silver lining, though. Technically, Rivian managed to get 25,051 vehicles off the assembly line; 714 of those were still in the process of completion as 2022 rolled over to 2023, as they awaited parts, software validation, wheel alignment, charging and a few other odds and ends.
4th Gear: Microsoft Gets into the Autonomous Driving Game
Microsoft is reportedly in advance talks to invest in Gatik, an autonomous driving startup. It's part of Microsoft's cloud partnership with the California-based company. This news comes from two sources who are familiar with the pending deal.
The software giant plans to invest over $10 million in a financing round that values Gatik at over $700 million. Part of the deal stipulates that Gatik will use Microsoft's cloud and edge computing platform Azure in developing autonomous technology for delivery trucks. From Reuters:
The terms of the deal could still change, added the sources, who requested anonymity to discuss private matters.

Microsoft and Gatik declined to comment.

Like other big tech companies, Microsoft has recently been putting funds into self-driving technology. In January 2021, Microsoft invested in GM-owned Cruise, which focuses on robotaxis, in a deal that valued the company at $30 billion. Cruise plans to use Azure to ramp up its autonomous vehicle solutions for commercial uses, and competes with Alphabet's Waymo and Amazon's Zoox.

Autonomous driving technologies are seen as revolutionary to the transportation and logistics industry, but have faced setbacks due to regulatory concerns on safety and less accessible funding in a slowing market.

[...]

Gatik, founded in 2017 by industry veterans Gautam Narang and Arjun Narang, focuses on middle-mile, business-to-business logistics for the retail industry.

Since 2021, it has launched fully driverless commercial delivery services with Walmart Inc and Loblaw Companies Ltd, in which Gatik offers short-haul deliveries in box trucks in Arkansas and in Ontario, Canada.

It has raised more than $120 million from investors including Koch Disruptive Technologies, Innovation Endeavors, Goodyear Ventures and RyderVentures.
In the first quarter of 2023, Gatik is reportedly planning to integrate its Class 6 autonomous box trucks into the Pitney Bowes e-commerce logistics network in Dallas.
On the other side of the coin, Ford and Volkswagen shut down their self-driving tech unit, called Argo AI, because the companies say creating self-driving "robotaxis" would be "harder than putting a man on the moon."
5th Gear: Nvidia Partners Up With a Handful of Automakers
Computer gaming and AI company Nvidia is continuing its push into automotive development, manufacturing and in-vehicle gaming. Because of this goal, the company announced a number of automaker partnerships all around the world ahead of CES. From Automotive News:
* Mercedes-Benz is using Nvidia's Omniverse platform to create a digital twin of its assembly plant in Rastatt, Germany, allowing the company to plan production changes and test them in a virtual environment before reorganizing the physical plant.

* Foxconn will use Nvidia's technology in developing its own advanced vehicles and to supply automakers with electronic control units based on Nvidia's chips and sensors for highly automated driving.

* Hyundai Motor Group, Polestar and BYD are planning to offer Nvidia's GeForce NOW cloud gaming service in vehicles. No specific models have been identified yet for in-car gaming, but the idea is to help entertain not only rear-seat passengers, but drivers who park to charge an electric vehicle, said Danny Shapiro, Nvidia's vice president for automotive.
The plethora of announcements is meant to help show Nvidia's role as an "end-to-end" partner for automakers.
"We're not like a Tier 2 chip supplier — that's not how we operate," Shapiro told Automotive News. "We do make chips that Tier 1s integrate into ECUs and that go into cars. But we tend to have direct relationships with the automakers. We do a lot of collaborative engineering and product development with them."
Reverse: Imagine Being This Ahead of the Curve and Biffing It
Neutral: Let's Go State, Baby
Smell those goddamn roses, folks!
On The Radio: 38 Special - 'Caught Up In You'