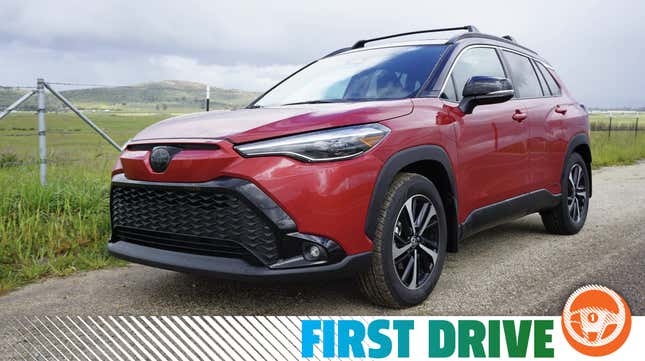 The Toyota Corolla has been the commuter car for the better part of five decades. With the addition of the Corolla Cross small CUV back in 2022, the nameplate continues to reign supreme in the "I don't care about cars, but I need one" segment of the market. For the most part, the Corolla has been a fairly dull piece of machinery that works extraordinarily well and sells even better — but leaves us enthusiasts feeling pretty cold.

That's changed with the introduction of the Corolla Cross Hybrid. No, it's still not a tail-on-fire barnstormer, but the little crossover now feels peppy and eager and has enough power to actually have some fun. The Corolla Cross Hybrid manages to do all that while returning class-leading fuel economy, seating four adults, and not costing an arm and a leg to own or operate.
Full Disclosure: Toyota flew me out to Carlsbad, California, fed me and put me up in a very lovely hotel for a couple of nights, all so I could drive the Corolla Cross Hybrid in a very rainy Southern California.
Under the Hood of the Corolla Cross Hybrid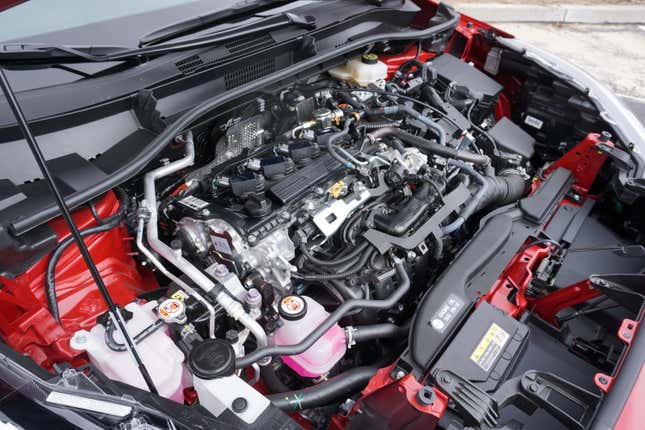 The big news here is the Corolla Cross's new hybrid system, which makes this the 14th electrified vehicle in Toyota's lineup. It's the same basic drivetrain and TNGA-C platform you'll find in the Toyota Prius and Corolla Hybrid, but adding the hybrid element to the Corolla Cross completely changes its character.

Like the Prius, the Corolla Cross Hybrid comes with a 2.0-liter inline-4 that makes 150 horsepower on its own. Here, that engine is paired with three electric motors: One adding torque to drive the front wheels, one working on its own to drive the rear wheels, and one working as a starter/generator on the internal-combustion engine. The ICE motor sends power to the wheels through a CVT that will let you switch fake gears via paddle shifters if you're a weirdo who likes doing that sort of thing. The whole package has a system output of 196 horsepower and 139 lb-ft of torque. If you're keeping track, that is a 27-horsepower bump over the non-hybrid Corolla Cross — a 16-percent power increase.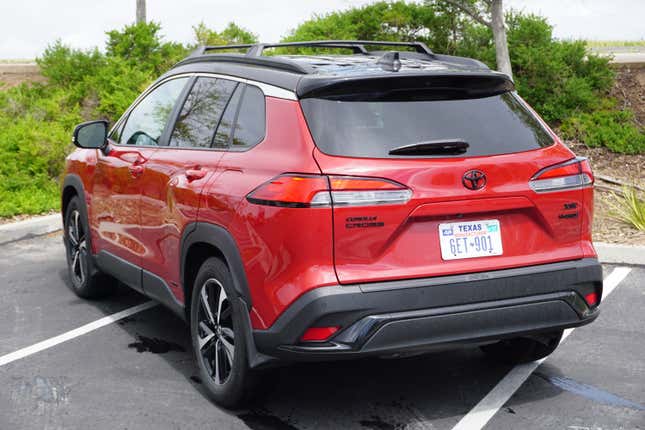 Power is only a small part of the story, though. If you're buying a Corolla Cross Hybrid, one thing is certainly at the top of your list: gas mileage. I'm happy to report that it is excellent in this 3,400-pound crossover. Toyota claims the hybrid will get 45 mpg city, 38 highway and 42 combined on 87-octane gas, which would make it the best in its segment. During my testing, I couldn't quite reach that figure. That being said, I was driving like the big dumb idiot I am, and I still managed 35 mpg.

Interior Looks and Features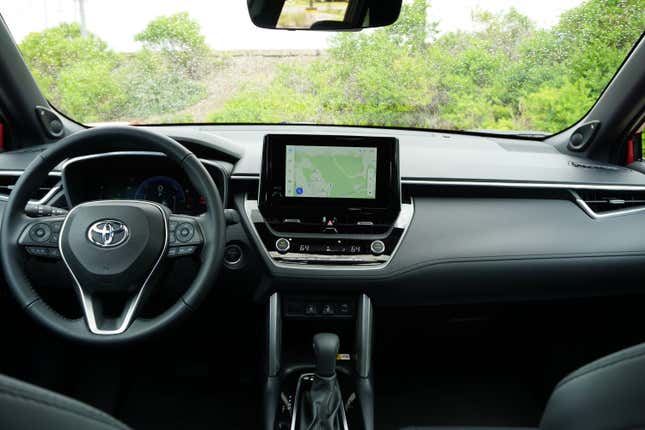 For the most part, the interior of the Corolla Cross Hybrid is nearly identical to the regular Corolla Cross. At the end of the day, the Corolla Cross starts out as a $23,000 vehicle. If you go in expecting some sort of bespoke luxury experience, that isn't what you're going to get. However, if you value utility and straightforward controls, the Corolla Cross Hybrid will deliver.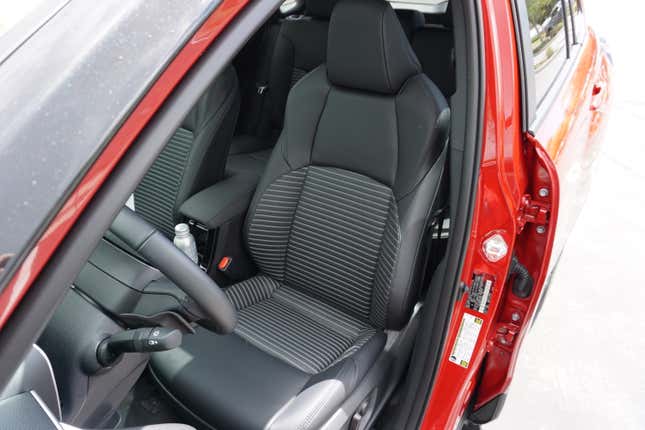 It's a fairly conventional interior. Everything is where you'd expect it to be. No button is out of place. The 8-inch infotainment screen is very easy to understand, and responds quickly to your inputs. Higher trims include a fairly clear screen for the instrument panel. Simply, the Corolla Cross has an interior that works. It does what you ask of it and very little else.
The interior is roomy enough for this type of small vehicle. Front seat occupants won't have any trouble fitting, but if you are a bit bigger and need to push the seat back, rear legroom does take a pretty big hit. That being said, at six-foot-one, I still fit sort of comfortably behind myself. You can get three people in the back of the Corolla Cross Hybrid, but if you put someone in the middle seat, it better be someone you don't really like. Trunk space is a fairly respectable 21.5 cubic feet with the rear seats up.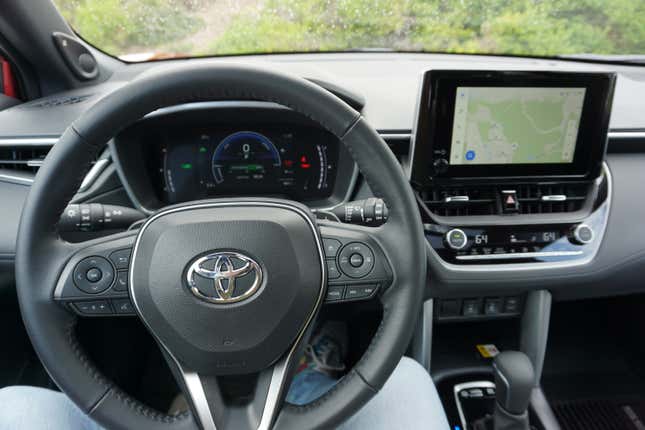 There are three trims available on the 2023 Corolla Cross Hybrid: S, SE and XSE. The base S grade gets the 8-inch touchscreen with over-the-air updates, Apple CarPlay and Android Auto, and Toyota's Safety Sense 3.0 suite including pre-collision warning, lane-departure alerts and assist, and radar cruise control. Step up to the mid-range SE and you'll add paddle shifters, blind-spot monitoring and rear cross-traffic alert. The big-daddy XSE adds heated front seats and a power driver's seat, plus Toyota's Softex synthetic leatherette. SE and XSE can be optioned out with a power sunroof, dual-zone climate control, a power liftgate and a JBL sound system.
The Corolla Cross Hybrid's Exterior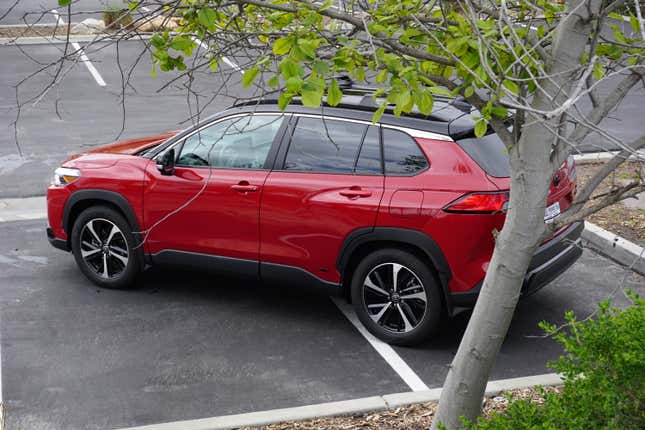 The exterior of the Corolla Cross Hybrid perfectly matches the interior. It's not remarkable, but it all just works. I wouldn't say the Corolla Cross is particularly pretty, but it isn't offensive by any means. It looks almost exactly like its internal-combusion brother, save for a few minor changes: Toyota reworked the grille to make the Hybrid stand out a bit more. Other than that, the only other difference is the smoked badges.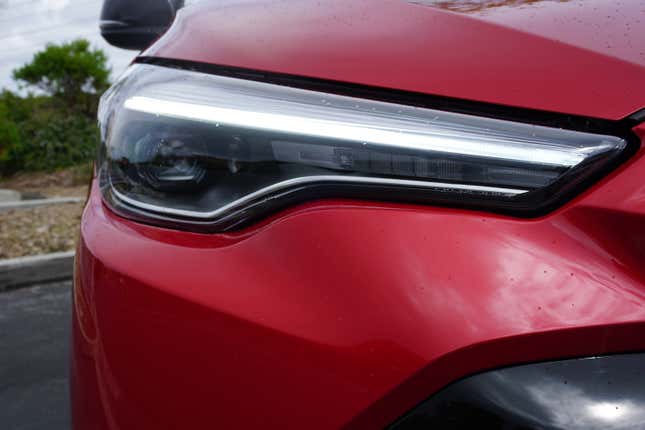 Much like the interior, there are some changes that happen as you go up in trim levels. As standard on the S trim, you get 17-inch alloy wheels and LED headlights. SE gets you rear privacy glass and roof rails. Finally, on the XSE you get all sorts of goodies like 18-inch alloy wheels and upgraded LED lights all around. SE and XSE models can be had with two-tone exterior paint, and that black roof will help your Corolla Cross stand out from the 71,000 of them that have already been sold.
Driving the Corolla Cross Hybrid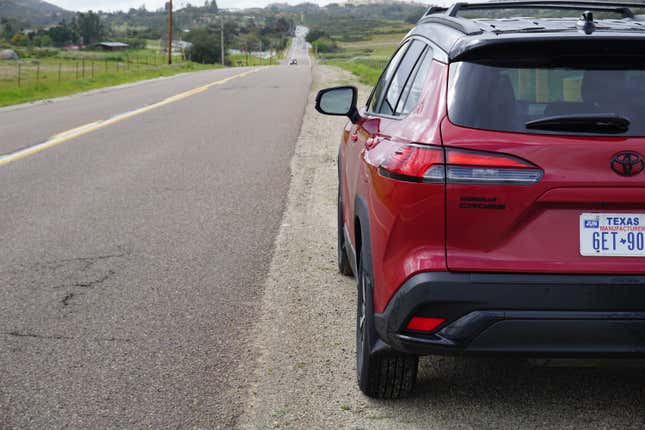 I'll admit it: I was a bit skeptical about the Corolla Cross Hybrid before I drove it. On the surface, it seems like just about every other compact crossover on sale today, one that just happens to have a battery thrown in. But that's not the case here. If I could choose one word to describe how this little thing drives, it would be "eager."

Despite the fact it's an econobox at heart, during my many hours of driving the Corolla Cross Hybrid, I kept coming back to that idea of eagerness. The little crossover wanted to be pushed and rung out on twisty roads. It wasn't exactly a sports-car experience, but as the weather cleared up and the road remained empty, I couldn't help but crack a little smile as I turned the decently-weighted steering wheel and matted the throttle.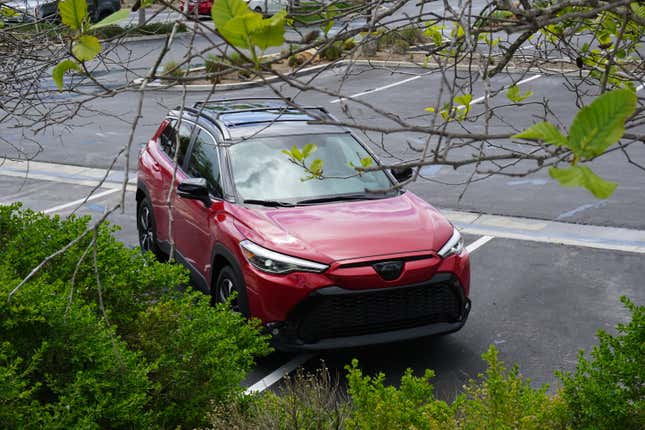 This isn't a vehicle that will light your soul on fire, but it is a nice little companion. It made me feel happy in a sort of silly way. It's an honest vehicle, and I can really respect that.
But, performance driving is not what the Corolla Cross Hybrid is really about. I'm happy to report that, as enjoyable as it was on a twisty road, it was even better around town and on the highway.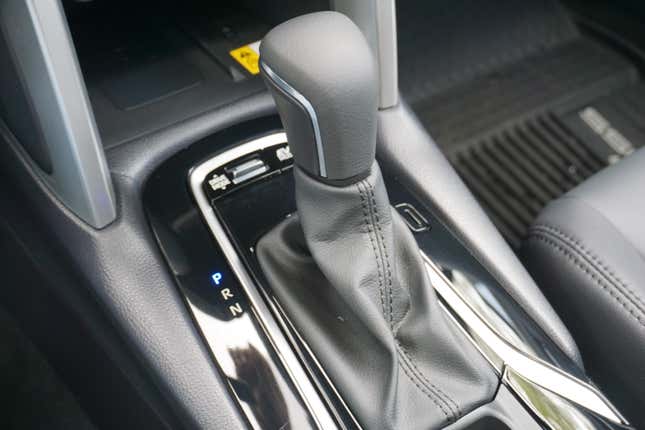 As with the Prius, the hybrid system in the Corolla Cross worked flawlessly as it transitioned smoothly back and forth between gas and electric modes. The engine never goes away completely in terms of noise, but it did sink to the background in a very calming manner. You even get some limited all-electric driving when you're creeping slowly though town.
Once you're out on the highway, the good news continues. Road and wind noise are kept to a relative minimum by economy car standards, and Toyota's safety and driver assistance suite works as advertised. At speeds past 70 or 80 mph, the Hybrid never feels anything less than perfectly stable. There's not really too much more you can ask from a car that costs this little.
Summing Up the Corolla Cross Hybrid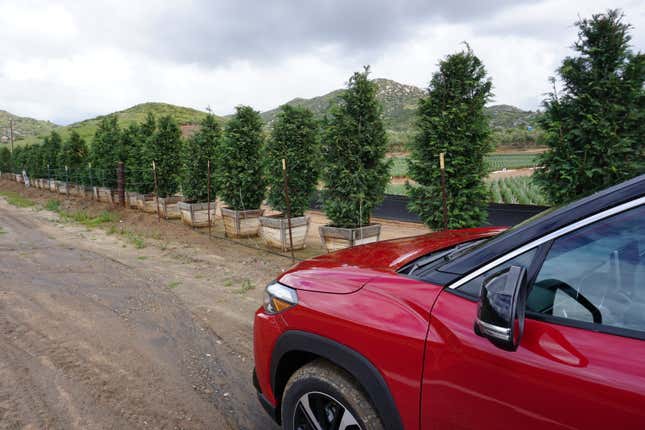 When the Corolla Cross Hybrid hits dealers in June, it's going to start at $29,305 (including $1,335 for destination). That's $2,755 cheaper than where the Rav4 Hybrid starts, but it's about $5,000 more expensive than a base Corolla Cross, though you get a lot of features standard when you step up to the Hybrid. The SE and XSE start at $29,625 and $32,400, respectively, including destination. My fully-loaded tester stickered at $35,565.

So the Corolla Cross Hybrid is a really great value. Honestly, for what it is, I can find almost no faults at all. Could the interior be a little nicer? Sure. Could it drive in a more exciting manner? I guess so, but that really isn't the point. This is a commuter car at the end of the day. It's a car for people who aren't like you and me, and there's nothing wrong with that. The hybrid variant has a whole lot of heart, and what more can we ask of it than that? The 2023 Toyota Corolla Cross Hybrid is a little car with a big soul.
2023 Toyota Corolla Cross Hybrid LE 4WD (SE) Specs
Engine type
Gas/Electric I-4
Transmission/Drive
Automatic/CVT w/OD