JP is having a crisis of performance vs. practicality. His lease is up soon and he likes a good sport sedan, but needs some hauling capability as a new homeowner. He's tired of bugging his friends for trucks, but he really doesn't want to give up something that is fun to drive. What car should he buy?

(Welcome back to What Car Should You Buy? Where we give real people real advice about buying cars. )

Here is the scenario:

Currently, I'm having a battle of "Power vs. Cargo Space". I currently have an Audi A4, which that lease will be up in the next couple of months. I just purchased my first home in the last 6 months, and it has made me realize that I need a vehicle with more cargo space to haul furniture, lumber, tools, etc. while I fix up the house and make it my own. The problem is, I LOVE having a sedan/coupe with some punch to it, and tight handling so I can throw it around a bit on some day trips in Southern California. A truck or run of the mill SUV just doesn't excite me, and I think some of my friends are already sick of me asking to borrow their Trucks / SUVs every time I need to haul a larger item. Normally,

I'm pretty decisive and know exactly what vehicle I want, and do my research down to the trim levels and options. But this time, I'm stuck and feel a bit lost and not sure what to do. The clock is ticking on my lease, and I know I need to figure it out at some point, but for the first time I feel stuck in a rut as to what to do. I also spend a lot of time in the car for work (2+ hours a day, got to love LA Traffic), so having some creature comforts to keep me sane in traffic are also important. In a perfect world I would have two vehicles (a fun two-seater and a then a used SUV), but that's just not in the cards right now. Would love some ideas for a sporty SUV or wagon, something that can be fun to drive while still being practical!
My budget is up to $60,000
Quick Facts:
Budget: Up to $60,000
Daily Driver: Yes
Location: Los Angeles, CA
Wants: Power, Handling, Hauling Capability
Doesn't want: Boring or slow
Expert 1: Tom McParland - This Is Really Not That Hard
JP, I know you are an, important LA man because you only have time for two letters in your name. You mean business and you need a car that means business.
There are any number of fast trucks and SUVs out there with overpowered engines, but many of them are just big rigs with big motors. A monster engine is fine, but you need it to be paired with something that has some semblance of handling, comfort in traffic, and generous cargo area. That car is the Mercedes-AMG E63 wagon.

G/O Media may get a commission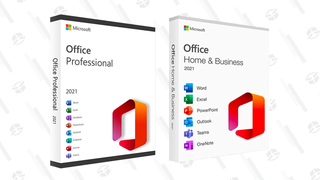 89% off
Microsoft Office Professional 2021 Lifetime License
These are not common cars, so currently there are only around a half-dozen examples listed nationwide for under $60,000. If you can score the right example this is the one car that has it all, including a twin-turbo V8 pumping out 577 horsepower and 590 lb-ft of torque. It's a wagon that kills supercars.
Inside has everything you expect from a Mercedes E-Class for comfort and features, and the wagon body should be able to haul most of the items you need for homeownership.

Here is a 2014 in Ohio with fewer than 30,000 miles for just a hair under $60,000. If you are going to live the wagon life, you might as well do it right.

Expert 2: Patrick George — No, It's Not Hard
Seconded! Get a wagon!

I think an AMG E63 will be a hard get for under $60,000. You may be better off getting a BMW 3 Series Sport Wagon, namely the 330i xDrive. It will not have the monster power of that AMG, but the 2.0-liter turbo four in this is surprisingly punchy, and the car will have no trouble carving corners. It is a 3 Series after all. BMW discontinued the wagon in America for the all-new G20 generation, so you're stuck with the outgoing model, but that means you may be able to find a deal.
Here's one way under budget for $42,000 near you, with just 6,442 miles on the clock. It may have everything you need in a car.
Expert 3: Erik Shilling — Patrick's Right, It's Not Hard
What you need is Jeep Grand Cherokee Trackhawk. It's "overbudget," you say, at $86,900 plus? Whatever. Someone who can afford a $60,000 car can afford a $90,000 one. (Okay, I don't know that for certain, but it's good to have goals.)
And the Trackhawk has everything you want—it's a damn SUV with 707 horsepower. That's too much horsepower in any context, but it sounds like you want to live a little dangerously.
The Trackhawk probably shouldn't exist, in other words, so it's the perfect car for you.
Expert 4: Andrew Collins — Fly With State Bird Of SoCal
You're in southern California, you want horsepower, comfort, and lumber-hauling capability for $60,000? Surely, I can't be the first person to suggest a Ford Raptor.

The brand-new turbocharged two-and-a-half door SuperCab, which has plenty of room for four people by the way, lists at about $53,000. But if I'm being honest, I would probably just look for a 6.2-liter V8 of the last gen and use the money you saved for fuel.
I get it, JP–you sit in a lot of traffic, but want to be able to pass anybody any time and cut loose when you can.
Those two previously mentioned German cars aren't going to be as comfortable in LA gridlock as a Raptor, and anybody who suggests using one to build a house has never experienced the stress of trying to load a long piece of wood into an Alcantara and leather-wrapped interior.
Not only will a Raptor be supremely comfortable when you're grinding to work, but it will give you unlimited exploration options around SoCal and Baja which is pretty much at your doorstep.
If you can whip one of these around Anza-Borrego or Ocotillo and still say trucks don't excite you... I don't know, fam. I don't think that's going to happen.