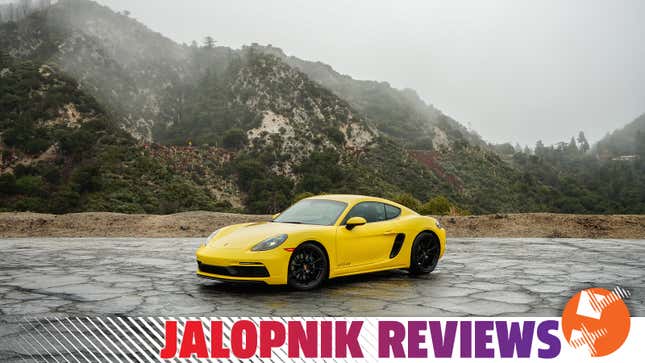 If you've read any of my work, you probably know that I'm Jalopnik's biggest Porsche 911 fanboy. I love them. When everyone says, "Miata is always the answer," I say nope and point to a 911 because it can do everything better – which it should, since it's way, way more expensive. Objectively, however, while the 911 is Porsche's best all-around car, I can recognize that it's not the company's best sports car. That honor goes to the Cayman, and specifically, the GTS 4.0.
According to Bob: We Need More Weird Cars!
The GTS 4.0 is the sweet spot in the 718 Cayman lineup. The GT4 and GT4 RS are better track cars, and the base Cayman is a more comfortable daily driver (with a horrible-sounding engine). The GTS 4.0 manages to offer a great balance of those bookends.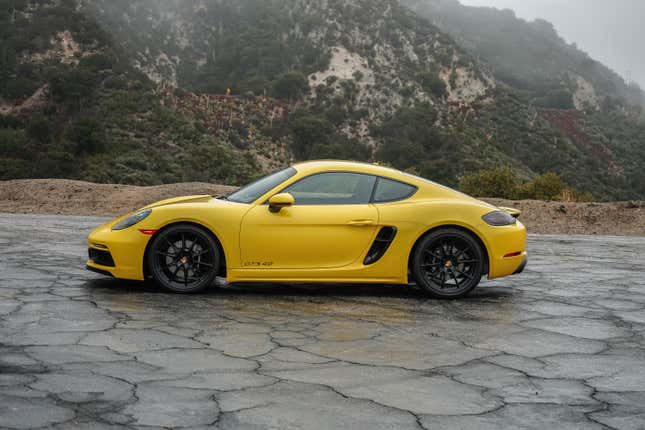 The heart of the Cayman GTS 4.0 is, of course, its 4.0-liter naturally aspirated flat-six. This is effectively a detuned version of the GT4's 4.0-liter engine, producing a still very healthy 394 hp at 7,000 rpm and 309 lb-ft of torque between 5,000 and 6,500 rpm. For comparison, that's 44 hp more than the Cayman S and the same torque, though the turbocharged S delivers its peak twist lower in the rev range, between 1,900 and 4,500 rpm.
The GTS 4.0 offers the Cayman buyer a more classic Porsche driving experience. You're rewarded for keeping the engine on boil and punished for lazy shifting and poor gear choices. Around town, this makes for a car that doesn't feel as quick from stoplight to stoplight as the turbocharged Caymans (Caymen? Cays-man?), but on a fast, open road, the excitement that comes with high revs – along with that classic Porsche flat-six howl – makes a strong case for the GTS 4.0's price premium.
That sweet 4.0-liter engine can be paired with either a very nice six-speed manual transmission or Porsche's quick-shifting seven-speed PDK dual-clutch gearbox. Honestly, neither is a bad choice, but given the very driver-focused nature of the Cayman GTS, I'd definitely make a case for getting three pedals. Still, my test car's PDK makes dealing with LA's hot garbage traffic a lot more pleasant.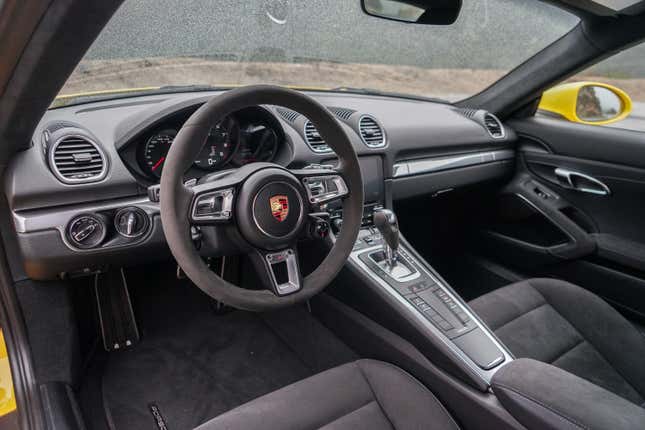 The 718 Cayman's chassis at any trim level is a thing of beauty, but in the GTS, it's almost a higher truth, a Platonic ideal. This car offers tack-sharp steering with reasonable amounts of feedback. The MacPherson strut suspension used at all four corners shouldn't be as good as it is, given the design's origins as a cheap-to-build setup. It's taut without being harsh, even around town over broken pavement, and does a superb job of controlling the car's mass in a way that makes it feel as though the Cayman is pivoting around the driver.

It's this chassis that makes the Cayman such an incredible sports car. It does what older, lighter, smaller 911s did for decades but adds modern conveniences, safety equipment and a degree of predictability and playfulness at the limits of grip that those older ass-engined cars don't have.
The Cayman's steel brakes are excellent, and they don't make me miss Porsche's stronger carbon ceramics, which aren't available on the GTS 4.0. The steel stoppers offer exceptional pedal feel that allows me to brake confidently just at the edge of ABS intervention, and do so repeatedly without much concern for fade. Porsche's sports car brakes are always a highlight and the Cayman GTS's 13.8-inch front and 13-inch rear brakes (with six- and four-piston calipers, respectively) are no exception.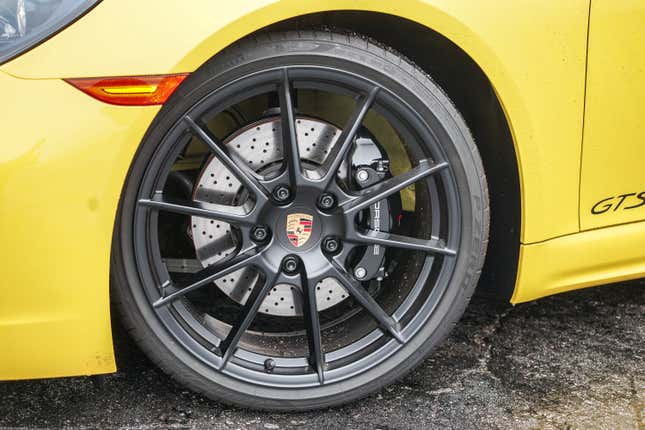 The GTS recipe in the Cayman is pretty much the same as it's always been. Take the Cayman S and add all the most popular performance options, like 0.8-inch lower ride height with Porsche's Active Suspension Management and stiffer dampers, the Sport Chrono package, rear-axle torque vectoring, a sport exhaust and active engine mounts. Then slap on the Sport Design front and rear bumpers and charge marginally less for the GTS than you would by adding those options individually to an S. This kind of GTS treatment has been a hit since Porsche introduced it on the 997 911 Carrera and it's easy to see why.

Of course, the Cayman isn't perfect, and it's inside where this car really falls behind the 911. The 982-generation Cayman is pretty old now – it debuted in 2016 – and it shows. Where the 911 has a gorgeous digital dash and a more refined interior overall, the Cayman makes do with the 991's little infotainment screen and button-laden console. The gauges are mostly analog, which I actually prefer in sports cars, but the design really dates the car. Admittedly, they're less functional than the new digital ones, too.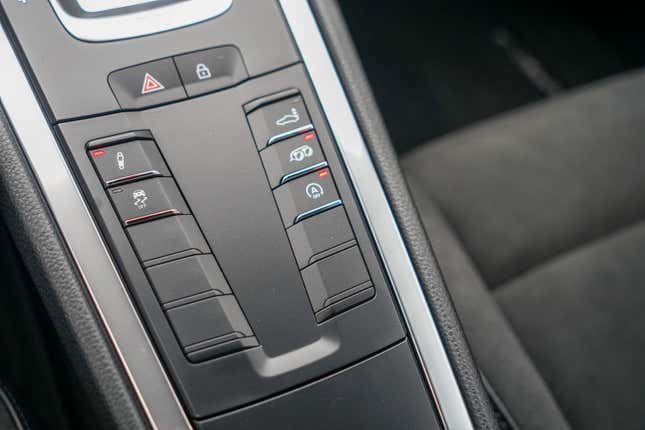 As far as interior room goes, for most people, the Cayman will likely be just fine. However, at six-foot-four (with a lot of my height in my torso) I find the Cayman's cabin to be a little cramped, but I recognize that I'm taller than most folks. One thing the Cayman absolutely crushes, though, is cargo space. Being mid-engined, the Cayman has two trunks. The front trunk offers 5.3 cu-ft of space, while the rear offers 4.4 cu-ft, which makes it surprisingly capacious. My wife and I were able to pack two sleeping bags, two folding chairs, a tent, clothes and snacks for a night of camping, and while it was tight, we didn't have to leave anything behind for want of more room.

The Cayman's infotainment system consists of a small 7-inch touchscreen. Its functionality is basic, but this setup at least offers Apple CarPlay, and word 'round the campfire is that you can enable Android Auto with some laptop coding, but I don't really recommend doing that yourself. Interestingly, the 7-inch PCM system in the Cayman is almost identical to the Porsche Classic PCCM Plus system that I just bought for my 996 911 (full story coming soon).
My test Cayman GTS 4.0 is as close to optionless as you're ever likely to see in the wild. This means that it's got the base, semi-power, four-way adjustable seats as opposed to the carbon buckets or much heavier 14-way power seats. It also comes with navigation, and Porsche's Entry & Drive system which lets you lock and unlock the vehicle without using buttons on the fob. It also has black brake calipers (a $900 option) and body color headlight washer covers. That's it.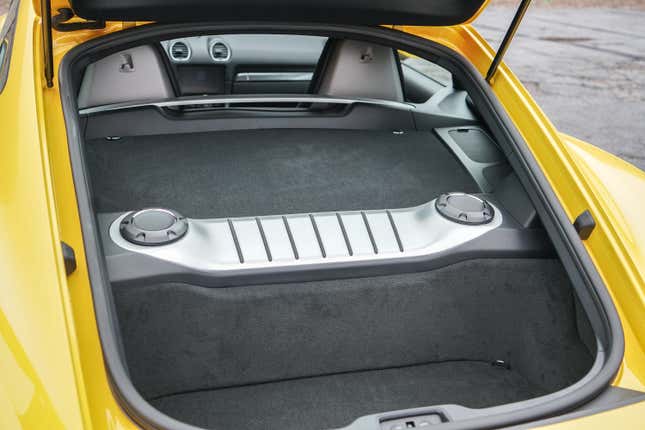 This is actually a great spec because the GTS trim level takes care of basically all the performance equipment and options you'd want anyway, and in the end, you get a world-class sports car for $99,800, including a $1,450 destination fee. It's hard to think of competitors that offer this kind of driving engagement and performance for this kind of money, but the Lotus Emira seems likely to give the Cayman a run for its money, at least on paper. The BMW M4 Competition makes a case for itself, despite its larger dimensions and front-engine setup. The BMW is also cheaper – until you start throwing options at it, anyway.

Compared to a 911, a Cayman really feels like a bargain, since you can't get Porsche's larger sports car for less than six figures these days. To get a comparable experience with a manual transmission in the 911, you have to shell out a bare minimum of $118,050 for the Carrera T. Sure, that $18,250 price jump buys you a lot in a 911, but I can't say the Carrera T is a more compelling sports car than the Cayman GTS 4.0.
The Cayman is an overall friendlier and more playful car that encourages you to push its limits. It shrinks around you as you drive faster in a way that the current 992-generation 911 doesn't, but older 911s did. The Cayman GTS simply offers a more visceral experience and when it comes to sports cars, that's key.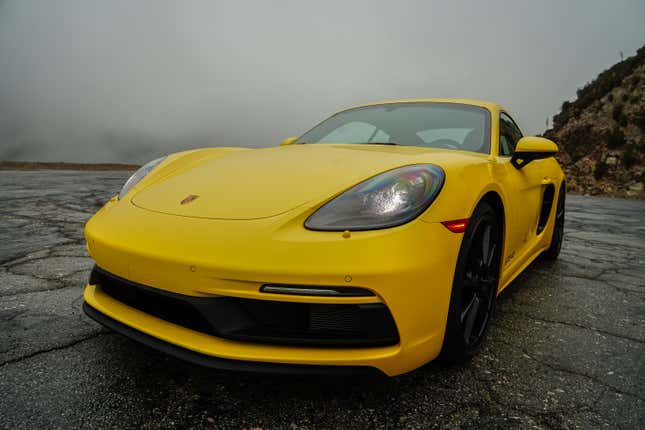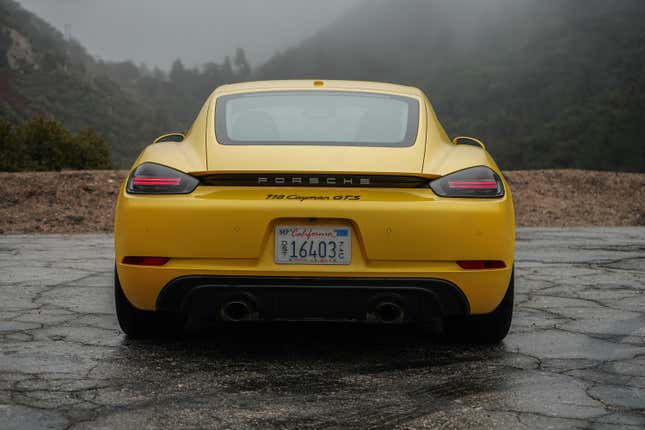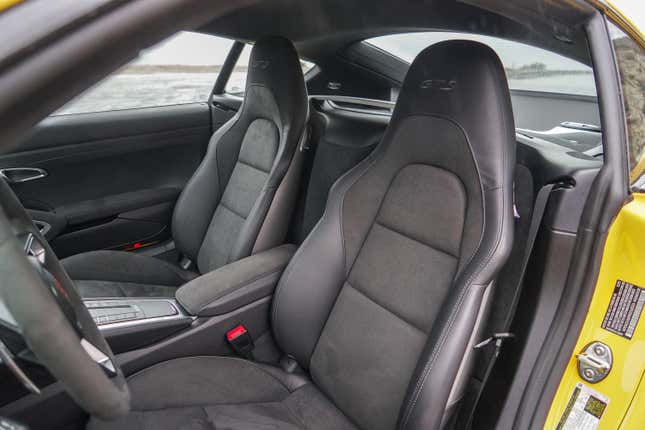 In case you missed it: