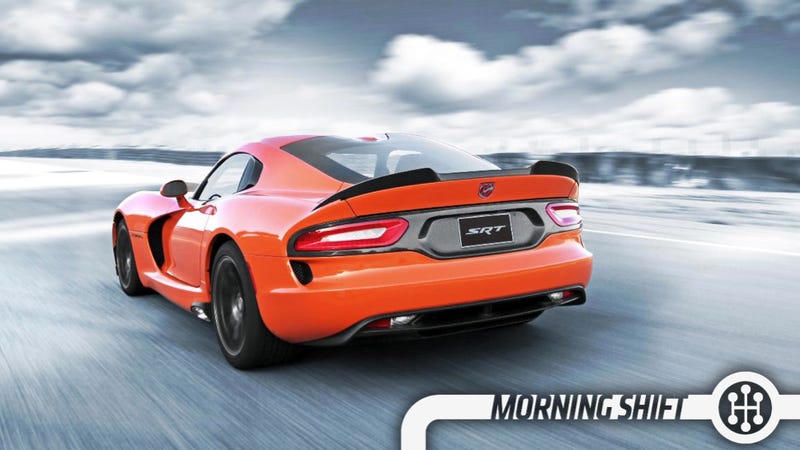 This is The Morning Shift, our one-stop daily roundup of all the auto news that's actually important — all in one place at 9:00 AM. Or, you could spend all day waiting for other sites to parse it out to you one story at a time. Isn't your time more important?
1st Gear: Viper Production Slashed, 565 Unsold And Sitting At Dealers
Here's a curious case. Chrysler is now trimming Viper production and reassigning some of its employees who worked on Viper to other parts of the company.
Obviously, we're huge fans of the SRT Viper because it's wonderfully bonkers, obviously comely, and an exceedingly unlikely car to be built in 2013.
So what's going on? Are people just buying the cheaper Corvette? Are people scared of the Viper because of its reputation as a batshit nut-crusher? The original goal was to limit production to 2,000 a year, but as of now they've only sold 426 in the United States and dealers are sitting on 565 unsold models.
Ralph Gilles and Chrysler told Automotive News a mix of things, including that it launched too late because of production delays, people seem overly intimidated by it, and not enough people are getting into the car as dealers are afraid to put it in the hands of random drivers.
All of that probably contributes, but I also think it's a little too expensive for most people. I'd love to see a super stripper version for closer to $80K, but people spending this kind of money are just as likely to want a super expensive version.
If there's a silver lining it's that Gilles is going on a tour next spring to "focus on putting butts in seats."
Let us know if we can help with that. We've got a lot of butts around here.
2nd Gear: Meet The Friendlier United Auto Workers
As the VW+UAW-vs.-The World tsuris continues, we get this rosy profile of UAW prez Bob King from The Detroit News.
This isn't your father's angry constantly-on-strike Union, but a happy group of chaps hoping to make the lives of everyone better.
I don't deal with Union politics enough to know how much of this is cotton candy fluff from Bryce G. Hoffman, but there's been little pushback against the UAW in the last couple of years… well, maybe if you're Sergio Marchionne or Governor Rick Snyder.
Both Ford's Alan Mulally and GM's Dan Akerson had positive things to say:
"Our relationship has been one of constructive engagement — a business partnership underpinned by what has become a good friendship on a personal level," Akerson said. "It's a blueprint for how 21st-century industrial relations have to be. The union has to be part of the solution, not part of the problem. Management has to be part of the solution, not part of the problem. We both had to lean forward across the table."
It's also probably worth noting that the bailout gave unions back the huge influence they'd been missing and probably equalized the balance of power a bit, giving both sides the leverage they needed to negotiate for mutual gain.
3rd Gear: Tesla Price Drop After Fiery News
Here's some fun insight into how things work at Jalopnik. When we got photos of the first Tesla Model S fire it didn't immediately dawn on us that what we had was a huge scoop.