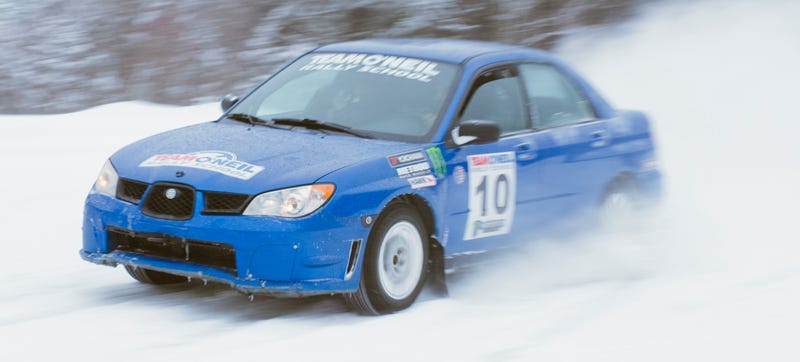 It doesn't look like much, but the Subaru Impreza has one of the strongest fanbases and reputations in the internet car world. Drive one hard and you'll understand why.
(Full Disclosure: I've never owned a Subaru Impreza, but I've driven a few. Bill Petrow of Broken Motorsports let me drive his runaround for a week. Team O'Neil Rally School let me cut loose in a slightly modified Hawkeye sedan and a Prodrive-built WRC-spec rally car. I didn't pay a dime, other than for gas in Bill's car. Thanks, Bill. Come to think of it, I've also driven a new Subaru STI for a day across Wales on a press trip set up by Subaru a year back. I got to run a rear-wheel-drive-converted Impreza rally car on a muddy stage at the Higgins Rally School on that same trip. Subaru covered all my costs for those two.)
I get the feeling that Imprezas are often driven for the wrong reasons. When I was growing up in Northern California, I only saw these little sedans getting driven around by crunchy granola types who I think were mostly afraid of putting on snow chains when they drove up to the Sierras. They had lots of bumper stickers. They were basically Corollas that got worse gas mileage. Also they were quite homely. And their interiors were garbage.
And over the past, ugh, what is this now, five years I've been writing about cars on the internet, I've mostly seen Imprezas in the performance community getting driven like little muscle cars. The big draw for a lot of Subaru fans is the power you get from Subaru's turbo motors and the speed off the line of its AWD system. Go to any ski resort and you'll hear the BRAAAAAAAP of a blacked-out STI clone with most of an exhaust. Go to any rich kid suburb in the Southwest and you'll hear it, too. Tuned Subarus with boosted boxer motors are fast, and that's enough for most leadfoot drivers.
My boss used to have a WRX sedan. I think he, like thousands of other mad-at-the-world dudes, just wanted the speed. It's not hard or expensive to get a Subaru that's loud and fast, a step up in price and prestige from cheap Hondas on the affordable enthusiast car scale. For a lot of people, Subarus are for bros and lady-bros. You know, these people.