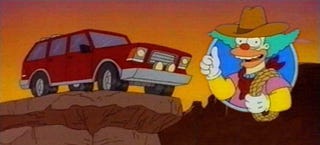 Cartoonists can go wild with their cars, but it doesn't always look like they think them through before the drawing begins.
---
10.) Hong Kong Phooey's car
Let's just say Hong Kong Phooey did not know much about aerodynamics or passive safety. Nor did Spot for that matter.
Suggested By: LordRae
---
9.) Turbo Teen
The writers did not think this one through. At all.
Suggested By: LordRae
---
8.) The EV in Simpsons
Not exactly a Model S, now is it?
Suggested By: gla2yyz
---
7.) Spongebob's boat cars
It has clearly failed as a boat to start with.
Suggested By: willkinton247
---
6.) Speed Buggy
The only good thing about this neurotic deathtrap was that it reminded us of the Meyers Manx.
Suggested By: You had fordboy357 at "meat tornado"
---
5.) The Ambiguously Gay Duo's Car
This one sucked, but on purpose, which actually kind of makes it the best cartoon car...
Suggested By: Arrivederci
---
4.) Rufus Ruffcut's racer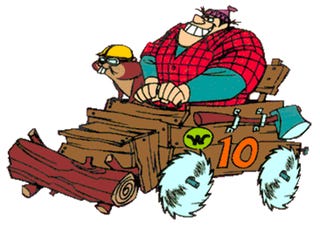 The ride must have been dreadful, and he was also second to last behind Dick Dastardly's Mean Machine in the points.
Suggested By: Green Pig
---
3.) Filmation Ghostbusters Ghost Buggy
Kill all the master copies of this cartoon with fire, please. For Ecto-1's sake.