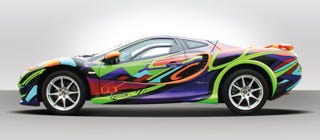 Special editions give automakers a chance to make some of the crazy stuff that they know most of their market wouldn't dare to own. Sometimes, as is the case with these ten cars, they really go all out.
---
10.) Fiat Panda Italia '90 Football World Cup Competition
With its soccer-ball hubcaps in all of their glory and greatness, the Fiat Panda Italia '90 Football World Cup Competition Edition will indeed go down in history as one of the most ridiculous special edition cars the econobox segment has ever seen. If you were an Italian rolling up to a 1990 World Cup game, forget the Ferrari 348 or the Lamborghini Diablo, this was the car of choice.
Suggested By: Fl1ngstam, Photo Credit: Fiat via MSN
---
9.) Ford F-150 Harley Davidson Edition
Many think of the Ford F-150 Harley Davidson edition as the truck that you're supposed to carry your Harley with. Nope. Those people are wrong. These trucks have never actually been able to fit a Harley in their bed. They're like the man purse of trucks.
Suggested By: Mark Bour, Photo Credit: Ford via Jalopnik
---
8.) Mercury Villager Nautica Edition
Ever wonder why you never see anyone rocking Nautical brand clothing anymore? You can probably thank this van. The Smoking Tire's Matt Farah has an explanation.
My first wheels when I turned 16, a hand-me-down from my mom: I present the Nautica Edition Mercury Villager. Hot on the heels of the success of the Eddie Bauer Edition Ford Explorers, which took over the carpool pickup lines in the northeast in the mid-1990's. Ford's attempt at getting proper fashion companies like Ralph Lauren involved failed miserably, so they decided to choose mid-level oceanic clothier Nautica and decorate the van like a capsized sail boat.

Stupid colors and embroidered sailboat headrests aside, the villager (and its twin the Quest) were really, really good minivans, some of the first of their kind to "drive like a car." But man, this van has got to be a top-three reason no one wears Nautica anymore.
Suggested By: TheSmokingTire, Photo Credit: Mercury
---
7.) Jeep Wrangler Dragon Edition
Apparently, this is what it looks like when Jeep decides to give their customer-base "exactly what they ask for." I'm thinking from the looks of this one, maybe their buyers don't actually know what they want. Good effort though!