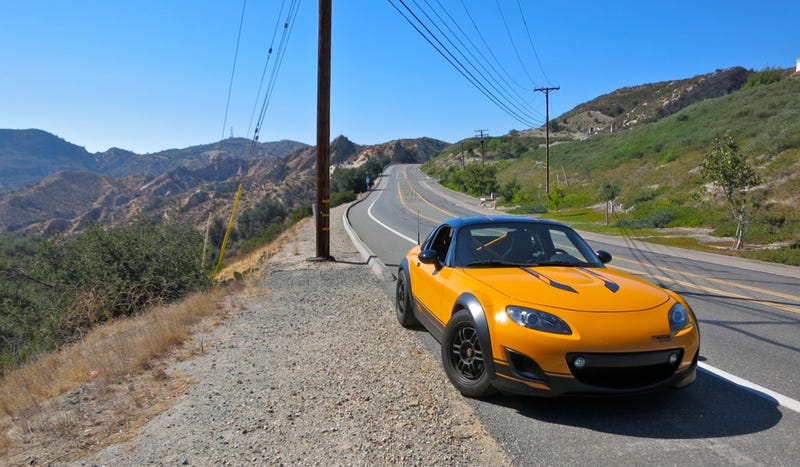 I admit it. I'm a Miata fanboy. Publicly, I won't admit that the car has any faults. It's perfect. But friends, in private, I think it has quite a few. I'm going to let you in on what needs fixing. And why the Super20 fixes all of them. And more.
(Full Disclosure: I wanted to drive the Super20 so bad that I pestered Mazda for months to let me do it. Months. Ask them, they'll tell you. [UPDATE: Mazda PR has informed me I started asking on April 3, 2013.] They told me I could if I was ever in LA, so I came to LA. Pro tip: If you want me to go somewhere, tell me there will be a modified Miata waiting for me when I get there.)
The Miata is more than the sum of its parts. It's kind of like every equation I solved in high school math, although that was more by mistake than design. Out of the factory, the Miata does have a few flaws. And the biggest flaw is the engine.
In one of the most character-filled cars on the road, the Miata has one of the most anemic and boring engines you can imagine. It sounds flat. It feels blah. It doesn't wow you with high power or high torque. The 2.0 gets the job done, but it doesn't do it thrillingly.
And that's a shame, because the brilliance of the Miata chassis means it can handle so much more power and do it easily. The aftermarket makes turbos, superchargers, and even drops in V8s to make the engine match the chassis. Mazda has even lightly turbocharged the Miata in the past.
That's what makes the Super20 so great: It's supercharged. By Cosworth and Flyin' Miata. Yes. That Cosworth. The car also has all these great other words like Stoptech, Toyo, Enkei, and Mazdaspeed. And what that equals is a balls out Miata with 250 horsepower (About. Maybe. Mazda hasn't said the power it makes, but other publications put it around there. I'm going to agree.). This was Mazda's concept at SEMA in 2010 and 2011, and for some reason they're now letting regular folks drive it. I'm not going to complain.