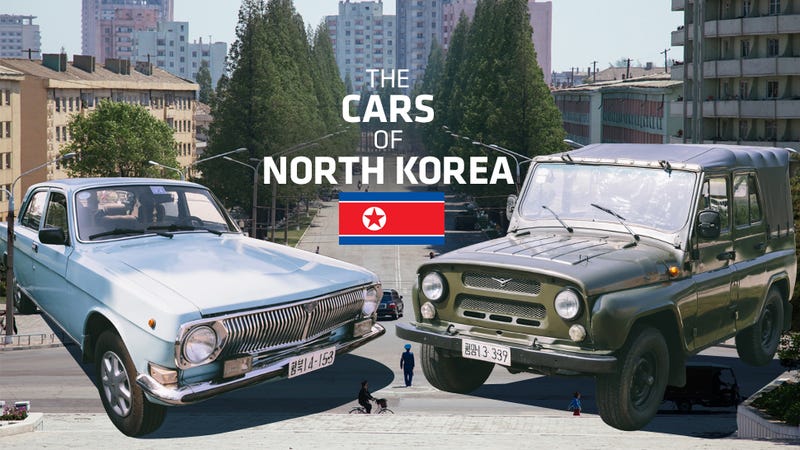 When I found myself in one of the most isolated and mysterious countries on the planet naturally the first thing I noticed was the profound assortment of vehicles in the airport parking lot. Behind the wall of mines and propaganda in North Korea are still people, and many people still like cars.
There was a white United Nations-outfitted G-Wagon with a manual transmission and rubberized interior; an unidentifiable prehistoric-looking squad of military vehicles I had never seen before (or even read about) and to top it off a row of three blacked-out Porsche Cayennes sat in the corner of the small lot.
I was quickly informed that I was not to take any pictures anywhere near the airport.
A few years ago I worked for a luxury tour operator that focuses exclusively on Asia. They make otherwise impossible things happen for very wealthy customers—my old boss once "persuaded" an official from the Burmese Junta to issue landing permits to a client's private aircraft. The company also occasionally organizes private tours to North Korea for clients who want a more intimate experience than standard group tours.
This was my former boss's third time in the Hermit Kingdom and my first. He was there to foster some business relationships and build itineraries for future clients; I was there to see with my own eyes what this highly controversial nation is all about and more specifically check out what kind of cars were on the roads of this nation that frightens the Western world.
Prior to this trip I was under the impression that, in addition to eating grass, everyone rode bicycles and got around via Ox-drawn carts, but North Korea's cars were singing to the inner car geek in me and I had only touched down 20 minutes ago. The craziest part about it? The ruling party isn't just bringing in any old cars, they have some taste.
Luxury sedans are a fairly common sight in Pyongyang. It's an ideal place for a carspotter because there's such variety. What I learned from my trip to North Korea is that it's a dream destination for a car guy from the West who has a sense of adventure. Yes, there are newer exotics in Monaco, but the cars you see in North Korea aren't something you'll see on Jalopnik.
Car and Driver ran this piece four years ago. It's very much dated in 2014.
The capital city is changing. Pyongyang's wide open roads devoid of any cars is giving way to the level of traffic that you might find in any "middle American" city, which is to say there's just enough traffic to be noticeable.
It was only recently that traffic lights were installed at major intersections, prior to this the nearly non-existent traffic was controlled by a legion of robotic-yet-attractive "traffic ladies" (remember this viral video?), but their presence is dwindling in 2014 thanks to a recent wave of modernization sweeping the city.