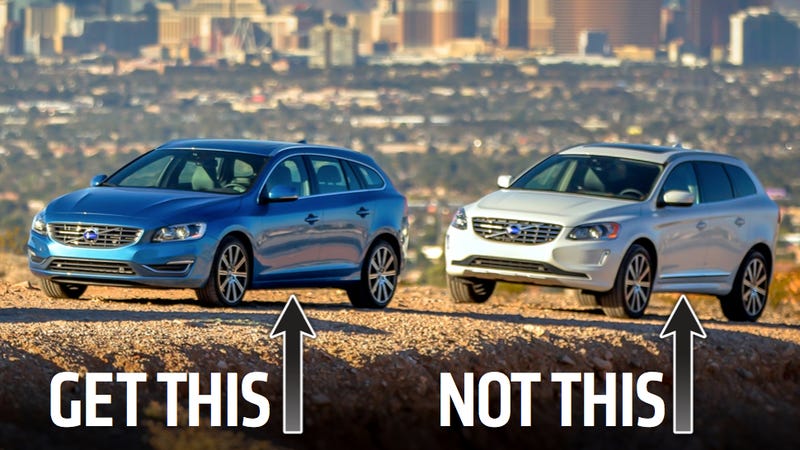 The Volvo XC60 and V60 are capable vehicles in both their segments, but having driven both of them back to back and comparing their specs, I can't imagine why one would spend more on the crossover than the wagon. Here lies, in my opinion, a strong business case to consider wagons over crossovers.
The passengers in this brand new Volvo XC60 weren't expecting anything out of the ordinary as they drove away from an airfield northeast of London yesterday afternoon two years ago. But the pilot of an small AT3 aircraft botched his landing somehow, hitting the car.
This light plane practically bounced off a Volvo XC60 when it hit the SUV during a crash landing. The Volvo's two occupants were on hand for a drag race at the airport and, after being hit, saved the pilot's life.
If you have a wife/daughter/girlfriend/sister, you're likely incredibly annoyed by their obsession with the Twilight Saga movies and their lame sparkle vampires. Now, Volvo wants to use this schlocky tween vamp romance to sell you a car. Gag.
A friend of AutoFiends managed to catch a 2009 Volvo XC60 camo'd up and wearing something peculiar in Hollywood, which is actually quite normal — for a fashionista. Unlike the XC60 one of our readers spied in Beverly Hills, this one was wearing a little badge that proclaims "Diesel Fuel Only." That's a little obvious,…
Jalopnik reader Sean caught the above picture of what appears to be the 2009 Volvo XC60 readying itself for its important debut in the now crossover-curious post-SUV market. Sean caught the XC60 right next to the Beverly Hills Hotel, and if the brand hopes to reach that US sales goal of 25,000, they're going to really…
Remember the Volvo XC60 we showed you at the Geneva Motor Show? This new Sport Utility Crossover (SUX) is here in the states, but with some major differences. First, it'll be sold in North American. Second, no diesels. The end. The global version has two turbodiesels (the D5 producing 185 HP and the 2.4D with 163 HP),…
What would the world be like if carmakers weren't apt to appear in every single segment, and their brands weren't defined solely on how soft the interior is or how much spongier than an apple cart the ride is? Why, we wouldn't have a small SUV from Volvo to go on about. It's the Volvo XC60, which debuted today in…
Although we gave you the XC60 tease this weekend, Volvo's now dropped the full bomb of photos, video and details on the new 2009 Volvo XC60 — a car Volvo describes as being not only "one of this year's most anticipated new car launches" and "one of the safest Volvo ever" but also the "most sensual" Volvo ever. We'll…
The odd-looking car guru who hails from Hollywood has procured what look to be leaked press photos of Volvo's new XC60 crossover vehicle. Unfortunately, it looks like Volvo overcooked their meatballs a bit. This mini-XC90 isn't exactly "yum, yum...good, good!" The funky, sculpted sheet metal on the front fascia, doors…