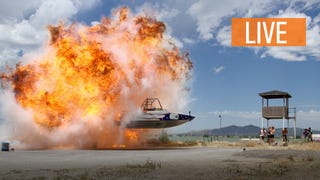 What's it like to face possible death and frequent injury? We'll get some insight into that when Nitro Circus 3D: The Movie premieres this week, but in the meantime we have broken bone enthusiasts Travis Pastrana and Jolene Van Vugt for the next hour, live, in Kinja answering your questions about anything.
Travis Pastrana, in addition to driving Dodge's 600-horsepower rallycross Dart, also runs a fairly-unhinged stunt show called Nitro Circus. In the crew's spare time, they like to jump Golfs in Pastrana's backyard.
Tanner Foust took the podium in Rallycross #2's competitive AWD class, but it was Matthew Johnson in a 1978 Ford Fairmont Wagon that stole our hearts, managing a crazy win in the 2WD class. Pure, V8-powered awesome.
MTV's newest Sunday night lineup includes Nitro Circus, an all-out stunt show populated by the ballsiest stuntmen America's backwoods has to offer. Don't watch the trailer without a cup on.