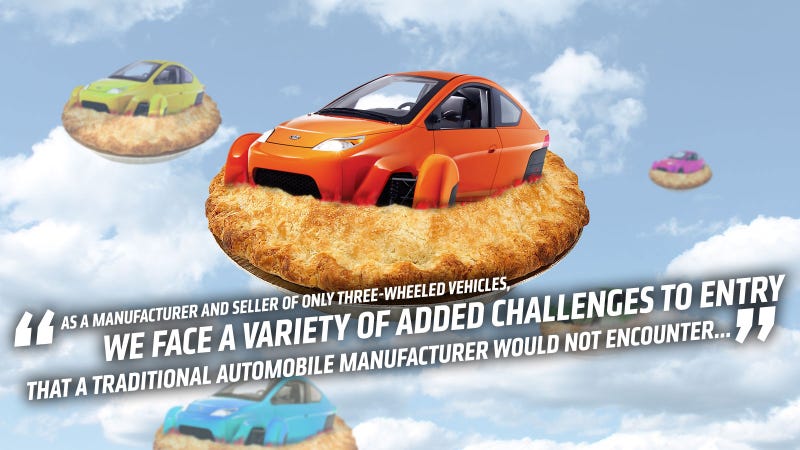 Elio Motors aims to be the first successfully crowdfunded vehicle manufacturer. Its social media pages solicit donations with big dreams and tales of even bigger successes yet to come. But now that Elio wants to sell shares in the company, its first financial filings with the government paint a much more somber and…
Mr. Elio showed off his newest Elio Motors P5 prototype today at the LA Auto Show, surrounded by an applauding crowd of freaks, fools, and local amateurs. Here is the halfway not-a-car that they so desperately desire.
Few vehicles in recent memory have sparked as much interest, skepticism, hype, derision and outright fascination as the Elio Three-Wheeler. But what's it like to actually drive one? Here's reader Tohru with a story and video to tell you just that!
For as long as they've existed in the vehicular landscape, three-wheelers have occupied a sort of nebulous space between motorcycles and cars, and not just because of their wheel count. They're usually legally classified as with motorcycles, which has meant a few headaches for Elio Motors, the startup automaker that…
Elio Motors is getting closer to turning their "definitive" 2016 model into reality, and here's our first look at what's going to power it: a 0.9 three-cylinder based on the Geo Metro's engine.
Elio Motors has a weird reputation. The company is a social experiment that has convinced people to give millions of dollars towards what amounts to a cool idea. As they pushed pack the release date again, Elio's reserved customers – essentially its investors at this point – are quickly running out of patience.
More than a year has passed since Elio Motors first announced plans to build its three-wheeler car. And now they're saying it won't go into production until 2015, so they have to drum up some news. Saying their car is cleaner than cow farts is, well, a thing.
Remember Elio Motors, the startup company that made waves last year for trying to build maybe-vaporware, 65 MPG three-wheel vehicles at a former GM truck plant in Shreveport, La.? It looks like they're one step closer to actually doing it. Maybe, anyway.
Today was a big day for Elio Motors, the startup automaker that seeks to build hyper-efficient three-wheel cars at a former GM truck plant in Shreveport, La. They unveiled their latest prototype and announced their North American suppliers in Michigan today. Meanwhile, things aren't so great for them back home.
Startup automaker Elio Motors announced at the beginning of this year that they are taking over a former GM truck plant in Shreveport, Louisiana to make a three-wheel economy car they call "the next big thing in transportation." They need one pesky Louisiana law to change before they can start selling them en masse.