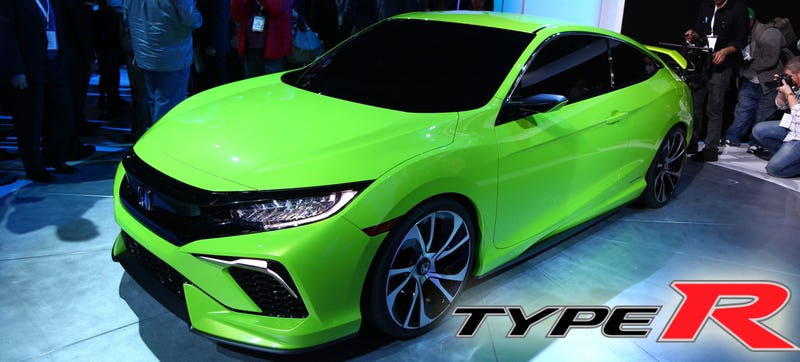 It's not an April Fools' joke. I wouldn't be writing about it if it was, because screw all those stupid attempts at corporate humor that come in fake press release form. Today at the New York Auto Show, Honda officially announced that America will get the high performance Civic we've always wanted — the Type-R.
When you've got a hatchback that puts out 310 horsepower and maybe obliterated a front-wheel drive Nürburgring record, how can you not take it racing? That's what Honda plans to do with the new 2016 Civic Type R. The updated car will replace its predecessor for the 2015 British Touring Car Championship season.
Could Honda really be kicking a new performance renaissance? The 2016 Acura NSX and this car, the new 2016 Honda Civic Type R, have me hoping that's the case. Before its official debut tomorrow at the Geneva Motor Show, here's more of the hatch that Honda is calling their most extreme Type R model ever.
Honda has promised that the new 276 horsepower (or more) Civic Type R will not only be the baddest hot hatch around, but also the most extreme Honda ever made. How fast will it go? Up to 167 MPH, the company announced today. As they say in Japan, "That's a spicy meatball!"
Okay, so it's not actually an EK9 wagon, although that would be really, really cool. This is in fact a marriage of two different Honda vehicles which share parts: a Civic and an Orthia. And despite this being JDM as hell, this actually isn't Japan. It's Hong Kong. Still totally badass. EK WAGON, GUYS. GET EXCITED.
Like everyone else who wants to see Honda give a damn about performance again, I'm pretty excited about the new Civic Type R, and I'm eager to see if it will come to America. Technically it already has; this photo was taken in Marysville, Ohio yesterday, home of one of their manufacturing plants.
Go home, Integra. Step aside, NSX. Your kids need picking up at soccer practice, Civic and Accord. Honda says their new 276 horsepower 2015 Civic Type R is so potent, so uncompromising in its performance, that it will trump every Type R car that came before it.
In celebration of Thanksgiving tomorrow, here's a Honda gathering featuring a heapload of Civic Type Rs, and a healthy helping of Honda Civic Mugen RRs. [autostream via FuckYeahHonda]
Last week we brought news of a harder-core Mugen-tuned Civic Type-R for the European market. This week we're presented with the fruit of Mugen's labor, the multi-winged and vented UKDM Mugen Civic Type-R 3D.
The wildly-styled UK Civic Type-R is already a phenomenal handling vehicle and with the emergence of a more raw JDM-only Civic Type-RR, the Brits are starting to feel a bit left out. Not for long.
As we get ready for the Detroit Auto Show, Japan's getting ready for their annual Tokyo Auto Salon. Think of it as our SEMA show, but on crack and with lots of cute umbrella girls.
With only 300 examples planned and a Japan only audience, the Honda Civic Mugen Type-RR is a rare bird indeed. Somehow, those crazy Frenchmen over at Nihon Car managed to get their hands on one for a review of the 236 HP little beast. There are things we like and dislike about this car; foremost in the "like" category…