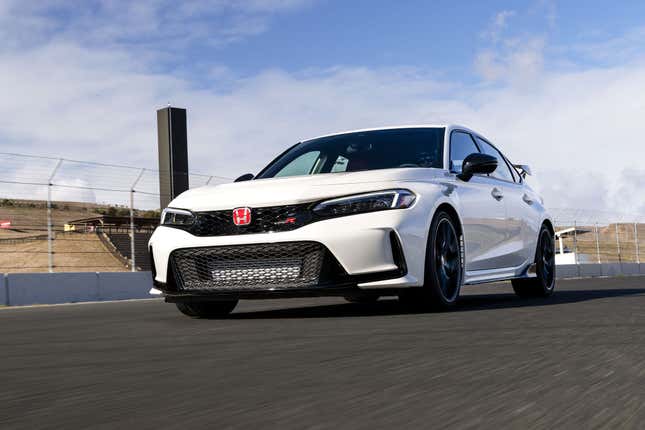 Editor's note November 15, 2022: This gallery was originally published on July 20, 2022, after Honda gave Jalopnik (and a few other publications) the opportunity to photograph a Civic Type R prototype in advance of the car's official debut. It's since been updated with several batches of photos Honda has released since the car's unveiling, showcasing the car in different color combinations. As of today, our full impressions of the Civic Type R on the road and on the track are now available as well. Enjoy! 
After months of teases and our own related astrophotography experiments, Honda has finally revealed the next-generation Civic Type R for 2023. Everyone on staff agrees: it looks wonderful, and several of us are prepared to brawl to the death (or at least, something close and nevertheless gnarly) in the hopes of driving it. (Before I go out in the opening minutes of the battle royale, please know that Andy fights as dirty as you'd imagine given his heinous Corvette opinions, and Elizabeth's iconic heart-shaped sunglasses conceal eye lasers.)

Anyway, want to take a tour of the new Type R? Thanks to the miracle of photography and the internet, you can. Let's go!