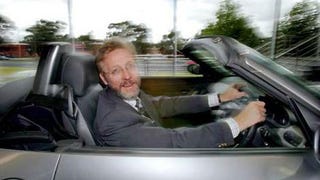 A report from Korea's RPM9 indicates former BMW styling head Chris Bangle, the Charlie Sheen of auto designers, could become lead designer at Hyundai, specifically to work on the company's next Equus. Trying to get a confirmation. (H/T Seung!)
In what's already being heralded as the "Chilla in Geneva," infamous BMW designer Chris "Big Butts" Bangle tussled with Jason "Cassius" Castriota over the design of the inspired-by-jets Saab PhoeniX. Rhetorical fists fly as Bangle angles to flame Castriota's surfaces.
This crayon-on-paper drawing of Chris Bangle is probably the most realistic representation of the just-retired BMW designer we've ever seen. But it's the reason for the drawing that makes the story even more priceless. [Hyperleggera]
Chris Bangle, polarizing and iconic BMW chief design honcho, is quitting "to pursue his own design-related endeavors beyond the auto industry," the German carmaker said Tuesday. A gallery of "Bangle Butts" below the jump.
Somehow Strike Week morphed into BMW Week here on Ye Olde Jalop. Fine by us. Driving down the 101, 110 and 10 Freeways yesterday we saw a Bentley Continental GT, a Ferrari F430, A Ferrari 550, a Gallardo and no fewer than 17 BMW 745/750s. I'm telling you, in certain Los Angeles zip codes there are more big-butt…
After watching the above video from Chris Bangle talking about cars as art, and getting lost somewhere around where Bangle starts talking about making love, today's Question of the Day's all about you helping us answer something via word association. Help us to finish the phrase:
Should be easy enough — we've…
Watchers of the upscale, Born Rich, found a shot of an Airbus prototype with an interior that's the product of BMW Designworks, the company's artsy-fartsy division headed by director Chris Bangle. Designworks, which pens everything from watches to lamps to cars and motorcycles fitted the A350 twinjet with spacious…
World Car Fans caught a shot of someone who looks an awful lot like BMW's design chief Chris Bangle checking out the wares at Ferrari's Geneva show display. Will his next generation of Bimmers be influenced by the swooping lines of Pininfarina's Ferrari 599GTB Fiorano, or by the roundels on the model's blouse.…
Propellerhead design guy Chris Bangle's earned his fair share of grief over BMW's most recent aesthetic direction. And even he admits that he could've picked a better name than "flame surfacing" for the look of the latest Bimmers. We also think the 6-Series is ugly. But having said that, we think that Bangle's one of…