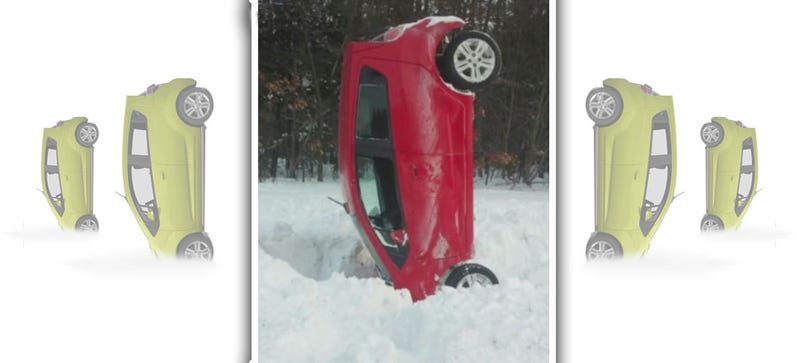 Yesterday morning, in Exeter, NH, this happened. Somehow. No one was hurt, and no one really understands just how this Chevy Spark managed to crash so it ended up doing a nose-stand in the snow. Was a giant playing mumbleypeg with it? Did the owner train it to do yoga? Can it do other tricks?
Did you know that the first Chevy Spark (then Daewoo Matiz) was originally designed to be a Fiat 500? Here's where it all started in '92, the Lucciola concept by Giugiaro.
If you'd have told me in 2004 I'd be driving a tiny Korean-built GM product around NYC in 2014 I'd have guessed I lost a bet. If you'd have told me I was looking forward to the experience, I'd have thanked you from coming back from the future to warn me. The Chevy Spark is yet another example of the difference a…
This is The Morning Shift, our one-stop daily roundup of all the auto news that's actually important — all in one place at 9:30 AM. Or, you could spend all day waiting for other sites to parse it out to you one story at a time. Isn't your time more important?
This is Chevy's new ad for the Spark EV, claiming their shopping car with some batteries has more torque than a Ferrari 458. Cute. Very cute.
This morning, Chevy held a drive event for the Chevy Spark, the latest and smallest car on the market from the automaker.
The 2012 Chevrolet Spark is reportedly back on track for the US market. The Korean-built subcompact, sold in a previous incarnation as the Daewoo Matiz, will arrive next year as a 2013 model, riding on GM's Yo Gabba Gabba platform. Ok, no.
Daewoo unveiled the Matiz Creative today and, if it looks familiar, it's because this is the Korean version of the Chevy Spark. It goes on sale this September with a 69 HP four-banger good for 40 MPG. [Green Car Congress]
Yup, the little green machine once called the Chevy Beat's now officially the Chevy Spark and it's been un-unveiled at the Geneva airport. Very little in the way of news in the press release below.
A new Activision website for the Transformers movie sequel video game features shots of robot modes for the Chevy Spark (Beat) and Trax. Frankly, they both look like hicks. A larger, higher-quality shot below.