This is The Morning Shift, our one-stop daily roundup of all the auto news that's actually important — all in one place at 9:30 AM. Or, you could spend all day waiting for other sites to parse it out to you one story at a time. Isn't your time more important?
1st Gear: And Even That Doesn't Look Good
The small overlap crash test is the most difficult test amongst the battery of new challenges the Insurance Institute of Highway Safety is putting cars through and, yeah, the results aren't great if you're a fan of mini cars like the Honda Fit and Fiesta ST.
After testing 11 models, only one vehicle was "acceptable" in this test, while the rest were marginal or poor. So give it up for the American (well, Korean-American) Chevy Spark for doing an adequate job protecting its passengers while cars like the Honda Fit and Fiat 500 and Toyota Prius C all got "poor" ratings.
Small cars will always have challenges when it comes to crash testing although, in my experience, they're also great at avoiding crashes since they're generally more nimble.
G/O Media may get a commission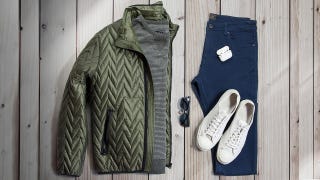 60% off
Jachs NY Fall Sale 60% Off
Still, the results are scarcely encouraging unless you happened to buy a Spark or, maybe, a Mazda2.
2nd Gear: Strickland Defends Ending Jeep Fire Investigation
The saga of the Jeep fire ended with a curious proposal from Chrysler to install trailer hitches on certain models to prevent the problem, thus getting the government off their back.
The call was largely David Strickland's, the head of the National Highway Traffic Safety Administration who recently left the agency to… go work at Chrysler's Washington-based law firm Venable LLP.
Strickland told David Shepardson that the two aren't related, which didn't stop professional thorn-in-side Clarence Ditlow from saying this:
"It is tragic that NHTSA approved Chrysler's sham trailer hitch recall for Jeeps that explode in rear impacts. NHTSA Administrator David Strickland will be remembered as the administrator who took a job with one of Chrysler's law firms rather than save more children like Cassidy Jarmon from burning to deaths in Jeeps with trailer hitches."
Ouch.
3rd Gear: Strickland Also Defends Tesla
Elon Musk stuck his neck out on Twitter to say that he thought the world "recall" should itself be recalled since they don't actually have to physically recall any cars to fix them.
What's Strickland have to say about that, now that he's on the side of those being investigated instead of the side of those doing the investigating? Via Bloomberg:
"As much as Tesla disagrees and Elon disagrees with the characterization of a recall, I would have to say he's partially right there," Strickland said about Tesla's chief executive officer in an interview today. "What people think of in terms of a recall is you get a letter from the manufacturer to bring your car in to the dealership."

[…]

"Tesla is able to change vehicle dynamics and make vehicle changes from the sky," said Strickland, who said he couldn't remember a safety repair being made that way before. "You don't have to impose an inconvenience on the consumer when that remedy comes in."
4th Gear: Cadillac's Inventory Problem
Cadillac is one of GM's fastest growing brands and a real threat to other luxury automakers, but it's still falling victim to GM's most common problem: Too much inventory.
According to the WSJ, the year ended with a 92-day supply of ATS sedans, 118-day supply of CTS sedans, and 126 days of XTS supplies.
Bob Ferguson, Caddy's new global chief, isn't too worried and thinks dealers will be able to move those cars before they become a liability.
"Our largest inventories are around SRX and ATS but those are our biggest sellers," Mr. Ferguson said. "I feel comfortable where we are on inventories and there is no reason for us to consider a discount strategy that starts to diminish the model or the brand."
Still, if you were considering an ATS maybe now would be the time to visit a dealership.
5th Gear: Where Did The FT-1 Come From?
The Toyota FT-1 is that rare concept that no one saw before the show and isn't immediately pointing towards a new product. Is it a new Supra? A GT-R fighter? Nothing?
Whatever it's supposed to be, its genesis is in the Calty Design Research center that Toyota sometimes uses (but probably not enough) to design cars.
Here's a funny story from Mark Rechtin's piece on it:
Because Japanese automakers still weren't entirely welcome in America, secrecy at the studio was tight. The first designers didn't even have business cards, said Calty spokeswoman Joo Lee. "We couldn't tell people what we did. If a traveling salesman came in and wanted to know what Calty was, the receptionist was trained to say, 'We make Caltys,'" Lee said. "And if the guy was really persistent, the receptionist would just keep saying, 'You know, the Calty. Haven't you seen them around?'"
Reverse: Slow History Day?
On this day in 2009, "Gran Torino," a movie named for the 1972 Ford muscle car, opens in Australia and New Zealand. The critically acclaimed film, which starred Clint Eastwood as a retired Detroit autoworker, had opened across the U.S. earlier that month and later premiered around the rest of the world, eventually grossing more than $263 million, making it among Eastwood's most commercially successful movies.
[HISTORY] Neutral: Overlap Crash Tests Bothering You? Do you accept when you buy a small car a tiny amount of safety tradeoff? Or does this bother you?
Photo Credit: Getty Images