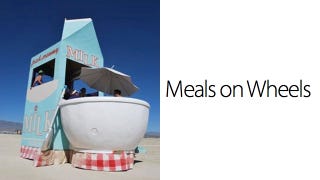 An Oakland-based Burning Man vet is selling this absurd "Mutant Vehicle/Art Car," on Craigslist—fashioned in the likeness of a milk carton and cereal bowl—and has chopped down the price in hopes that some ambitious soul will buy and haul it over to Burning Man this year.
Not all of the vehicles present at last week's Burning Man Art Conference and Business Workshop were RV campers inhabited by radical CEOs. Some of the things-on-wheels that people drove around the desert were actually quite artistic and inspired! This fire-shooting steampunk octopus, complete with moving arms and…
Want to check out the Golden Mean, a fire-belching Volkswagen Beetle-based giant snail that seats six and packs an 800-watt sound system inside its shell? With snake charming to boot? Head to Oakland tonight!
After his team's Volvo Amazon took the Index Of Effluency trophy at the 24 Hours of LeMons South, Mechimike was ready to tow a vintage trailer 2,600 miles to the Nevada desert and set up the "third most badass camp" at Burning Man 2008. I've been sort of on the fence about attending BM for, jeez, a couple of decades…
No, this isn't a ploy by Hummer to finally break through into the hippie subconscious. Artists at this year's Burning Man festival have built a gigantic Hummer, named the Bummer, meant to get us thinking about consumerism or something. [SFGate, Photo: Frederic Larson/The Chronicle ]
Last Saturday we wandered down to metro Detroit's progressive little berg of Ferndale for the Green Cruise, an anti-Woodward Dream Cruise, billed as a gasoline-free alternative to the Big Event. We were hoping for electric cars and grease-burners, but it turned out to be mostly just a big bicycle parade — with one…
Craftsman and metalworker extraordinaer MOLTENSTEELMAN debuted his 23-foot long and 12,000-lb. mechanical spider walker at Burning Man and I have to admit, this is the kind of machine that gives me nightmares. It is an eight footed walker that is powered by a 454 Chevy V8.