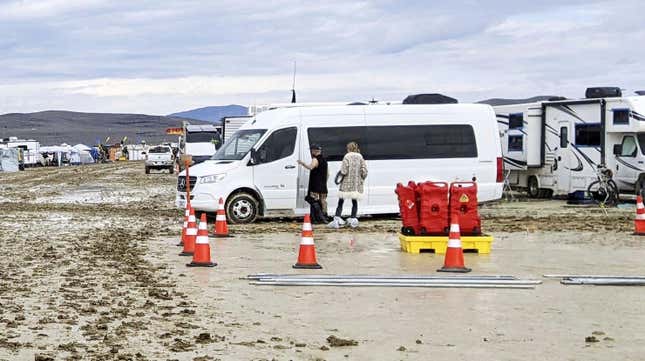 Burning Man, the annual weeklong desert art party for rich people, transformed from its usual dustbowl to a mud-ridden hell after Black Rock City was battered by two months' worth of rain in just 24 hours. Festival goers were asked to shelter in place and delay their exodus back to society until conditions improved — but now car wash owners are taking the brunt of Burning Man's mucky mess.
As folks left the desert, many of them headed right to the car wash to hose down their sludge-caked vehicles — and, according to Reno, Nevada, website 2news, they've been seriously damaging car washes in the process.
Collyn Skeen, assistant manager at Sierra Car Wash on South McCarran Boulevard, told 2news that "six inches of clay" were coming off some vehicles. The issue largely revolves around the fact that burners have been taking their cars through automatic car washes; the mud then drops into the tracks and becomes caked in the large brushes. Obviously, that will impact the car wash's ability to service other clients — and even a handful of muddy burners can make life miserable.
Instead of going the automatic route, Skeen recommends that burners head over to a self-service car wash first to hose off the worst of the detritus. From 2news:
"Currently, we're just telling them that one of the best things (they) can do is just find somewhere that you can wash your car off a little bit first and then bring us the rest of it," Skeen said. "We'll wash the rest of it off."
2news notes that the adverse weather conditions didn't impact everyone equally; some burners avoided driving home in the mud, which meant their vehicles only took on the standard dust they expect from the festival.
It's also worth noting that some infectious disease specialists have been recommending that folks scrub off that mud as soon as possible; the bacteria in the soil can seep into cuts, blisters, sores, or other abrasions — basically, the kinds of minor injuries you'd pick up during a weeklong desert excursion — to make for some pretty nasty infections.