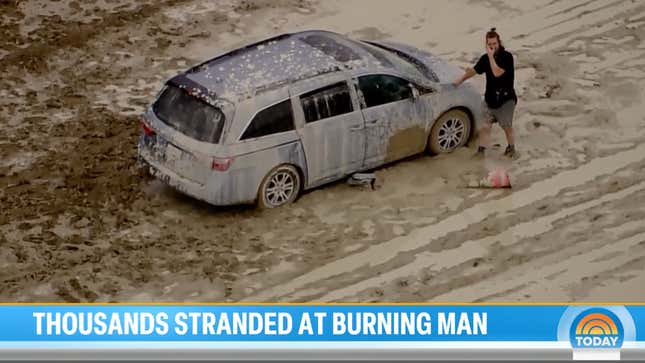 Despite what the rich people at Burning Man this year may say, things have been a bit of a disaster. Record breaking rains completely flooded the part of the Nevada desert where the annual festival takes place, and it completely fucked up roads.
Folks have been told to shelter in place and not try to leave the grounds. That, uh, didn't exactly happen. While many people did stay put, a few very fine people decided not to heed the warnings of the National Weather Service.
You will not be surprised to learn that a good deal of these folks did not bring the proper vehicle to get through muddy terrain. However, even the people with the right types of vehicles found themselves stuck. That all has to do with the mud below their tires; thick, sticky stuff that can reduce even the most hard-core off-road tire to a slippery cylinder. Nasty stuff, unless you're in a Ram TRX.
Anyway, because I am spiteful, I decided to comb through news footage from the mess and find some of the most fucked people at Burning Man this year. If you have a bad spirit, please enjoy!