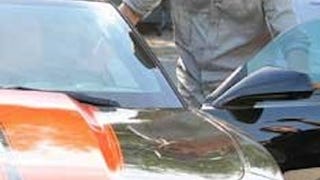 Yesterday we showed you Brad Pitt can't ride. Now he's moving on, and into a bigger vehicle. It appears the old man-baby's bought himself a Camaro SS. Really?
Hollywood's favorite mustachioed heart throb is no stranger to attention, which is why Russian authorities are banking on cardboard cut-outs of Brad Pitt in police gear to slow motorists in Moscow.
What do you get when you cross Brad Pitt, a Citroen 2CV, Wes Anderson and a topless young woman? A Japanese advertisement.
George Clooney and Julia Roberts might want to look twice at the eco-tab they're running up before staring daggers at SUV owners. The celeb-watchers at TMZ have compiled a list of celebs well known for huffing recirculated methane — as they drive off in their Prii, or in Clooney's case, tearing around Hollywood in…
We all know even A-list actors are always looking for the extra dough — especially when they're trying to support a family and you just know those Namibian health centers aren't gonna pay for themselves. But A-list actors have a dirty little secret — they just jet over to Japan and get themselves some yen the…