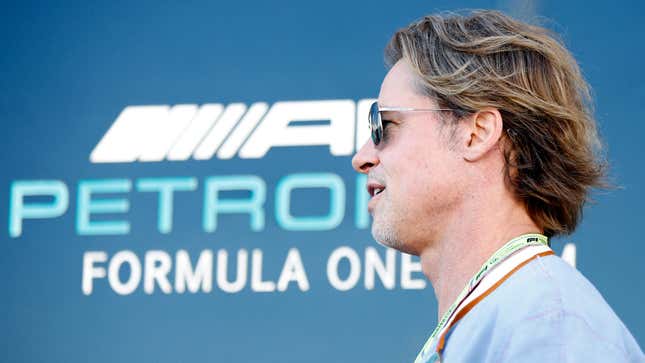 In case you haven't heard, there's a new Formula 1 feature film starring Brad Pitt hitting theaters in the future, but this year, we're going to see an "11th team" entered for certain F1 events in order to curate on-track content in and among actual, legitimate race cars zooming around on the track.
2024 Nissan Z NISMO | Jalopnik Reviews
A thread from journalist Will Buxton kicked up a lot of Online Discourse about Pitt's new film:
The concept that Pitt and the production crew would be able to enter an 11th F1 team didn't go over well with plenty of the folks still lingering on Twitter, especially considering the fact that there have been plenty of scandals about the difficulties of entering F1 — like Andretti Global facing one obstacle after another in entering a team in F1, or IndyCar racer Colton Herta failing to amass the proper amount of super license points to compete in the sport. Pitt popping up and just being allowed to race sounded both immensely sketchy and also was a slap in the face to a lot of the folks trying to get into the sport for non-cinematic purposes.
Since then, we've had some further clarity about the film, which will be directed by Top Gun: Maverick's Joseph Kosinski and produced by Jerry Bruckheimer. Instead of racing in an F1 car proper, Road & Track reports, Pitt will be in an F1-like car. That likely means a modified junior category single-seater, the kind raced in Formula 2 or Formula 3, or an ultra-modified F1 machine. It also doesn't sound like Pitt is actually going to be on track with any other cars; instead, the film crew just wants to gather footage of Pitt on an actual track, during race weekends with full grandstands, to contribute a little more to the authenticity of the project.
I do have to be honest, though: this movie sounds like it's going to be visually compelling. Kosinski's crew spent time developing "the smallest moveable 6k camera ever" for Top Gun: Maverick, and that technology will be implemented in a single-seater cockpit to provide close-up and highly detailed footage of Pitt actually driving the car.
The car itself has been designed by the Mercedes F1 team, and seven-time Driver Champion Lewis Hamilton is being regularly consulted on the project with the aim of making it the most accurate racing movie ever. The Drive contacted a spokesperson for F1 who confirmed that Pitt "will not be racing anyone," but getting Pitt behind the wheel for some stunning in-car footage on solo laps is undoubtedly going to contribute a lot to the ambiance of the film.
I've been skeptical about this whole endeavor, but these details have me interested. Most motorsport films have some pretty goofy storylines to justify the high drama of the on-track action, but even if Pitt's film falls victim to that scripted influence, we can still look forward to some gorgeous Grand Prix-like action shots.