Despite claiming that filming had shut down while actors and writers went on strike here in the U.S., Brad Pitt's Formula 1 movie has found a way to clock up the footage while the F1 circus travels the globe. So far, we've seen Pitt and his co-star Damson Idris take to the track in Silverstone in a pair of modified Formula 2 cars, and crews were seen filming at the Hungarian Grand Prix as well. Now, eagle-eyed F1 fans have caught the crews shooting pit stops in Italy with a team of mechanics, but something isn't quite right.

The video, which was shared on Twitter X by F1Troll and brought to our attention by the fine folks over at The Drive, appears to show a pretty normal F1 pit stop. In the clip, the black and gold car being used in filming rushes into the box, before it's lifted up by front and rear jacks. Engineers around each wheel then rush to work, undoing wheel nuts and moving tires around. Then, the car is dropped from its jacks and speeds off once again.
All that takes place in a very respectable couple of seconds. But did you spot the vital pit stop step the crew missed? Watch it again, there's something very wrong with this stop.
That's right, the crew never actually change the tires on the APX GP car. They simply mime undoing the nut on the old wheel, roll a new tire in front of the still-attached wheel and then pretend to tighten up the nut once more. In the split second we'll see of this on film, it might be convincing but from a birds-eye-view like this, it's not fooling anyone.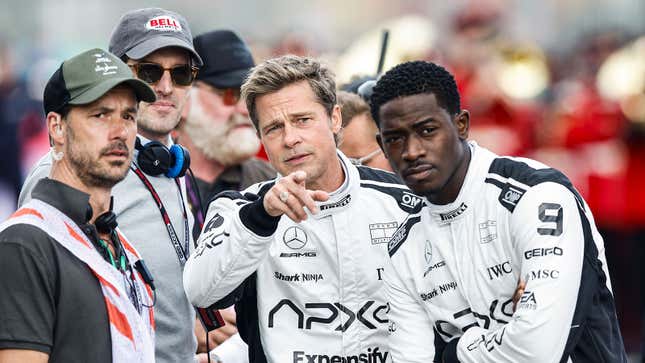 But it does beg the question, why not just film a real pit crew one afternoon? With all the effort this movie is reportedly going to in pursuit of realism, such as getting both Pitt and Idris behind the wheel of race cars on track, surely that wouldn't have been too much of an ask?
What do you think about all this, should the filmmakers have stayed true to their realistic vision? Or, when it's all edited together, is this the kind of thing that only film nerds and the sort of F1 fans you avoid at parties are going to pick up on?