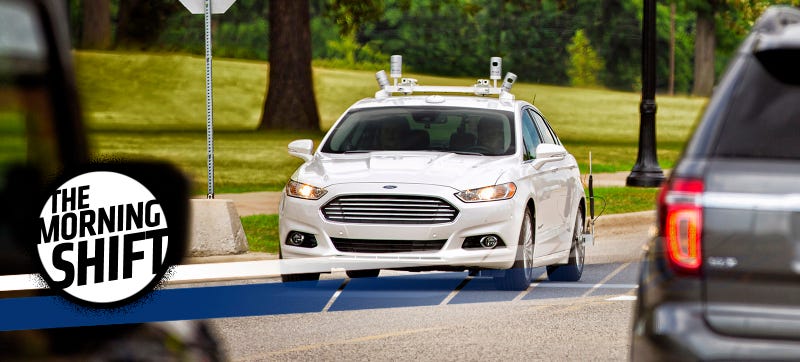 Good morning! Welcome to The Morning Shift, your roundup of the auto news you crave, all in one place every weekday morning. Here are the important stories you need to know.
1st Gear: Driverless Cars Are Already Putting Us To Sleep
I mean, they're not putting me to sleep. I've been up since 6 a.m. writing this news briefing. As an outside observer, I'm fascinated by driverless cars. It's just that the people who have to use them can't stay awake, as a new report on Ford's driverless car test engineers confirms in Bloomberg:
As Ford Motor Co. has been developing self-driving cars, the U.S. automaker has started noticing a problem during test drives: Engineers monitoring the robot rides are dozing off.

Company researchers have tried to roust the engineers with bells, buzzers, warning lights, vibrating seats and shaking steering wheels. They've even put a second engineer in the vehicle to keep tabs on his human counterpart. No matter — the smooth ride was just too lulling and engineers struggled to maintain "situational awareness," said Raj Nair, Ford's product development chief.

"These are trained engineers who are there to observe what's happening," Nair said in an interview. "But it's human nature that you start trusting the vehicle more and more and that you feel you don't need to be paying attention."
Ford's response has been to partner closer with Google's hilariously-overpaid Waymo engineers and work to get rid of their cars' steering wheels altogether. Designing for driver takeover seems increasingly like the wrong developmental path to take.
2nd Gear: Maybe The Opel Deal Is All About Electric Cars
This PSA/Opel deal in the works at the moment makes absolutely no sense to me, personally. The two marques offer the same kinds of cars and suffer from the same kinds of high-cost, low value problems. But! Opel gets GM's electric car tech, and GM CEO Mary Barra reportedly approved PSA to license that tech, as noted in Automotive News Europe: