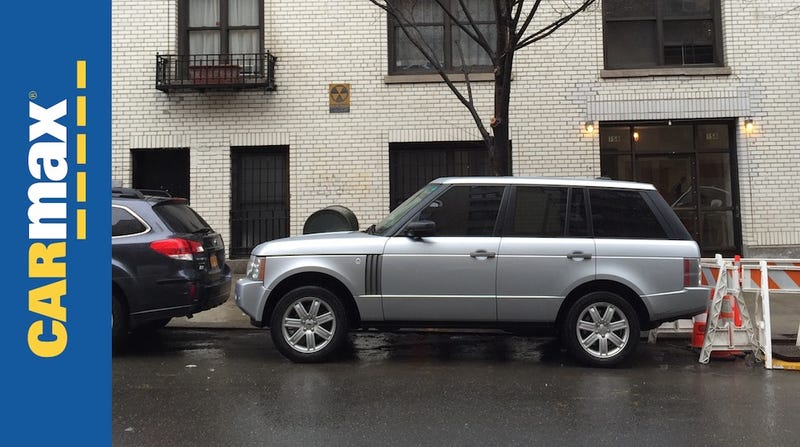 Today, I write to you as a happy man. I say this because I made it 4,000 miles between repair visits to the Land Rover dealer. And then I almost backed into a tree.
Yes, ladies and gentlemen, that's right: my CarMax warranty saga is back. You'd already know about this if you followed me on Twitter, because I announced last week that I had another new update for you. And now, here it is, in all its glory: yet another electrical failure in my 2006 Range Rover, once again paid for by the CarMax corporation (Motto: "More than just used rental cars!").
Allow me to take you through what happened. A few weeks ago, I was backing into this parking space that, for some reason, had a tree at the end of it. So I'm backing up, and I'm inching closer to this tree, and I'm backing up, and I'm inching closer, and then I realized something: there was no noise. Normally, when I'm backing up, my car makes these loud beeping sounds like a European emergency vehicle has somehow gotten into my headliner, and it's trying to pull over the dome light.
It was at this moment that I realized my parking sensors were not sensing. I was sensorless. This is a problem, when you drive a vehicle the size of a Range Rover and you live in a big, crowded city with lots of parallel parking. You need parking sensors. You also need a backup camera. It would be nice if you had a little British man who lived in the cargo area and jumped out to provide you with parking space guidance, but he's only available on the Autobiography model.
Now, when you drive a used Range Rover and something like the parking sensors fails, you typically have two potential courses of action. Number one, you curse the entire United Kingdom for making a vehicle with the same long-lasting durability as a Happy Meal wristwatch. Then you do nothing. Or number two, your curse the entire United Kingdom for making a vehicle with the same long-lasting durability as a day-old banana. And then you pay the dealership hundreds of dollars to fix it, knowing full well that there's a chance it will break again during your ownership period.
But I don't do either of those things. I mean, yeah, sure, I curse the United Kingdom, spewing an expletive-laced tirade almost entirely directed at the Queen. But then I start laughing, knowing full well that my latest Land Rover failure will be entirely covered by CarMax.
For those of you who haven't been following along since the beginning, allow me to explain my CarMax warranty situation. In December 2012, I purchased a 2006 Range Rover from CarMax, a nationwide used car retailer who primarily sells used Dodge Calibers in colors nobody wants. But they also sell bumper-to-bumper warranties on every single vehicle in their inventory, from those Dodge Calibers to nine-year-old Audi S8s with more electrical issues than the post-Katrina New Orleans power grid.
So I paid $3,899 for a bumper-to-bumper warranty that lasts 6 years or 67,000 miles, which I thought was a pretty good deal for a brand that ranks so low on the J.D. Power surveys that you sometimes wonder if the chief executive of Land Rover slept with J.D. Power's wife. And it turned out that I was right. I say this because in the ensuing two and a half years, CarMax has covered the following warranty claims:
Now, the last time I brought my car in for a CarMax warranty repair, you might remember I had a little incident with the Land Rover dealer. Essentially, they promised me they'd work on my car right away, they'd give me an upscale brand loaner car, and they'd get the problem resolved without issue. Instead, they were slow to work on my car, they gave me a Chevy Cruze, and they told me CarMax denied my warranty claim — something I had to resolve by calling up CarMax on my own. This is the kind of top notch customer service I've come to associate with Land Rover dealerships, who typically score between "Comcast" and "the entry gates to eternal damnation" when it comes to customer satisfaction ratings.