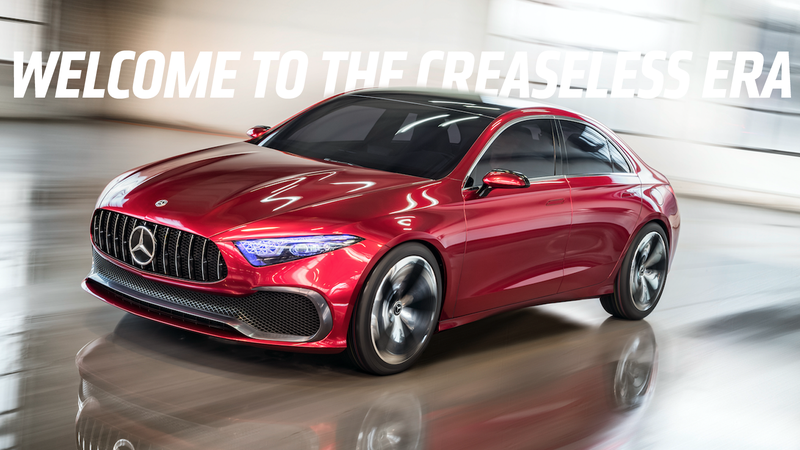 Mercedes made a pretty bold stylistic pronouncement at the Shanghai Auto Show, where it presented a new concept car: a sleek, compact sedan it calls, imaginatively, 'Concept A Sedan.' The car is nicely proportioned and attractive, but to Diamler AG Chief Design Officer Gorden Wagener it seems to represent a larger movement.
"Our Concept A Sedan shows that the time of creases is over," declares Gorden Wagener, and in my imagination at this point he takes a model of a 2017 Lexus GS and smashes it with a baseball bat.
For one I'm blown away Mercedes unveiled a sedan—an honest-to-god, three box sedan—in this age when every new car and concept seems to be a crossover SUV. It's a breath of fresh air. And it goes even further to make war on creases.
Wagener continues to explain the design concept behind the Concept A Sedan:
"With its perfect proportions and a sensual treatment of surfaces with reduced lines, it is the next milestone of 'Sensual Purity' and has the potential to introduce a new design era."
The phrase 'Sensual Purity' kind of creeps me out, if I'm honest. It reminds me of those unsettling father-daughter ring ceremonies that certain religious families do that feel like creepy weddings or something. Still, I'm pretty sure that's not what they're trying for here, and overwrought PR-talk aside, this is a good-looking car.

The front-end treatment uses a grille design Mercedes calls the 'Panamericana' grille, and the lower, full-width dogbone air intake is reminiscent of what we've seen on the X-Class pickup truck.