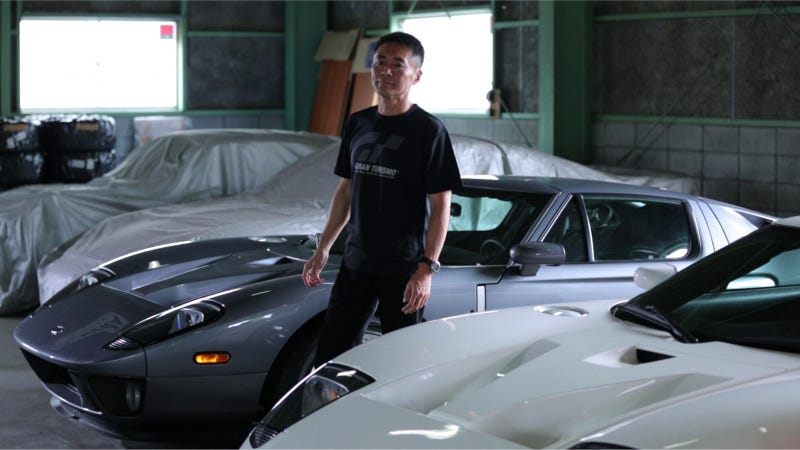 Back in the early 1990s when Sony was first branching out into gaming, a young designer named Kazunori Yamauchi wanted nothing more than to produce the racing game he had dreamed about since he was 15. Sony had other ideas in mind.
The company apparently felt his idea for an ultra-realistic driving simulator wouldn't sell, so Yamauchi instead focused his efforts on a Mario Kart-esque game for the first PlayStation called MotorToon Grand Prix. Hidden deep within that cartoonish arcade-style racer was the bones of the first Gran Turismo game, which would be released in 1997 after Yamauchi split from Sony and founded his own company, Polyphony Digital.
Neither the executives at Sony nor Yamauchi or anyone on his development team could have possibly predicted what a phenomenon the Gran Turismo series would become. It has since transformed into more than just a video game; it has changed the way cars are viewed by the public, the way cars are marketed by automakers, and the way professional race car drivers are trained and deployed. Gran Turismo has changed the culture of speed.
Through it all, Yamauchi himself has been something of a cipher, a quiet, even ghostlike figure who stayed in the background even as his games sold more than 70 million copies worldwide and he himself entered the realm of professional auto racing.
But now, light is shed on Yamauchi as he becomes the subject of a documentary released today on Hulu called KAZ: Pushing The Virtual Divide.
Those expecting deep insights into Yamauchi's history and formative experiences may come away somewhat disappointed. As the film progresses, Yamauchi, 46, maintains his air of mystery, though he is depicted as a detail-obsessed lover of speed with a tremendous sense of adventure and even a sort of childlike wonder to how he approaches his work.
"What I hope comes across in this film is that he is an artist," director Tamir Moscovici (and self-professed car guy who counts a 993 911 and a BMW E30 3-Series among his collection) told Jalopnik. "He's been pursuing just one thing for the past 20 years."
That thing, according to the film, is something that expands our feeling of personal freedom and makes us feel like we are one with the machines we pilot at high speeds in his meticulously-constructed virtual world. He wants to give us a sense that we are actually connected to the cars we race in his games. He wants us to get lost in Gran Turismo.
And he understands what he's talking about. As several interview subjects in the film are apt to say, as a race car driver himself, Yamauchi has a kind of credibility, an air of authority when it comes to cars that few in his field possess.
The documentary dips its toes somewhat into the unusual amount of detail that makes Gran Turismo tick, like when it shows us the sculptors who build the models of cars in the game, or when Yamauchi discusses how his team scans the surface of Willow Springs Raceway with laser beams to capture all the imperfections of the asphalt, or when his designers talk about how they must integrate a car's suspension and engine and tires into a singular simulation for the game. Plenty of games are set in wildly imaginative fantasy worlds, but not many are as painstakingly grounded in reality as Gran Turismo.
But Moscovici is not focused on mechanical aspects like the ones and zeroes behind the series. Instead, he intersperses his segments on how the game is made with interviews with real people, like a California craftsman who creates surf boards, an artist who makes religious icons out of scrap metal, and the parents who invest tens of thousands of dollars into their young kids' karting careers so they can learn what an apex is before other kids their age learn their ABCs.
That last part is important because it segues into one of the biggest ways Gran Turismo has changed the way things are done in real life: GT Academy, where highly-skilled gamers bypass the traditional (and expensive) entryways into professional racing and learn to become drivers who can win. A whole lot, it turns out.