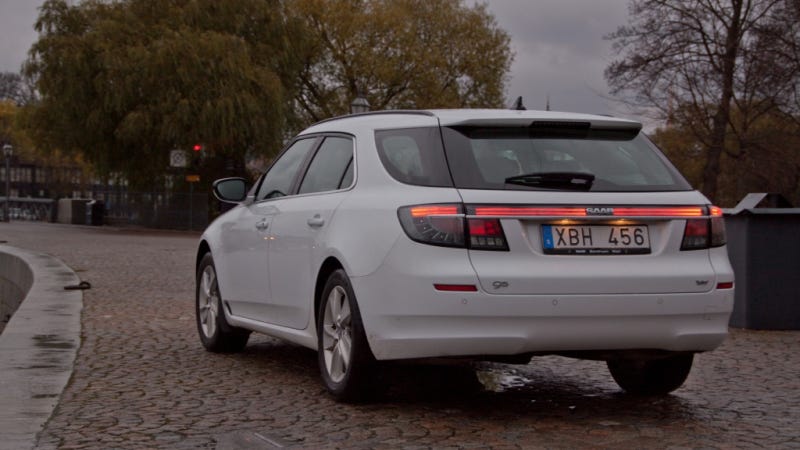 The beautiful Saab 9-5 SportCombi never made it to dealerships, meaning that the few wagons built and auctioned off were non-road legal pre-production models. That didn't stop a Saab fan from 9-5sc2012 from figuring out how to get his dream car on the road.
I've been a Saab fan for as long as I can remember. The Saab virus hit me through my best friend in school whose father had his own Saab dealership. I still vividly remember the test drive we took with the brand new 99 Turbo he had just received from the factory that day. I sat behind him and saw the Turbo meter that was mounted on top of the dashboard spike as we were vastly accelerating. I was sold on Saab but had to wait until 1999 before I could afford to buy my first one.
Advancing many years and about some 10 Saabs later, I read about the fact that many unique Saabs would be auctioned out in December 2012, among which several 9-5NG SportCombi's.
I have always admired Saab's quirkiness, performance, reliability and above all its design. The new 9-5 launched in 2010 I just find stunning and when I realized I could get my hands on one of the extremely rare SportCombi's, I set my mind to it. It would take me almost a year before I actually was able to call one my own and drive it.
This epos (it got quite a bit longer than I initially envisioned) is a summary of the different events that happened from the date of the auction until the day I received my permanent Swedish license plates in the mail. A journey and a struggle of more than 10 months to get a truly unique car that was supposedly "never to be allowed back on the road again" road legal.
After many nerve-racking minutes and frantically hitting my browser's refresh button I finally understood that I had won the highest bid and that I had just bought a very coveted 9-5NG SportCombi!
The beautiful Arctic White was now mine!
My blood was still rushing as I received the confirmation mail from auction house KVD.
I understood that the car was located in Wallhamn (near Gothenburg) and as there was no obvious way to drive it to Stockholm myself I had KVD arrange for transport to their facilities in the Stockholm area.
However, many more things had to be figured out: how to get the car insured, but more importantly, how to get it registered?
This text was written on a metal plaque that was mounted in the engine department of all the MY12 cars that were sold in the auction, including mine. Even though the message itself (i.e. it would be impossible to get it on the road again) was repeated all over the media, it sounded strange to me. Why would it be impossible to get one of the world's technologically advanced and safest cars refused that privilege?
I decided to do whatever it would take to give it a try anyway and was immediately backed by the two other Saab fanatics in the family: my daughter M and her boyfriend F.
No CoC = IVA
Under normal circumstances, vehicles get approved using a so-called type approval process. The car manufacturer performs extensive tests on a new car and when it passes gets granted a "Certificate of Conformity" (CoC). Any new cars that are produced using the same specifications are then automatically approved as they conform to the specs from the earlier approved vehicle. Virtually all new cars in the European Union carry a CoC, which makes life much easier and cheaper for the manufacturer (they don't have to get each individual car approved) and for consumers (as it facilitates cross-border trade by not requiring new approvals in another member state). Unfortunately, Saab didn't manage to complete the type-approval process in time before they went bankrupt and hence my SC didn't have a CoC.
So now what? Individual Vehicle Approval (IVA) came up as the most plausible option in the research M + F did. IVA is a process where vehicles without CoC are being assessed for compliance against all applicable technical, safety and environmental requirements. For that IVA to work, I would need "all" the paperwork available for my car.
The quest for the papers
Saab Automobile AB had my car registered earlier as "LSO 372". One would think that given this, there would be relevant documents available. Well, think again. We called KVD. We called Saab Parts. We called the Saab Museum. We called NEVS. We called the bankruptcy estate. We called Transportstyrelsen (the Swedish Road Administration). Twice. Three times. Four times. The people at Transportstyrelsen were contradicting each other; emails to the other organizations remained unanswered. Nobody knew or seemed to want to know.