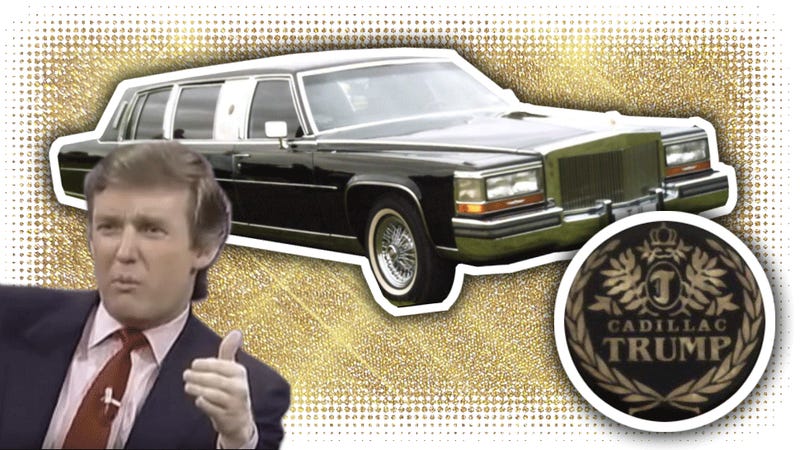 Donald Trump often suggests that his greatest asset is his name, which he personally has valued at over $3 billion. What's less commonly known is that the very first time he slapped his name on any product, it was on a pair of Cadillac limousines known as the Trump Executive Series and the Trump Golden Series. And he got Cadillac to build them for him by agreeing to order a run of limos he never bought.

Trump's automotive ambitions were mentioned in his well-known ghostwritten book Trump: The Art of the Deal, in a section titled "The Trump Car":
"A decision has been made to go into production on two Cadillac-body limousines using my name. The Trump Golden Series will be the most opulent stretch limousine made. The Trump Executive Series will be a slightly less lavish version of the same car.

Neither one has yet come off the line, but the folks at Cadillac Motors Division recently sent over a beautiful gold Cadillac Allanté as a gift. Perhaps they felt I needed more toys to keep me busy."
The "most opulent stretch limousine made." Even then, he had a gift for hyperbole.

Soon, that pair of custom Trump-branded limousines did come off the line, and was unveiled at the Limousine and Chauffeur Show in Atlantic City in 1988. During the presentation, here's what Donald Trump had to say, according to an issue of Limousine, Charter & Tour from that year:

Well, this began about two years ago when John and I were in Palm Beach. And I was saying "John, what Cadillac ought to do is come up with a design for an incredi­ble limousine that has the big headroom and all of the assets that anyone, could want."

Later, I got a call from John and he said "Would you like to get in­volved with this design project?" I said "I know nothing about cars ex­cept what I personally like..." But be­tween myself, Cadillac, and John Staluppi at Dillinger...we went ahead and designed the car.

We built one, and we saw a lot of things we didn't like. So we went back (several times), and this is what we produced. And we think we prob­ably designed the ultimate limousine to be found anywhere in the world.

You can see the kind of quality there is. We left nothing out. I'm very honored that they built me the first one and, frankly, I deserve it. I really am very honored and I would like to thank Cadillac and everyone else in­volved.
The best limo in the world didn't exist, so Trump made it. Because he deserved it. Or so he said.
The John Staluppi he refers to is a businessman, yacht and car collector, and someone with alleged ties to organized crime—the New York Daily News reported the FBI at one time identified Staluppi as a member of the Colombo family.

Staluppi that ran the company, Dillinger Coach Works (named after exactly who you think it's named after), which did the conversion work on the limos. The Smoking Gun has a more extensive explanation of the supposed mafia ties of Trump's partners.
The limos were pretty much exactly what you'd expect from a 1988-era Donald Trump, or today's Donald Trump: luxurious, over-the-top, and with gold slathered over everything that stayed still just for a moment.