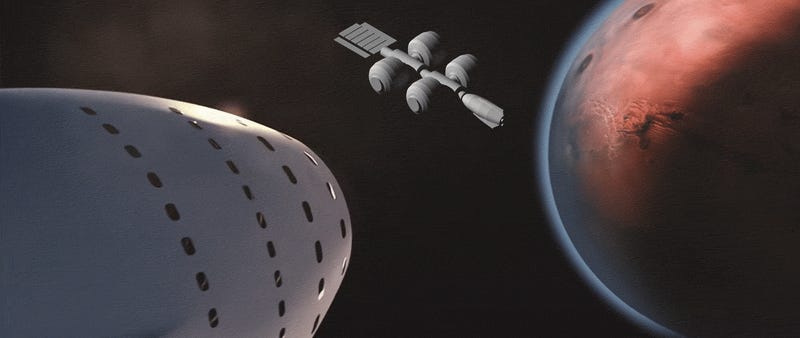 This week electrovehicle and space transit magnate Elon Musk unveiled his master plan for the human race to become "a multi-planetary species", starting with travel to Mars. But while I know it's an act of remarkable hubris for me to even say this, I believe SpaceX's plans for their Interplanetary Transport System have some pretty glaring flaws. The good news is they are flaws that are easily corrected by applying some decades-old solutions from the American and Soviet space-faring experience.
After going over the system architecture and basic spacecraft design, I think there are places where the system can be made to use less fuel, reduce manufacturing complexity, increase crew room, deliver more payload, and more.
If you haven't yet watched it, this lovely little video shows the basics of the SpaceX Interplanetary System:
I want to add that, overall, I'm delighted by the whole Mars/Interplanetary travel plans. I think that even if this does not end up being the way we eventually start to spread off our planet, Musk's determined and detailed plans for how it could happen are incredibly valuable.
The British Interplanetary Society's 1938 plans for a lunar mission were so influential on the engineers and astronauts that actually made it happen in the following decades. These deep-dive explorations are crucial in turning vague concepts into achievable reality, and Musk is doing more to advance the goal of human off-planet colonization than pretty much anybody right now. My critique is meant to show I'm taking it seriously.
I think the SpaceX spaceship design and system architecture is elegant and lovely, and I'm sure that's a big part of its appeal to Musk; it looks futuristic, and fundamentally different than the clunky-looking space hardware we produce now. I suspect that Musk's desire for something with this look may be directing these plans to the detriment of other concerns.
We're looking at the same thinking that pushed the Tesla Model X into production with those dramatic and problematic Falcon Doors. Only here, it's a massive space transportation system, not a rich-guy/gal SUV. My changes will be killing a lot of this visual elegance, but with good reason.