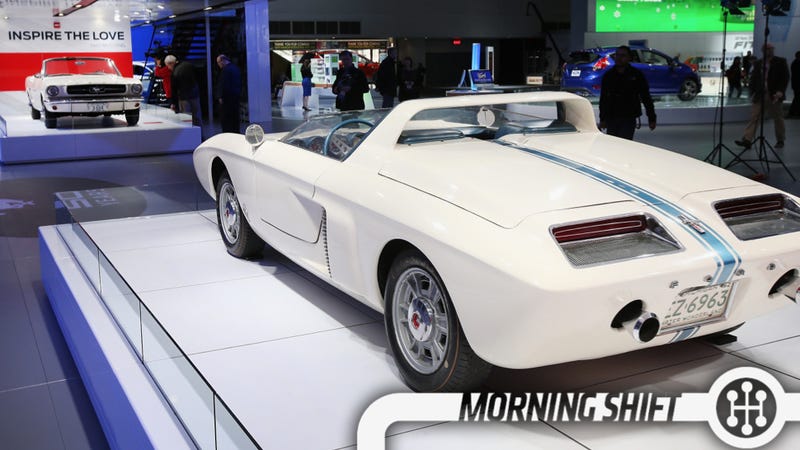 This is The Morning Shift, our one-stop daily roundup of all the auto news that's actually important — all in one place at 9:30 AM. Or, you could spend all day waiting for other sites to parse it out to you one story at a time. Isn't your time more important?
1st Gear: Ford Banks A 26% Profit Increase
Ford may not sell the most cars, but they get how to make money off of nearly every car they sell (the exception might be the electric Focus). Ford's pre-tax profit of $8.8 billion was up 26% over 2013 and is, according to The Detroit News, probably their best performance since 2000.
As you might guess, most of those profits were made in North America, where they banked $8.6 billion pre-tax with a net income of $7.2 billion.
There's all sorts of caveats and adjustments and special charges, including "favorable tax items" totaling $2.2 billion, but the important thing is they made a shit ton of money.
They also don't plan on making a shit ton of money going forward as they're about to launch something on the order of a trillion new vehicles in 2014 and one of those vehicles is the aluminum F-150.
2nd Gear: Happy Workers Get $8,800 Checks
Old Mr. Money Bags at Ford is going to be handing out either super early, or super late Festivus gifts in the form of $8,800 checks to its hourly workers after the profits mentioned above.
This profit-sharing agreement isn't just something that Ford does out of the goodness of its heart, but something that the UAW got as part of its last negotiations. Lest you think this is unionization run amuck, they made the agreement for good reasons as Karl Henkel makes clear:
The latest profit-sharing formula, developed as part of contract negotiations between the Detroit automakers and the United Auto Workers in 2011, has acted as a pseudo-annual raise for longtime hourly workers, who haven't received a yearly pay raise in a decade. Younger, less-experienced workers, who begin at half the hourly rate of veteran employees, see small wage increases based on tenure at their respective automaker.
The American worker is kicking ass and so is the boss man, and now everyone shares in the profits. Hard to argue with that.
3rd Gear: Honda Exports More Cars From The US Than It Imports
Speaking of the badass American worker, Honda becomes a net exporter of cars from the U.S. for the first time ever. The company exported 108,705 Accords, Civics, MDXs and other vehicles to countries outside the U.S. and only imported 88,537 vehicles.
"This is really a significant milestone for our North American operations — it is really one that has been 30 years in the making," said Rick Schostek, senior vice president of Honda in North America. "For a long time our goal has been self-reliance in North America."
4th Gear: BYD Probably Going To Settle Labor Violations
When BYD got busted for allegedly hiring Chinese workers and paying them well below California's minimum wage in an electric bus plant we were saddened but not surprised.