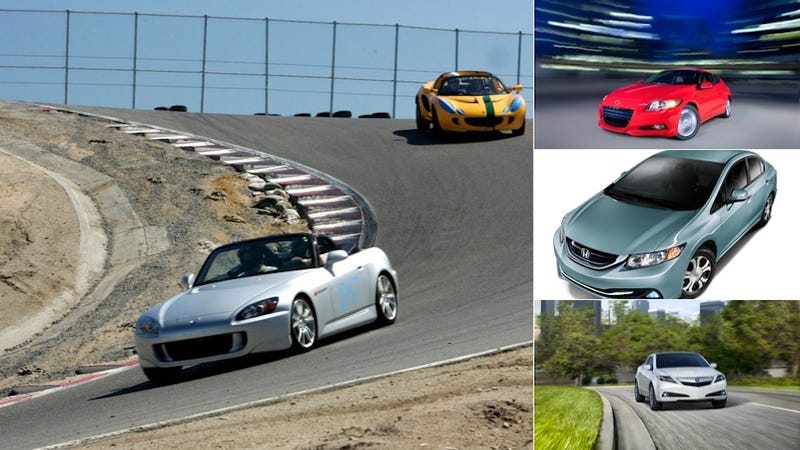 Honda, you used to be one of my favorite automakers in the world. In a world of boring Toyotas, you were an exciting alternative. But somewhere in the last decade you forgot all of that. It makes me sad, and Honda, you're better than that.
You've always had beige in the fleet, but that was balanced out with some excellent performance rides. There were cars from Honda that I used to lust after. The CRX was one of the greatest little hot hatches to ever hit the street. The Civic Si continued that tradition in a larger, more user friendly package. I actually wanted a 1999 Civic Si more than a girlfriend in high school. The S2000 was a modern update of Honda's classic sports car tradition.
Acura was cool, too. The Integra brought premium and economical performance chops to the brand. I still consider the NSX one of the finest and sexiest cars to ever be built.
You guys carved out your own niches in the economy and luxury game. Honda had cars that were inexpensive but still fun to drive. Acura was kind of a Japanese BMW for boy racers. Those identities worked.
Then, for some reason, you made Hondas and Acuras boring. The Civic Si is now a fairly large and expensive car. The S2000 is long gone. The CRX's spiritual successor, the CR-Z, is a heavy hybrid hatchback. Acura got rid of the Integra and its successor, the RSX. The NSX is long gone, to be replaced by a hybrid all-wheel drive supercar. Acuras got ugly and a lot less fun to drive.
But Honda/Acura still does a lot of things very well. Most of their interiors are very nice (forgetting the 2012 Civic debacle). They have some great engines, the 2.4 in the Civic Si/ILX comes to mind. There are slick gearboxes.