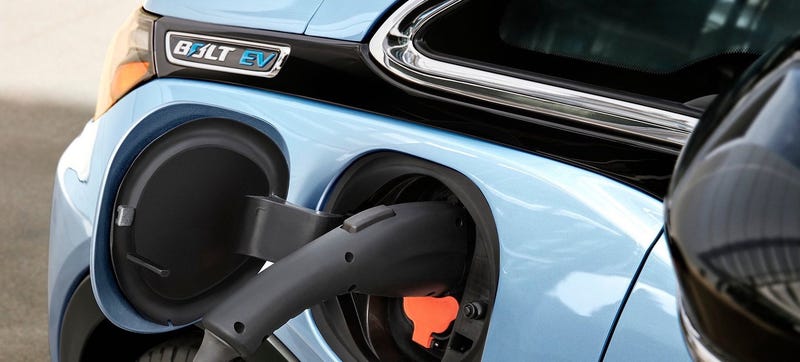 If there's one major automobile trend we've seen at the recent spate of trade shows, besides putting screens everywhere, it's electrification. The car industry has been moving towards more hybrids and EVs for some time, but this year's CES almost made gas look like a thing of the past. But is the U.S. also headed for an electric car crisis?
As they recover from Dieselgate, Volkswagen and Audi are going big on electric cars. So is Ford. So is Chevrolet. So is Mercedes and also pretty much everyone else. They're doing this in part because electrification is likely the future of automobile transport, but more because ever-stricter government fuel economy and emissions requirements force them to.
Problem is, with gas so cheap in the U.S. right now, nobody here is buying these things right now. And if that trend continues it could mean costly headaches for car companies.
According to new data from Brandon Schoettle and Michael Sivak of University of Michigan's Transportation Research Institute, the U.S.' average fuel economy was down in 2015 compared to the previous year. They reported fuel economy is down 0.9 mpg from the peak reached in August 2014, but on the plus side, it's still up 4.8 mpg from when the university began this study in 2007.
Why is the fuel economy average down when cars are ever more efficient? Since gas prices have been declining for a year now, and the national price of a gallon of unleaded is about $1.97 at the moment, Americans just aren't making fuel-efficiency a priority with their new car choices. The biggest winners in 2015's record-breaking new car-a-palooza were Jeep, Ram and any brand with a lot of SUVs, trucks and crossovers.