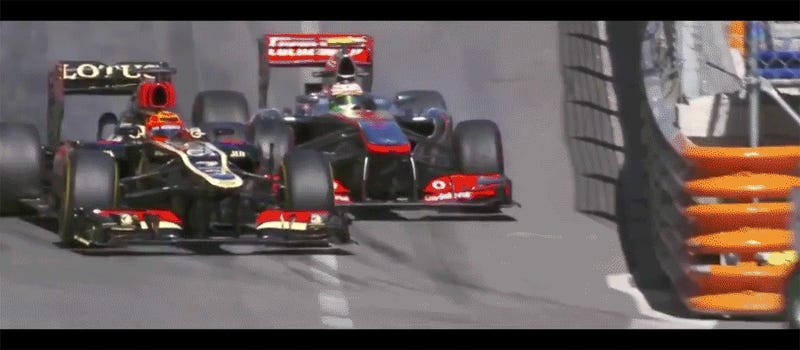 The Monaco Grand Prix is the most romantic race on the F1 calendar. The course is tight and cars couldn't help but have some physical contact on the circuit. Things got hott on the riviera.
This year's Monaco Grand Prix was surprisingly crash-ey, mostly because things were getting so hot and steamy under the Mediterranean sun. The cars on the circuit snaking between casinos, yachts, and luxury hotels couldn't keep from smashing and banging all afternoon. Just take a look at Romain Grosjean's Lotus flying into the back of Daniel Ricciardo's Toro Rosso.
That's just sheer physical attraction between the Lotus and Toro Rosso cars.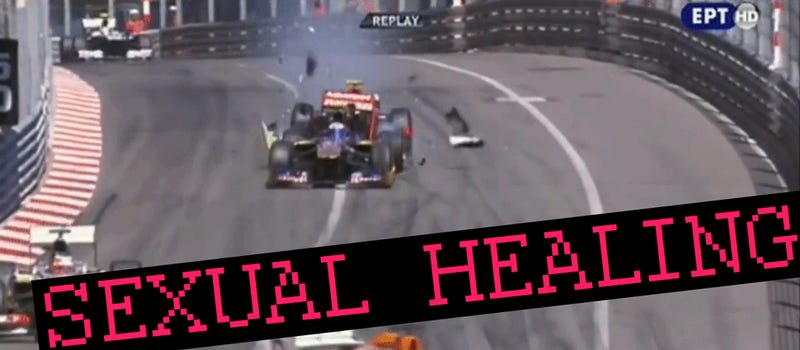 The Marussia of young Brit Max Chilton and Venezuelan Pastor Maldonado suffered a fatal attraction as well. Watch the sparks fly as the two cars got intimate.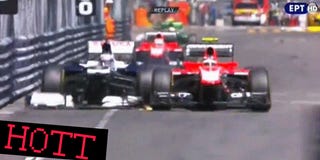 The Ferrari of Felipe Massa picked up a strange obsession with the wall around the first turn on the track. The car skidded into the barrier in free practice three and in the race itself, sending Massa to the hospital for the love tap.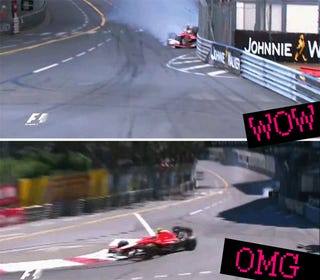 Unquestionably, though, to most romantic wreck was the crash between Checo Perez's McLaren and Kimi Raikkonen's Lotus. Let's take a look at how the two cars couldn't stay apart.
Here we see Perez coming out of the famous tunnel at 180 miles an hour. Up ahead is the left/right Nouvelle Chicane, which is the widest part of the track and the easiest place for cars to slip past each other. Perez had a major crash here a few years back.