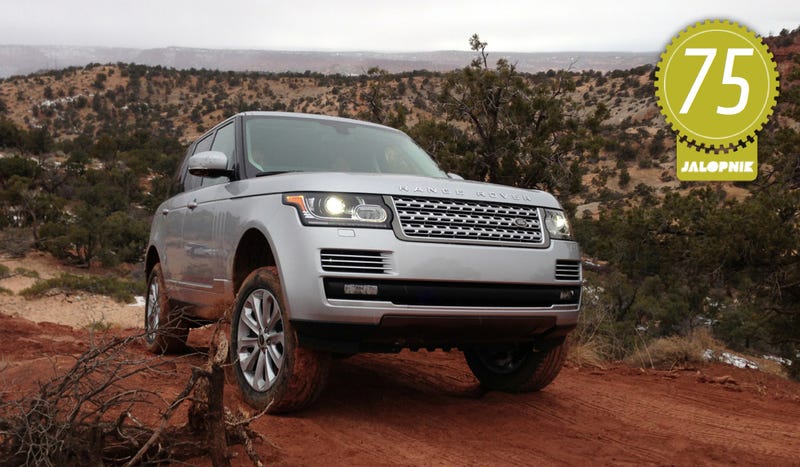 If you buy the 2013 Range Rover, you probably won't be taking it off-road. You probably won't take it to Hog Canyon Trail in a remote part of Utah, where you'd be able take it up a hill and battle rocks, sand, mud, and snow along the way.
You probably won't have to set it to 4-Low, turn the stability control off, and then hold the brake pedal with your left foot for a moment while you floor the gas pedal with your right foot to launch it over some rocks. You probably won't use any of its five different off-roading modes.
You'll probably just take it to pick up your kids at lacrosse practice or drive it to the waxing salon, like most Range Rover owners do. And that's your loss.
(Full disclosure: Land Rover needed me to drive their new Range Rover so badly that they flew me to the Amangiri Resort near the Utah-Arizona border, the nicest hotel I've ever stayed in and one that is surrounded by indescribable canyon-y beauty. They paid for all my food and booze and also gave out free spa sessions at the resort, but I didn't go. Patrick George is too hardcore for spas.)
Land Rover's range-topping model is all-new for 2013, and it boasts a tremendous amount of improvements over the old one. It is now the world's first SUV with an all-aluminum monocoque construction, which shaves 16 Victoria Beckhams (about 400 pounds) off the outgoing Range Rover. It has a new version of their Terrain Response system, which adjusts a gajillion different settings depending on what you're driving on.
I got to sample the Range Rover in both on-road and off-road, and it did remarkably well regardless of what was thrown at it. However, like I mentioned earlier, who really takes a brand new Range Rover up and down mountains? Even Land Rover will admit that very few of them do — they say their biggest Range Rover markets in the U.S. are New York, Los Angeles and Miami.
But their customers do like cars that can handle bad weather, and the Range Rover is like Ayrton Senna in that it seems to perform better the worse the conditions get. I know this because as we were going up the snowy, muddy, rocky trail, something interesting happened. It began to rain.
EXTERIOR (7/10)
Land Rover said their hardcore customers, whom they call "SuperLoyalists" (I'm not joking) didn't want them to screw with the car too much, so they didn't. Think of the new design as having evolved the same way the 911 has. It's an attractive, streamlined update of a well-recognized icon that's been around for decades.
High points include headlights and taillights, which I think have some of the prettier applications of LED lights out there today. I also like the tapered shape of the roof and underside, which gives the car lines similar to the first Range Rover that came out in 1970. I'm not crazy about the vertical lines on the front doors (or the ones on the last car) but overall, it's an impressive design.
Look at this and then look at a new Ford Explorer. It's many of the same design cues, just executed more thoughtfully.
INTERIOR (8/10)
The inside of this car is superb. It's a great place to spend time whether you're in the front or the back.
Land Rover deserves some serious credit in my book for actually reducing the number of buttons from the old Range Rover without reducing the functionality. The steering wheel was well laid out and felt great in my hands.
Interior materials are all top notch like you'd expect from Land Rover. The front seats are well bolstered and adjustable. The rear seats are roomy and comfortable, too. Oh, and if any of your hippie friends give you shit for driving a giant, gas guzzling Range Rover, tell them all the wood only comes from "sustainable forests" and it has "low-carbon leather from Scotland."
ACCELERATION (7/10)
I drove the naturally aspirated engine and the supercharged one, both 5.0-liter V8s. On the regular one you get 375 horsepower, and it's more than enough. Bury the accelerator and you can pass any car (or group of cars) on the highway with no trouble. The engine has a great sound when you get on it, but it's totally quiet otherwise.
The supercharged engine, which has 510 horsepower, could best be described as "stupid fast." It is significantly quicker than the base engine and will get you well past 100 before you can even start talking about the low-carbon leather from Scotland. Both engines are great, but if you've got the cash to buy a new Range Rover, get the one with the blower as it'll get you to 60 mph in the low five-second range.
BRAKING (8/10)
Land Rover nailed the brakes on the new car. Simply put, they're awesome. The Range Rover uses six-pot Brembo brakes with big ol' 15-inch rotors, and pedal travel and feel are excellent.
They're exactly as they should be on a car with this kind of heft and power.
RIDE (8/10)
Again, Land Rover nailed it here. The car's ride is incredibly comfortable, but it definitely felt firmer than most luxury SUVs. For something that's supposed to be a big, powerful, expensive British car that's also a fierce off-roader, this was pretty much ideal.
The air suspension is so impressive that even when you're descending a rocky, muddy hill like we did in this test, the car never beats you up or makes you feel rattled.
When we were going down that trail, one of the other autojournos took over driving for a bit, and I came close to taking a nap in the back seat. The ride is that good. (Also, don't make fun of me for this. I've been working a lot lately!)
Engine: 5.0L V8 or 5.0L Supercharged V8
Power: 375 HP (NA), 510 HP (Supercharged) / 375 lb ft (NA), 461 lb ft (Supercharged)
Transmission: Eight-Speed Automatic
0-60 Time: 6.5 seconds (NA), 5.1 seconds (Supercharged)
Top Speed: 130 mph (NA), 140 mph (Supercharged)
Drivetrain: All-Wheel Drive
Curb Weight: 5,000 LBS (est.)
Seating: 4-5
MPG: 14 City/20 Highway (NA), 13 City/19 Highway (Supercharged)
MSRP: $83,500 (NA Base), $99,950 (Supercharged), $130,950 (Autobiography)
HANDLING (5/10)
The new Range Rover loses points here because it now includes the electric power steering from the Evoque. And it kind of sucks. The result is that over-boosted, vague, too-light steering feel that is found in so many modern luxury cars. It's hard to feel the road through the steering wheel at all, and frankly, this is a problem when you're doing serious off-roading.
This kind of thing is fine on a Lexus RX-Whatever, but it's not something I want when I'm going over rocks. But again, not very few Range Rover owners do that anyway, so what's the point?
GEARBOX (7/10)
The new Range Rover gets ZF's latest 8-speed automatic transmission with paddle shifters, and as far as traditional slushboxes go, it doesn't really get much better than this. We've seen this tranny before and it's equally impressive here. Slam your foot on the gas and watch it kick down five gears at once to blow past 18-wheelers at your leisure.